News

FuRyu Unveils New Caligula PS Vita RPG

posted on

2016-02-24

14:45 EST
Persona, Persona 2 writer working on game's scenario
---
Kadokawa's Famitsu.com website announced on Tuesday that game developer FuRyu is developing a new game titled Caligula for the PlayStation Vita. The Famitsu.com website is hosting a thumbnail image preview of its feature article in this week's Weekly Famitsu magazine, which ships on Thursday. The article will contain more details on the game.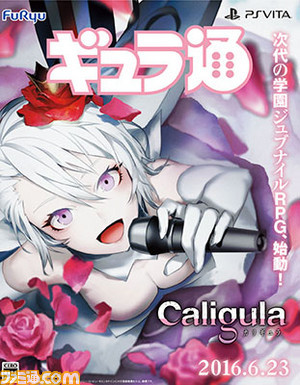 Famitsu also began streaming a teaser trailer that reveals a June 23 release date. Pre-order bonuses include a soundtrack CD, visual booklet, swimsuit DLC, and an application to participate in a fan event.
The cast members revealed in the video are:
Chiharu Sawashiro as the protagonist
Rie Murakawa as Kotono Kashiwaba
Shunsuke Takeuchi as Shogo Satake
Rie Takahashi as Mihue Sonohara
Yoshimasa Hosoya as Kotarō Tomoe
Minami Tanaka as Suzuna Kagura
Yuichiro Umehara as Izuru Minezawa
Ari Ozawa as Naruko Morita
Shouta Aoi as Kensuke Hibiki
Reina Ueda as μ
Eriko Nakamura as Mirei
Emi Nitta as Sweet P
Yuka Ōtsubo as Sone
The Famitsu.com article describes the game as a "next-generation school juvenile RPG," focused on themes of modern pathology and trauma. The game's title refers to the "Caligula Effect," which is a pattern of behavior where one wants to see or do something the more if it is denied to them. It will be set in a virtual reality world called Moebius, where a group of nine boys and girls are trying to escape the virtual world to return to the real world.
Director Takuya Yamanaka, scenario writer Tadashi Satomi (Shin Megami Tensei: Persona, Persona 2: Innocent Sin, Persona 2: Eternal Punishment), and illustrator Oguchi are on board for the game.
[Via Siliconera]
---