Producer Toshifumi Yoshida Joins Bandai Entertainment Inc.
May 2nd 2008

May 2, 2008 (Cypress, CA) –

Bandai Entertainment, INC.

announced today that U.S. anime

producer

Toshifumi Yoshida

has joined the company's Production team.

Yoshida is a veteran producer of English dubbed and subtitle anime and his numerous credits

include

Inuyasha

, Ranma 1⁄2,

Jin-Roh - The Wolf Brigade

, Fatal Fury, and

Night Warriors

. He

will be the localizing producer for numerous upcoming Bandai Entertainment releases.

www.bandai-ent.com

About Bandai Entertainment, INC.

Bandai Entertainment, INC. is a subsidiary of

Namco

Bandai Holdings (USA) Inc. and the premier

distributor of Japanese animation on DVD and programming for television broadcast in North

America. Titles include

The Melancholy of Haruhi Suzumiya

,

Cowboy Bebop

,

Outlaw Star

,

Escaflowne

,

Ghost in the Shell: Stand Alone Complex

,

Gundam Seed Destiny

, My Hime, and

many more.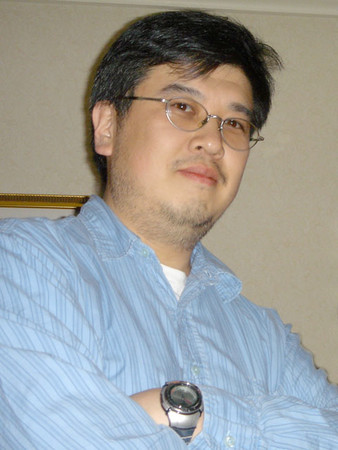 ---
discuss this in the forum (1 post)
|
We're closing in on the final week, and the rankings are starting to firm up - Assassination Classroom makes a play for the top spot! Where did your favorite shows wind up on our weekly user rankings?
― Our team of reviewers are following 25 anime series of the Spring 2016 season and readers are rating each episode as the reviews go up. So let's have a look at what ANN readers consider the best (and...
With a new Berserk anime adaptation on the horizon, series superfan Brittany Vincent takes a look at how this legendary manga has been adapted to the screen over the years and what we can hope to see from the upcoming continuation.
― Kentaro Miura's Berserk is twisted, grim, and otherworldly. It also happens to be one of the greatest dark fantasy series ever penned. From its humble beginnings in Mont...
The crew finds out what's inside that glittering cocoon when Vice's parenting skills are put to the test!
― Enormous thanks to @pumpkinfriend for today's amazing frontpage marquee art! Art: Lanny Liu Script: Zac Bertschy Editor: Jacob Chapman
The critically acclaimed shojo manga Orange is getting an anime adaptation this summer, but Theron Martin has a review of the live-action movie right now! How does this romantic tale translate to the big screen?
― The first two volumes of Ichigo Takano's manga have already been released in the States, and its anime adaptation is one of the most anticipated shows of the Summer 2016 season. Before the ...
Win tickets to see WagakkiBand live in Los Angeles, San Diego or San Francisco!
― The organizers of the WagakkiBand DEEP IMPACT US Tour have given ANN three pairs of tickets (1 pair per show) to give-away to readers. Tour Details July 12: LOS ANGELES @ Club Bahia July 14: SAN DIEGO @ House of Blues July 16: SAN FRANCISCO @ The Fillmore WagakkiBand is an 8-piece band that fuses Shigin, poetry recitat...
How does the recent Leave vote in the UK affect that country's anime market, which is an important player in the global anime industry? Justin considers the future.
― Grace asks: British anime fan here. How will the impending exit from the European union of the United Kingdom affect our anime and video game industry? Will it have any international impact? At the time I'm writing this, it's been a fe...
Paul peers into the depths of Medaka Box to find a world of crazy twists in this extremely unusual adaptation of a story from the author of the Monogatari series. Plus, all this week's new releases!
― Memory can be a funny thing, especially when it comes to remembering things that you watched or read a long time ago. I pulled an old Armored Trooper Votoms DVD off my shelf the other day and was only ...
Beloved anime director Mamoru Hosoda's first original feature has a brand-new Blu-ray special edition, but how has the film held up over time? Nick Creamer takes a look back into the past to find out.
― Mamoru Hosoda, along with Makoto Shinkai, has the dubious honor of often being referred to as the "next Miyazaki." There's no real meaning to this description, of course - it generally just means "an ...
The Higurashi franchise turns ten years old this year, so Animate celebrated this June with a special art exhibition, and we've got a detailed look at all the displays.
― Independently published manga and videogames have steadily been gaining popularity in Japan, and a small handful of these independent works have been adapted into anime series. Recent examples range from Ojisan to Marshmallow, Hetal...
Nisekoi continues with an underachieving set of episodes that drive the series further into harem territory. Theron Martin explores what this sequel gets right.
― Nisekoi: is the 12 episode 2015 follow-up to 2014's Nisekoi, and familiarity with the predecessor series is expected. (The intervening OVAs, which are not available in English in any official form, are less important, since some of their ev...
Run for your life from these wicked waifus! They may look cute and innocent on the outside, but these seven girls are definitely too deadly to date.
― The long-anticipated companion piece to 8 Horrible Boyfriends! Let's be fair, some of these women are downright nuts. The term yandere was coined for the sweet-on-the outside-but-possibly-murderous-on-the-inside girl. They'll love you forever, whether...
The latest installment in Kotaro Uchikoshi's ambitious story-driven series is a riveting sci-fi tale that takes no prisoners.
― Zero Time Dilemma is a game that almost didn't happen. Development was put on hiatus in 2012, citing poor sales of the Zero Escape series in Japan as the cause. The previous game, Virtue's Last Reward, ended on a tremendous cliffhanger that looked like it could be forever un...