Viz Media Nominated in Multiple Categories for the 2010 Will Eisner Comic Industry Awards
Apr 9th 2010

NAOKI URASAWA'S 20TH CENTURY BOYS, PLUTO: URASAWA × TEZUKA And OISHINBO: À LA CARTE Among The Titles Nominated

San Francisco, CA, April 9, 2010 – VIZ Media, LLC (VIZ Media), one of the entertainment industry's most innovative and comprehensive publishing, animation and licensing companies, announced today that three of its manga titles and one creator have been nominated in several categories for the 2010 Will Eisner Comics Industry Awards for a total of 6 nominations, as announced by Comic-Con International on April 8, 2010.

Named for pioneering writer and comic artist Will Eisner, the awards recognize exemplary comics, graphic novels and other pop writings, and are given each year as part of the annual Comic-Con International convention. Winners will be announced at a gala ceremony on the evening of Friday, July 23rd during Comic-Con, at which VIZ Media will be a major exhibitor and participant in the programs offered. VIZ Media titles are consistently nominated for the Eisner Awards, and in 2008, took home the Eisner Award for Best U.S. Edition of International Material – Japan for TEKKONKINKREET: BLACK & WHITE, by acclaimed creator Taiyo Matsumoto.

The nominated titles from VIZ Media are:

OISHINBO by Tetsu Kariya and Akira Hanasaki
* Best U.S. Edition of International Material–Asia

PLUTO: URASAWA × TEZUKA, by Naoki Urasawa and Takashi Nagasaki
* Best Limited Series or Story Arc
* Best U.S. Edition of International Material–Asia

NAOKI URASAWA'S 20TH CENTURY BOYS, by Naoki Urasawa
* Best Continuing Series
* Best U.S. Edition of International Material—Asia

In addition, Naoki Urasawa is nominated for Best Writer/Artist, for his work on NAOKI URASAWA'S 20TH CENTURY BOYS and PLUTO: URASAWA × TEZUKA. According to the nomination list, Urasawa-sensei is also the creator with the most nominations.

"We are so excited that VIZ Media again has several nominees in the coveted Eisner Awards," states Alvin Lu, Vice President, Publishing VIZ Media. "These awards recognize excellence in the comics industry, and we are honored to be considered among such a diverse group of nominees."
OISHINBO · by Tetsu Kariya and Akira Hanasaki · VIZ Signature · Rated "T" for Teens
OISHINBO (or "The Gourmet") depicts the adventures of journalist Shiro Yamaoka, who writes for the fictional newspaper Tozai News. When the paper's top executives decide to create "The Ultimate Menu" to celebrate the paper's 100th anniversary, Yamaoka, known for his reputation as a foodie with culinary skills to match, is given the daunting assignment. With the help of his coworker Kurita, Yamaoka begins an epic saga to find unique and tasty dishes that will compose this ultimate bill of fare. The subject of the debut volume is classical Japanese cuisine, and features delicious stories on subjects like how to prepare a proper dashi (the broth that is one of the building blocks of Japanese cooking), green tea, and red snapper sashimi. Each subsequent volume of OISHINBO focuses on specific foods and culinary trends such as sake, sushi, vegetables, rice dishes, ramen, and izakaya (pub) food.
PLUTO: URASAWA × TEZUKA, by Naoki Urasawa and Takashi Nagasaki · VIZ Signature · Rated "T+" for Older Teens (NOMINATED IN THREE CATEGORIES)
Pluto: Urasawa × Tezuka is a modern reinterpretation of the work by the master of manga, Osamu Tezuka. In an ideal world where man and robots coexist, someone or something is after the seven great robots of the world. Interpol assigns robot detective Gesicht to this most strange and complex case – and he eventually discovers that he is one of the targets!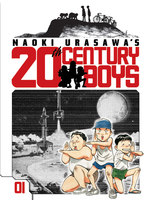 NAOKI URASAWA'S 20th century boys · by Naoki Urasawa · VIZ Signature · Rated "T+" for Older Teens (NOMINATED IN THREE CATEGORIES)
Humanity, having faced extinction at the end of the 20th century, would not have entered the new millennium if it weren't for them. In 1969, during their youth, they created a symbol. In 1997, as the coming disaster slowly starts to unfold, that symbol returns. This is the story of a group of boys who try to save the world.
About VIZ Media, LLC
Headquartered in San Francisco, CA, VIZ Media, LLC (VIZ Media), is one of the most comprehensive and innovative companies in the field of manga (graphic novel) publishing, animation and entertainment licensing of Japanese content. Owned by three of Japan's largest creators and licensors of manga and animation, Shueisha Inc., Shogakukan Inc., and Shogakukan-Shueisha Productions, Co., Ltd., VIZ Media is a leader in the publishing and distribution of Japanese manga for English speaking audiences in North America, the United Kingdom, Ireland, and South Africa and is a global ex-Asia licensor of Japanese manga and animation. The company offers an integrated product line including the popular monthly manga anthology SHONEN JUMP magazine, graphic novels, and DVDs, and develops, markets, licenses, and distributes animated entertainment for audiences and consumers of all ages. Contact VIZ Media at 295 Bay Street, San Francisco, CA 94133; Phone (415) 546-7073; Fax (415) 546-7086; and website at www.VIZ.com.
20th Century Boys: 20 SEIKI SHONEN © Naoki URASAWA/Studio Nuts With the cooperation of Takashi NAGASAKI. Original Japanese edition published by Shogakukan
OISHINBO A LA CARTE © Tetsu KARIYA, Akira HANASAKI/Shogakukan
PLUTO © Naoki URASAWA/Studio Nuts, Takashi NAGASAKI and Tezuka Productions. Original Japanese edition published by Shogakukan. Based on "Astro Boy" written by Osamu TEZUKA.
---
discuss this in the forum (2 posts)
|