Home Entertainment Releases Nausicaa & Earthsea
Feb 9th 2011

On March 8th, Studio Ghibli's TALES FROM EARTHSEA (DVD only) and NAUSICAA OF THE VALLEY OF THE WIND (Blu-ray + DVD Combo Pack) will be available to bring home!

Goro Miyazaki's directorial debut, Tales from Earthsea, features exquisite hand-drawn animation and the vocal talents of Timothy Dalton, Willem Dafoe, Cheech Marin, and Mariska Hargitay. Bonus material includes a behind-the-scenes look at the studio and Studio Ghibli Trivia Challenge!

Nausicaa of Valley of the Wind launched the Academy Award-winning career of famed director Hayao Miyazaki! This stunning animated tale features the voices of Uma Thurman, Shia LeBeouf, and Patrick Stewart. Bonus features include a behind-the-scenes look into the recording booth and the birth story of Studio Ghibli.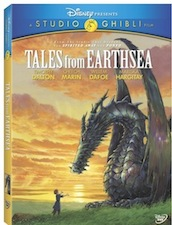 ---
discuss this in the forum (13 posts)
|
Around The Web