EigoManga's Invitation to View Official Animation Screening at FanimeCon 2011
May 27th 2011

FanimeCon 2011 Officially Screens 'Demian' and 'Break Ups'

Industry, Media Professionals, and Fans are invited to view an official screening of eigoMANGA's OVA (Original Animation Videos) at FanimeCon 2011.

'Demian'

is a story about an elite government team that pilots a five into one super robot fighting force. They are called to take down the robot's creator who is now a terrorist.

'Break Ups'

is a slice of life story about a young couple with an on-and-off relationship. They stumble upon a time machine that takes them back in time to several periods in their lives as a couple.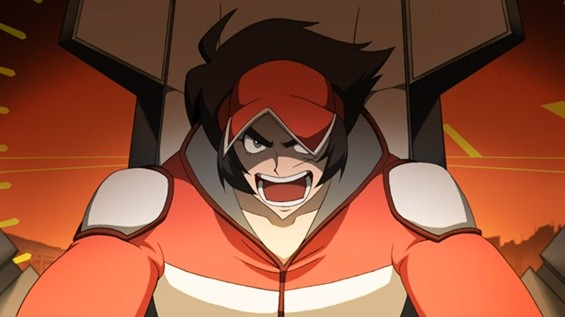 The screening followed by a Q&A session is scheduled for Saturday, May 28, 12-1pm located at the Video Main Room.
To book a meeting/interview please send an email to
[email protected]
. You can also look for the OVA's producer, Austin Osueke at the scheduled screening.
FanimeCon
is an anime and Japanese culture event held on May 27-30, 2011 at the San Jose Convention Center in San Jose, California.
eigoMANGA
is a comic book publishing company that specializes in creating original world manga, comic books, and media productions.
---
discuss this in the forum (2 posts)
|
The List goes a few levels deeper than usual this week, with a look at "fictional" anime that were created only to exist inside of other series—but ended up becoming real anime after all!
― Anime is an inescapable aspect of Japanese culture. Even if you live in Japan and don't watch late-night anime series, there's still video games, local moe mascots, and prominent advertising at major train statio...
This behind-the-scenes look at the clean-up effort following the Fukushima disaster is rich with narrative and artistic detail. Theron Martin explains what makes this biographical manga so unique.
― Manga is so typically a disposable entertainment form that it can be easy to lose sight of how compelling a format it can be when devoted to serious, non-dramatized nonfiction accounts. This is just such ...
The entries are in, and now it's time for ANN's readers to pick the winners. Lots of prizes available just for voting!
― Contest Giveaway Manga Sale 1. Contest Details Vote for your favorite Attack on Titan re-enactment photo! If you have a BookWalker account, you'll also be eligible for some AMAZING PRIZES. To participate, fill out the form below. Contest ends April 30th, 2017 11:59 PM EDT. Winners...
Back in the 80s and 90s anime fansubs were distributed entirely on VHS tape - a whole ecosystem of tape sharing and trading that no longer exists. Justin breaks it down.
― Michael asks: Every once in a while, I'll stumble across old VHS fansubs; the unique quirks (like Kodocha's purple tapes) are absolutely fascinating. Were things like custom labels or tapes and fancy splashscreens common back then...
Persona 5 drops the usual trappings of heroism, instead presenting a world of thieves and underdogs taking on corrupt authority figures. Gabriella Ekens explores what makes Persona 5's story so different.
― If you'd been following Persona 5 at all before release, you might have heard the developers throwing around a certain word: "picaresque." Since this is a literary term, I was surprised to see it ...
This supernatural workplace comedy takes on a fun premise that manages to avoiding some of the more tired aspects of its genres, even if it doesn't stand out much either. Rebecca Silverman has the details.
― Think The Devil is a Part-Timer meets Working!!. There's a Demon Lord on the Floor's first volume introduces a story that feels very much like a combination of those other two series' premises – ...
We went to check out the special Yuri!!! on Ice celebration at the Namja Town theme park in Ikebukuro, and found a ton of character goods, tasty sweets, and photo spots waiting for us.
― From March to May of 2017, Namco's Namja Town (an indoor amusement park in Ikebukuro) has been a little frostier than usual (in a good way!) We went to check out the special Yuri!!! on Ice celebration and found a to...
Capcom finally releases a bunch of their old Disney NES games from the vault, but are they still worth playing? PLUS: SNES Mini, Xbox refunds and much more!
― I "finished" NeiR: Automata this week, and obviously I'm putting "finished" in quotations because I actually just got to the first ending of many. I liked it, but I wasn't enraptured by it. The daily stories of nearly biblical transcendance may...
"If you've ever felt lonely, misunderstood, or like the only broken person in a society you couldn't relate to, Utena is a story for you." Jacob Chapman kicks off this king-sized 20th anniversary retrospective!
These first two novels have fun playing with the idea of the ridiculously overpowered protagonist from stories like Sword Art Online. Rebecca Silverman has the details.
― Prepare to have a new definition for the overpowered hero. Ichiro Tsuwabuki, leading man of Blitz Kiva's light novel series Paying to Win in a VRMMO, is nearly as perfect as a man can get. He's filthy rich, he once had successful ca...
Often you'll see an English loanword like "Buruma" translated literally in subtitles even if it's obviously not accurate - why does that happen?
― Juliana asks: Why, when handling an English loanword, do translators so often use the literal English source-word, rather than the meaning the word most commonly has in actual Japanese usage? I can't think of a recent show that didn't render jusu (soda, s...
Did the infamous villain behind the Eclipse take a wrong turn on his path to glory, or was he always fated to go down such a monstrous road? Anne Lauenroth explains what makes Griffith such a fascinating demon.
― Editor's note: Originally this article was called "Griffith Did Nothing Wrong", and it was a tongue-in-cheek clickbait title that was a bad choice; not only did it misrepresent the content ...
This fantasy light novel adaptation may never fully answer the question in its title, but it does capture the adventuring spirit of RPG gaming. Theron Martin explores this Dungeon's depths.
― The full title of this 2015 series (mercifully shortened to DanMachi) is arguably misleading, since it immediately inverts this supposed premise, and Bell never actually tries to pick up girls in a Dungeon. Howe...