Digital Manga Brings the Digital Manga Publishing Store to the iPad and Android Tablets
Nov 16th 2011

DMP Books go Mobile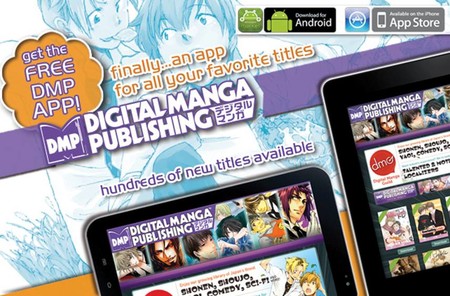 Gardena, CA (November 16, 2011)
Digital Manga Inc., one of the manga industry's most unique and creative publishers, is proud to announce the all new
Digital Manga Publishing
Store app now available for the iPad and Android tablets! With the successful release of the
Vampire Hunter D
Store app, Digital Manga is moving forward with their next new app for buying and viewing the rest of their manga e-book library!! So if you love books published by DMP, download this app. The store app will carry titles from the main DMP imprint, the all-popular Juné and
801 Media
imprints, and the all new
Digital Manga Guild
imprint! The store app also has its titles categorized by genre and type, including instructional books, foreign editions and American comics. Take all your favorite titles with you anywhere on your iPad or Android tablet.
The Digital Manga Publishing Store app carries its titles as complete volumes. Pricing for most typical 200pg manga e-books range from $8.99 to $10.99, instructional books at $12.99, and titles in other categories will vary. Additional titles will continue to be added to the store app every month, so check regularly.
"We are excited to finally provide to all of our loyal fans a dedicated storefront app where they can read all their favorite DMP titles on all the popular platforms and devices." —VP Publishing,
Fred Lui
The Digital Manga Publishing Store App is now available on the Apple App Store and the Android Market.
Apple App Store link:
http://itunes.apple.com/us/app/digital-manga-publishing-store/id476507669?mt=8
Android Market link:
https://market.android.com/details?id=com.emanga.publishingstore&feature=more_from_developer#?t=W251bGwsMSwxLDEwMiwiY29tLmVtYW5nYS5wdWJsaXNoaW5nc3RvcmUiXQ
Or keyword search: Digital Manga Publishing, Digital Manga, Inc., Digital Manga
Check out the video demo link here!
http://www.youtube.com/watch?v=WsI8Bmb3jtc
_______________________________
About Digital Manga, Inc.
Located in Gardena, CA, Digital Manga, Inc. is one of the industry's most unconventional and innovative companies, specializing in building corporate and cultural bridges from Japan to the Western Hemisphere - specifically through the licensing, importation and preparation of anime (Japanese animation), manga (Japanese comic books) and related merchandise for the North American mainstream and subculture markets. In this capacity, DMI serves as a catalyst for the expansion of Japanese pop culture institutions into global arenas. The company's imprint line includes DMP: its mainstream imprint, DMP PLATINUM: its classic manga imprint, JUNE´: its
boys love
imprint, 801 MEDIA: its adult boys love imprint, DokiDoki: its exclusive co-publishing imprint with
Shinshokan Publishing
, DH/DMP: first co-publishing venture with
Dark Horse Comics
,
Project-H
: its
Seinen
Hentai
manga imprint powered by 801 Media, DMG: its own digital distribution initiative, and eManga.com: its online storefront for digital content.
For more information about Digital Manga Publishing, visit
www.digitalmanga.com as well as:
www.dmpbooks.com
www.junemanga.com
www.801media.com
www.digitalmangaguild.com
www.emanga.com
www.vampire-d.com
www.projecth-books.com
www.akadot.com
http://www.youtube.com/user/junemanga
http://www.youtube.com/user/801media
http://www.youtube.com/user/digitalmanga
Follow us on twitter @digitalmanga
Find us on Facebook: Digital Manga Inc.
---
discuss this in the forum (1 post)
|