Art of War Releasing Gantz Statue--Katou: Battle for Justice
Feb 12th 2012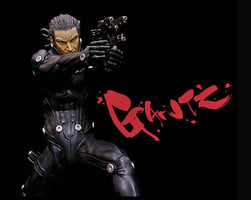 February 10th 2012, Tokyo, Japan –ART OF WAR has released their 15th anniversary commemorative product, Gantz Katou statue.commemorative product, Gantz Katou statue.
The idea for this design comes from Gantz episode 251 "Single-Minded Man". It has been captured in approximately 1:5 scale. After a seven-month prototyping process, many details are being depicted in this model, especially the muscles of Katou's body. In order to give it a more realistic effect, ART OF WAR used a different color to represent the bodysuit by adding purple and cobalt blue on the skin-tight black suit. They also added some alien's body fluids on the concrete-painted base. All those details make the whole diorama lifelike.
"KATOU- Battle for Justice" is 65,000 Japanese Yen (about US$ 838). The first production version is limited to only 100 pieces, including a Katou's briefcase. Pre-orders start on February 10.
---