The Fall 2017 Anime Preview Guide

Black Clover
---
What is this?
The two boys Asta and Yuno have grown up as orphans, raised by the church until they came of age. In a world where magic is everything, both boys dream of eventually becoming the Wizard King and proving their worth to the world. But though Yuno is a very talented mage, Asta has a problem—he can't use magic at all. While training his body physically, Asta waits for the day when all fifteen-year-olds are assigned a grimoire, hoping this magical artifact will finally unlock his potential. And yet, when the day finally comes, no grimoire appears for Asta, making him the only one with absolutely zero magic potential. But there is a secret lurking in Asta, and when a rogue mage attacks his friend, he will unlock something beyond anyone's imagination.
Black Clover
is based on a manga and
streams on Crunchyroll
, Tuesdays at 6:25 AM EST.
---
How was the first episode?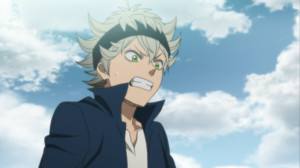 Theron Martin
Rating: 3
If director Tatsuya Yoshihara (Monster Musume), his Studio Pierrot crew, and seiyuu Gakuto Kajiwara (in his first named role) were attempting to depict one of the most obnoxious shonen action heroes ever, they succeeded. Of course, the original manga-ka Yūki Tabata shares some of the blame too, but someone in the adaptive process should have realized that you don't need to have a character literally shout most of his lines to convince us that he's got spunk and no tact. Yes, we can understand perfectly from the characterization that he's got boundless energy and an unrelenting will, so all of the shouting is just beating the viewer over the head with a sledgehammer to emphasize the point. Even a novice anime viewer would quickly pick up on what kind of character Asta is without all the yelling.
Despite that, I can't totally hate Asta or the scenario that's being set up here. Shonen action stories are replete with leads who are outsiders or downtrodden to one degree or another, and until the end of the episode, Asta is one of the most extreme cases of this. Like Rygart Arrow from Broken Blade, he is the ultimate outsider in a world where magic is everywhere: a person who can't seem to use magic, though he doesn't let his shortcomings stop him from pursuing his probably-impossible dream. That makes him sympathetic despite all the shouting, to the point that you actually have to feel for the guy when the baddie is lambasting him over his hopelessness. I was actually heartened when his standoffish "brother" still declared him to be his rival at the end, triggering his dramatic turnaround and the revelation of his actual power.
So yeah, I bought into the whole generic "discover my true extraordinary power" bit – at least enough to come away thinking this series might have some potential. Asta's still going to be irritating if he doesn't get toned down at least a little, and there are other aspects of this episode that I'm not too keen on (the villain is ridiculously overdone), but this premiere fulfills the necessary requirements for getting a rousing shonen action story going and shows at least some heart in the process. Besides, I've always been partial to shonen series that have a complementary duo at the center rather than a main character and companions, and it looks like this series is in that vein. The technical merits, while not stellar, aren't bad either, so this one is worth a look.
---
James Beckett
Rating: 1.5
Black Clover feels like a cheap Naruto parody that forgot to include any actual jokes. I'd seen the quips floating around the internet calling it "Wizard Naruto", but I wasn't expecting that to yield such a lazy production. Black Clover's first episode isn't just shameless in the amount it cribs from Every Successful Shonen Jump Series Ever, but it's also aggressively un-entertaining. Beyond just desperately cribbing from every cliché under the sun, this show manages to be worse than every show it's copying.
Take our protagonist Asta, for example. He's the orphaned black sheep of a small village, in a world where "magic is everything". On the day of the ceremony where everyone is assigned their magic-enhancing Grimoire, poor Asta is ashamed to find that his lack of magical ability has left him without a tome to call his own. That is, of course, until his demonic inner power manifests into a Five Leaf Clovered Grimoire, which seems to boast a dangerous amount of power. Presumably, Asta will manage his devilish abilities to become the Wizard King. Also, he is filled with determination, and he sports a trendy headband. The problem with this isn't just that it's unabashedly unoriginal; Asta is perhaps the most grating shonen protagonist I've ever encountered. Nearly every single line he gets is delivered in an unbearable yawp, and this is the only character trait he displays over the course of the entire episode. I was ready to drop Black Clover about two minutes in, solely because of its insufferable lead. By the end of the episode, I was almost inconsolable.
Add in such standout characters as "the brooding rival figure", "the kooky village elder", and "the maniacal, disfigured villain", and not a single member of this cast has anything interesting to contribute to Black Clover's cookie-cutter setup. The production values don't do the show any favors either, with the relatively fluid animation being hindered by a drab, muddy color palette and bland character designs. While I've heard that the show's characters and plot do find a voice of their own after the first couple arcs, that doesn't make this first episode any less awful. If you're a diehard shonen fan, you might be able to grin and bear it until the show (possibly) picks up. Otherwise, Black Clover is one to avoid.
---
Rebecca Silverman
Rating: 2.5
Allow me to say right off the bat that I know that both Asta as a character and the story as a whole get much better. As of volume eight, I'm enjoying Black Clover's source manga. However, none of that changes the fact that Asta is intensely annoying in this first episode, while the story doesn't do much to distinguish itself, relying on a lot of shounen staples that we've seen done before and better.
Along with the interesting and relatively unique use of grimoires (and don't I want to get my hands on that library!), the most intriguing piece of the story we're given thus far is the relationship between Asta and Yuno. Both fit comfortably within the parameters of basic character types – Asta is loud, enthusiastic, dumb enough to propose to a nun, and has what appears to be zero chance of success in life. Yuno is cool, collected, and quiet, treating his ostensible friend as if he were something unpleasant he stepped in. We're told that they were close previously, but basically nothing supports this now. Is Asta's total lack of magic somehow related to the night the priest who runs their orphanage alludes to? Did the incredibly powerful Yuno somehow take Asta's missing magic? How is that related to the clearly demonic grimoire Asta gains at the end of the episode?
Those are the answers that seem worth pursuing at this point. Unfortunately, the journey there requires us to listen to Asta SPEAK EVERY LINE IN A YELL and watch Yuno be an asshole to someone who clearly thinks of him as his best friend. While the Yuno/Asta relationship dynamic is familiar, it's not pleasant, and Asta's gurgling yell every single time he opens his mouth is a major deterrent. The major saving grace is that this does look very nice – smooth, sharp, and even the background characters all have distinct looks. Each grimoire is also separately designed, giving the impression that this show got a lot of careful attention. This may be enough, particularly for those who know what's coming, to make it worth muting the show every time Asta opens his mouth until the plot picks up. For my part, however, I feel like this is a series better read than watched. I'll be sticking to the manga.
---
Nick Creamer
Rating: 3
As so often happens during preview week, I had the Smiths' "Stop Me If You Think You've Heard This One Before" running through my head all during Black Clover's first episode. From its underdog orphan lead to its power-centric universe and quest to become the "Wizard King," basically every beat of this first episode is a textbook shounen prologue. Many of the beats here seem pulled directly from Naruto, with a sprinkling of My Hero Academia ("I'm the only one with no power… oh wait, now I have the best power") and various other recent hits. If you are tired of the Shonen Jump formula, you won't find much to enjoy in this first episode.
That said, as far as predictable genre exercises go, Black Clover certainly puts on a fine show. This episode's art design, animation, and direction were all bulletproof, making it very easy to enjoy Asta's world. The giant skull monument in the background of Asta's village was a particular highlight, as were the lively bits of character animation used for both playful arguments and actual battles. There's dynamic camera work and strong effects animation, and when it's finally revealed that Asta has the only five leaf clover grimoire in a land where four leaf clover grimoires are already a huge deal (don't expect much from the writing), the show sells that revelation with all the visual bombast it can muster. Black Clover is exceedingly easy on the eyes.
Still, it'll take more than that to hold my interest forever. Unlike My Hero Academia, Black Clover lacks a unique hook or strong characters that might set it apart in a crowded genre. Asta himself is pretty abrasive, and his constant shouting felt draining even just a few minutes in. His orphan rival Yuno is basically just Sasuke, and no other members of the cast have risen above simple archetypes. Perhaps more importantly, Asta's world doesn't feel real—it feels like a shallowly imagined template for "shounen battle story where magic is the weapon everybody uses." I liked the final segment's implication that everyone has their own magical specialty, and the premiere's aesthetic strengths are a tremendous mark in its favor, but this story will have to shape up if it wants to keep me watching.
---
discuss this in the forum (524 posts)
|
this article has been modified since it was originally posted; see change history
back to The Fall 2017 Anime Preview Guide
Season Preview Guide homepage / archives