The X Button
Versus Battles
by Todd Ciolek, Jun 25th 2008
This week finds us discussing Dissidia, Square's upcoming fighting-game mix of characters from all across the Final Fantasy franchise. And you have me to thank for it all. Back in the '90s, Electronic Gaming Monthly ran a column called "What If," inviting readers to send in fanciful speculations about the game industry. And it just so happened that I contributed these: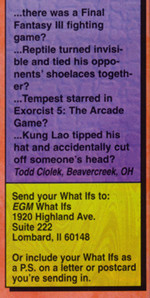 So when you finally get your hands on this Dissidia thing, remember that Square wouldn't have even thought of a Final Fantasy fighting game if a certain future X-Button columnist hadn't planted the idea all those years ago. You're welcome.
NEWS
FINAL FANTASY DISSIDIA ADDS TIDUS, CHILD ABUSE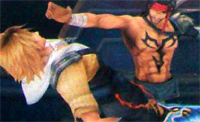 While Final Fantasy XIII and its off-shoots remain out of the public eye, at least one Square title is moving forward. The PSP fighter Final Fantasy Dissidia recently added Tidus and his jerk of a father, Jecht (right), to the lineup, alongside a Light Warrior and Garland from Final Fantasy, Firion and Emperor Palamecia from Final Fantasy II, Squall and Ultimecia from Final Fantasy VIII, Zidane and Kuja from Final Fantasy IX, and, of course, Sephiroth from Final Fantasy VII. Since Square seems intent on booking fighters two at a time, I'm hoping they'll throw in Final Fantasy IV's Edge and Rydia, Tactics' Agrias and Mustadio, or Final Fantasy XII's Balthier and Sexy Rabbit Chewbacca Fran.
MACROSS GAME GETS LOTS AND LOTS OF PLANES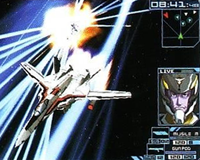 With Macross Frontier an ostensible success, it was only a matter of time before a new Macross game arrived. That game is Macross Ace Frontier, and it's hitting the PSP later this year. It's not just about Frontier, either. Artdink, the developer of Tail of the Sun and other oddities, is promising a lineup of 30 pilots and 40 vehicles from the whole of Macross history. The original series' VF-1J and VF-1S have been confirmed, along with Macross 7's VF-19 Fire Valkyrie and my personal favorite, the prototype YF-19 from Macross Plus. There's no word yet on whether or not the game's massive selection of ships will include a giant-size Klan, but I wouldn't be surprised. Artdink's also planning on over 80 missions, incorporating even the multiplayer modes, and gameplay that actually involves the relationships between the pilots. Like every Macross game before it, Ace Frontier will also let players switch from jet-fighter Valkyries to Gerwalks to robots during combat.
SKY CRAWLERS ANNOUNCED FOR WII, POSSIBLY ENJOYED BY OSHII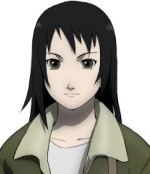 As if in answer to the space-opera romances and frantic missile-dodging of Macross Frontier, Mamoru Oshii's upcoming film The Sky Crawlers is getting a game of its own on the Wii. Namco Bandai has the Ace Combat staff working on this "dramatic flight shooting" title, and the latest batch of images shows close-range dogfights, lots of gauges, and the game's presumed heroine: Maumi Orishima (right), a fresh-faced and mercifully un-moe new member of The Sky Crawlers' squad of alternate-reality pilots. The planes are rather close to real-world designs (give me some Miyazaki-style aircraft, with grimy hulls and unnecessary winglets) but I remain interested, as someone who owns a Wii and likes Oshii's movies even when they consist of a Bassett hound reading a Bible for 85 minutes.
Less new is this footage of Oshii himself playing the game, but I'm putting it here because it's probably the closest I've seen the director come to smiling.
TATSUNOKO VS. CAPCOM GETS TEKKAMAN, ANOTHER RYU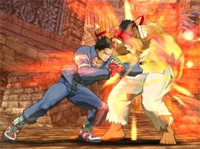 Tatsunoko vs. CAPCOM: Cross Generation of Heroes may be one of the most promising crossover fighters announced in a while, but it's taking its sweet time in picking its character roster from CAPCOM history and Tatsunoko Productions' vast oeuvre of superhero anime. The most recent additions are Batsu (left) from Rival Schools and the original Tekkaman (not to be confused with the hero of Tekkaman Blade). Some may question Batsu's inclusion, seeing as how he's the Rival Schools version of Street Fighter II's Ryu. The game already has Ryu, along with Chun Li, Gatchaman's Ken and Casshern's cyborg lead.
BLAZBLUE HAS FIGHT TEST AT AX
If Anime Expo's game room is anything like it was in years past, it may be ripe with the stench of body odor and social awkwardness. But there will be at least one reason to brave that rank den of vice: it's where Aksys Games will hold a North American location test for BlazBlue, the new fighting game from the Guilty Gear creators at Arc System Works.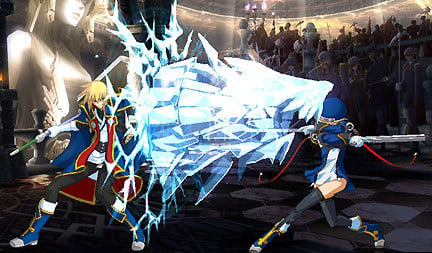 Some have decried BlazBlue's characters as Guilty Gear's table scraps, but the game's blindingly sharp 2-D look and quick play are perhaps well worth a wait in a long game-room line.
REVIEW: NARUTO ULTIMATE NINJA HEROES 2: THE PHANTOM FORTRESS
Let's say that you don't know a thing about Naruto. You've never read the manga, you can't tell what a jutsu is, and you have only the vague idea that the title is also the name of that blond kid in the orange winter wear. Will you like Naruto Ultimate Ninja Heroes 2: The Phantom Fortress?
Well, you probably won't care about the game's storyline, in which the floating fortress of the title appears over the Hidden Leaf Village and brings plagues upon the populace. In the game's "Mugenjo" mode, Naruto and numerous other lead characters infiltrate the aerial castle to clash with Princess Dusk, the vengeful spirit behind everything. Each of the fortress's over-100 floors is laid out in a simple grid, with rooms containing treasure, battles, or blank areas that Naruto is forced to fill in by using a scroll. The constantly replenished supply of scrolls creates a number of different challenges for each blank room, from races up a tree to slot machines to simple guessing games. The variety keeps Naruto's journey from getting too dull, but the story's a meaningless bore torn from the Naruto anime's pile of filler scripts, and there's no way to skip the dialogue sequences. At least you've got a choice of English or Japanese voices.
You will, however, care about the actual fighting, which is largely unchanged from the first Naruto Ultimate Ninja Heroes. Despite an impressive 3-D look, fights still occur on 2-D fields, with characters jumping to the background or foreground at will. The somewhat basic controls map all of the important ninja attacks to a single button, making combat more a matter of timing than button-jabbing coordination. A Smash Bros. comparison holds quite true: it's easy to grasp, but laced with just enough subtleties to favor the experienced player.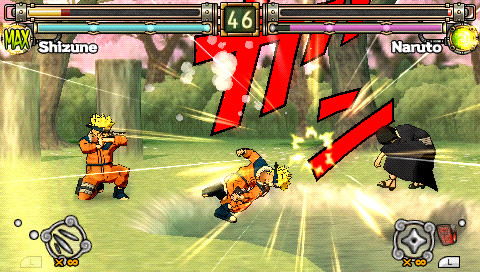 Outside of the new story, The Phantom Fortress adds a multiplayer fighting mode that can support a surprising number of players for tournaments. As it was in Ultimate Ninja Heroes, the mix of characters covers the Naruto mainstays, but it's a bit lacking when compared to CyberConnect2's PlayStation 2 Ultimate Ninja series. There's no Temari or Kankuro, and regulars like Naruto, Gaara and Sakura seem to have lost as many old moves as they've gained new ones.
Those unfamiliar with Naruto will find The Phantom Fortress a decent, approachable fighting game, but one that comes up short in comparison to free-roaming 3-D counterparts like Power Stone. Naruto fans will see it in a better light, though the ones who bought Ultimate Ninja Heroes will find it hard to justify buying it again for the sake of a lengthy plot and some tweaked characters. Yet The Phantom Fortress remains a sturdy little fighter, and in the minefield of anime-based games, fans should be thankful for that much.
RELEASES FOR THE WEEK OF 6-29
Yes, there's only one game on the radar this week, probably because everyone's playing the Aerosmith upgrades for Guitar Hero. I could go on about the joys of Purr Pals, but I think we're better off if I don't.
TRAUMA CENTER: UNDER THE KNIFE 2
(DS, $29.99)
I will openly admit that my enjoyment of the first Trauma Center took a sharp dive when Angie, the nurse, went from bitching out Dr. Derek Stiles, the main character, at every turn to being his supportive, cliché-mandated female sidekick. In Trauma Center: Under the Knife 2 , both Angie and Derek wield their medical skills in the aftermath of a civil war in The Apparently Made-Up Republic of Costigar. It's dangerous new ground for the series, and Under the Knife 2 also adds a bunch of new surgical tools and visual cues, including patients who'll change color with their condition. It just won't have Angie screaming as much.
EXTRA LIVES: Z-GUNDAM HOT SCRAMBLE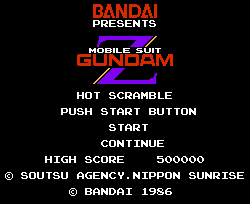 The Famicom's library was thick and gooey with anime-based games during the '80s, and it's no surprise that, despite anime's mere cult-within-cult presence in the West, a few were published for the NES in North America. Taxan did Fist of the North Star, Electro Brain published Puss N' Boots: Pero's Great Adventure, Vic Tokai brought out two Golgo 13 games, and Bandai turned a Dragon Ball title into Dragon Power by cutting Goku's hair and making Master Roshi lust after sandwiches instead of underwear. It seems a little odd that no games based on Mobile Suit Gundam, arguably the most enduring anime franchise of the decade, made the trip. In fact, one almost did.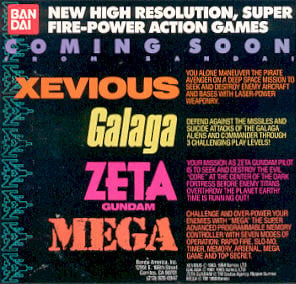 Nintendo-crazed kids who picked up the seventh issue of Nintendo Fun Club News, the precursor to Nintendo Power, saw the above ad for Bandai's 1988 NES lineup. Beneath the company's releases of Xevious and Galaga (auguring a decades-distant merger with Namco), there's mention of Zeta Gundam, in which "your mission as a Zeta Gundam pilot is to seek and destroy the evil 'core' at the center of the dark fortress before enemy titans overthrow the planet!" Oh, and "TIME IS RUNNING OUT!"
This was to be the only real mention of the NES Zeta Gundam in the West. The game quietly dropped off Bandai's release schedule later in 1988, surfacing only in those buy-and-sell game ads that were catalogs of broken dreams.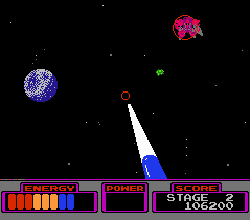 The game that would've been Zeta Gundam was unmistakably Z-Gundam Hot Scramble. When it was released on the Famicom in 1986, it was the first Gundam game designed for a console. By that time, the Zeta Gundam anime had cemented the franchise's place among Japanese geeks, and Bandai decided to play up the most important part of the series: the mecha.
That's how Hot Scramble approached things, anyway. There's an opening crawl of text describing the aftermath of the One Year War, the struggle involving the AEUG and the Titans, and Char Aznable's new identity as "Quattro Bagina." This is never mentioned again in the game, which rapidly shifts to introducing all of the mobile suits, complete with their technical specs.
Each of Hot Scramble's 16 stages comes in three parts: the opener is a first-person shooting gallery in which the Gundam crawls over a landscape as jet fighter sweep toward it. The second leg moves the first-person view into space, letting you target enemy mecha amid stars and planets. For the third and final stretch, the game switches to the side-scrolling maze of an enemy base, which the Gundam can navigate in its robot and jet-fighter forms, making its way to that reactor core mentioned in Bandai's little ad.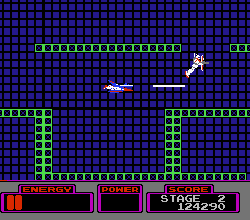 It's not much of game. The first-person segments are impressive for an 8-Bit creation from 1986 and reminiscent of the diorama effects shown in Square's 3-D World Runner, yet they're also repetitive, and the game's few bosses don't really flavor things much. The 3-D levels are, however, vastly better than the side-scrolling maze sequences, which devolve into a mess of awkward controls, jerky maneuvering and quick, unfair death. Bandai knew they were lame, too, because a special edition of Hot Scramble removed the labyrinths entirely.
Also annoying is the game's three-part soundtrack, consisting of two recreations of Zeta Gundam's opening themes and a short beat for the game-over screen. There's no ending, either; Hot Scramble just recreates the show's closing credits with Fa Yuiry and a bouncing Haro.
So Bandai had good reason to cancel Zeta Gundam's American version, the first Gundam property ever scheduled to come out in the West. Quality perhaps wasn't the issue; Bandai went on to release NES games like Gilligan's Island and Dr. Jekyll and Mr. Hyde, after all. Perhaps Sunrise balked at making a mere video game Gundam's big debut or thought it would contradict DoozyBots, that spectacular new comedy-action series coming in the fall of 1991. Whatever the reason, a generation missed out on playing a Gundam game and, in the process, finding out just how boring they can get.
---
discuss this in the forum (20 posts)
|
this article has been modified since it was originally posted; see change history
Around The Web
Jason adopts a manga all about magical cat familiars in an academy where pets are certainly allowed. If you've never read it, the time is meow.
― Cat Paradise "I've always loved animals, so I put them in my manga a lot." —Yuji Iwahara There are so many manga about people partnered up with monsters, dragons and so on, you'd think there would be more manga about people partnered up with real-life anim...
Had this book not come directly after the Romeo and Juliet storyline, it may have made a bigger impact.
― There are many things about Naoshi Komi's Nisekoi: False Love that make it one of the most entertaining harem manga out there...and sadly, not a whole lot of them end up in this volume. That's not to say that it isn't still a good book; the final arc about Chitoge's mother is very strong in its c...
You may know your anime, but how familiar are you with the company that brings you that blessed form of entertainment? Here are five interesting facts about FUNimation that you've probably never heard...
― You may know your anime, but how familiar are you with the company that brings you that blessed form of entertainment? Here are five interesting facts about FUNimation that you've probably never he...
Todd studies Falcom games and wonders why they aren't more popular! Plus NightyCry, Dead or Alive, and…well, King of Fighters, in a sense.
― I glance through Falcom's catalog this week, which means I should open with some weird, insubstantial trivia about a Falcom game. If you'll pardon an awful segue, there's nothing in Falcom games less substantial than Dela's outfit in the Brandish series. Koei t...
Sword Art Online Progressive is an initiative to go back and fill in some details that were skipped over by the time jump in the franchise's founding novel. How's it stack up?
― Sword Art Online Progressive is an initiative by original SAO author Reki Kawahara to go back and fill in and expand on some details/stories that were skipped over by the big time jump in the franchise's founding novel. This ...
A spirit hunter involves her housekeeper in a daily fight against apparitions.
― ISUCA Visit the Official Site › Story Characters Trailer Cast & Staff Gallery Broadcast Begins January 23 (JST) Key Staff Director: Akira Iwanaga (Tegami Bachi ) Series Composition: Masashi Suzuki (Rail Wars, Shuffle!) Character Design: Yukiko Akiyama (Black Cat, Yumeiro Patissiere) ↑ Top Introduction Clash (love). ↑ To...
The land of Kamisama Kiss is full of comedy, romance and plenty of supernatural happenings. As fantastic as it may seem, quite a few aspects are based on actual Japanese folklore and superstition. The world of Japanese mythology is as ancient as it is vast, with its roots firmly based in both Shinto and Buddhist traditions. Throughout Kamisama Kiss there is a constant play on the relationship of t...
The first part of Hirohiko Araki's beloved, long-running insane shonen action-adventure series is out now in a super-fancy hardcover edition. Rebecca's here with the verdict.
― Take a Victorian melodrama, combine it with a Gothic novel, and inject it with a large amount of testosterone, and what do you get? The first arc of Hirohiko Araki's long-running manga JoJo's Bizarre Adventure, Phantom Blood. ...
A look at this week's new releases and a new contributor to Shelf Life joins the team. Plus, alien invasions and other uninvited guests!
- Engaged to the Unidentified
- Muv-Luv Alternative: Total Eclipse
― Jump to this week's reviews: Muv-Luv Alternative: Total Eclipse Complete Series BD and Engaged to the Unidentified Complete Series BD. On Shelves This Week A-Channel Complete Collection BD Sentai ...
Shinobu Time brings Monogatari's focus to Araragi, Mayoi, and Shinobu in a story marked by ominous beginnings and tragic endings.
― Monogatari isn't just one stable show, with a central narrative and single genre you can use to describe it. It is many shows at once, meaning any given "Monogatari fan" can absolutely love one arc and have no interest in the next. One arc will be a slow-burning exorcism...