The X Button
River City Revival
by Todd Ciolek, Feb 24th 2010
We all know about Sgt. Frog, right? We know that it's a highly popular manga and anime series. We also know that it's portrayed as a favorite of nebbish Japanese guys in TV shows like Heroes and Densha Otoko. And we probably know that Sgt. Frog is packed wall-to-wall with references to Gundam and other anime-nerd fixtures. Well, the Sgt. Frog DS game, set to hit Japan next month, plays by the same rules. Not content to be an action-oriented RPG, it's full of battle cameos by familiar Namco characters.
The lineup of combat assistants includes Haseo from .hack//G.U., the mothership from Xevious, the floppy-eared eponymous star of the Klonoa games, the Prince from Katamari Damacy (above), the superheroine from Wonder Momo, those Wada-Don things from Taiko no Tatsujin, Pac-Man, Dig Dug, and the Valkyrie from Namco's The Legend of Valkyrie games (below). The only major Namco absences are Yoshimitsu from Tekken, KOS-MOS from Xenosaga, and some Tales series characters.
Namco loves these kinds of guest stars, perhaps in the hope that some fans will buy largely unrelated RPGs just because of little extras. Are they right? Would any of us play a game solely to see a favorite character briefly in action? All I know is that this is the closest Namco's come to a new The Legend of Valkyrie game in over ten years, and I can't afford to be picky.
NEWS
DUDLEY, IBUKI, MAKOTO IN SUPER STREET FIGHTER IV
The cast additions of Super Street Fighter IV have disappointed me for the most part. Ninja master Guy and glowing-eyed newcomer Juri are great, but it seems a waste to include Cody, Dee Jay, T. Hawk, and Adon when there are much better characters in the Street Fighter franchise. Fortunately, four slots were left in the Super Street Fighter IV roster, and three of them now belong to Dudley, Ibuki, and Makoto from the sadly underrated Street Fighter III. The fourth supposedly belongs to an oil-obsessed fighter named Hakan, heard at the end of this new trailer.
I wouldn't mind if all of Super Street Fighter IV's re-introduced lineup consisted of Street Fighter III characters (except for Alex, who is stupid and boring), but these three are all good contenders. Dudley's very entertaining, and he has more varied moves than his apparent rival boxer, Balrog. I wasn't aware that Dudley was so popular until I saw fans up in arms over his new voice, which doesn't sound quite as proper as his "Let's fight…like gentlemen" quote library from Street Fighter III.
If pressed, I'd pick Ibuki as my favorite Street Fighter III character: an agile ninja with a wide array of moves and a pet tanuki named Don. Her special combos in Super Street Fighter IV are expanded versions of her Street Fighter III super moves, though it's not clear if she'll be balanced to hit harder or take more punishment than her admittedly weak SFIII incarnation.
Makoto, meanwhile, is a karate fighter with plenty of powerful moves and a really quick dashing punch that people cheaply use over and over whenever I play them. Her design isn't all that striking, but she's fun to play. As for Hakan, Capcom still has two months until Super Street Fighter IV's late-April release, and I'm sure he'll be revealed before then.
METAL GEAR ARCADE USES 3-D GLASSES, GUNS
Metal Gear Arcade was announced at last year's E3, where many weren't particularly interested in a game that was just an arcade version of Metal Gear Online. However, the recent AOU 2010 show introduced Metal Gear Arcade and its control system, which involves motion-tracking 3-D goggles and huge plastic light-rifles. The glasses let players rotate their perspectives on the screen, while the fake plastic firearms are self-explanatory when it comes to Metal Gear Arcade's gameplay.
The online side of Metal Gear Arcade is also alive and well, as players can connect to units in other arcades, similar to the Gundam games that do well in Japan's arcades. I doubt the same concept would succeed in North America, and I doubt that Konami will even try it over here.
XENOBLADE DESECRATES CORPSES
Nintendo and Monolith Soft's Monado got some attention by renaming itself Xenoblade for the Japanese market, and now there's another interesting revelation: the game's world consists of the corpses of two ancient gods. Presumably the creatures seen fighting on the game's official website, the fallen deities create two continents from their bodies: one is inhabited by humans, the other by a hostile race of machine people. The nations aren't on good terms, and that's where Xenoblade's story begins.
The battle system of Xenoblade has multi-character parties engaging enemies in the overworld, with no separate screens for hostile encounters, and exploration is heavily emphasized. This has earned Xenoblade some comparisons to Final Fantasy XII, and that's just fine with me. I'd also be fine with Nintendo using Xenoblade as the game's U.S. title instead of calling it Monado.
DRAGON BALL ORIGINS 2 COMING HERE
Dragon Ball: Origins took a bold stab at turning the Dragon Ball series into a 3-D action game for the DS, though it only reached part of the way through the storyline. Origins 2 picks up where the first left off, as Goku faces the Red Ribbon Army with the help of Krillin, Yamcha, and Bulma, all of whom are playable.
It'll be out this summer, but will it have the bonus Famicom game, Dragon Ball: The Mystery of Shen Long, that was included in the Japanese release? That title was censored when it came to the NES as Dragon Power in the 1980s, so this is Bandai's chance to set everything to rights by…uh, faithfully translating a mediocre old NES game.
IMPORT ROUNDUP: FEBRUARY
KUNIO-KUN: THE GREAT HOT-BLOODED ATHLETIC MEET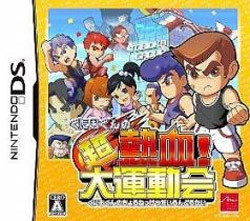 Developer: Arc System Works
Publisher: Arc System Works
Platform: DS
Players: 1-4
The Kunio-kun series came to North America several times during the days of the old NES, but no one could decide what to call the games; you had the matches of Super Dodge Ball, the crude Olympics of Crash 'N the Boys Street Challenge, the canceled Crash 'N the Boys Ice Challenge, the simplistic fights of Renegade, the Americanized Nintendo World Cup, and, towering above them all, the cult favorite brawler River City Ransom. Names aside, the Kunio-kun games were always identified by their square-faced characters and juvenile-delinquent heroes, and plenty of both can be found in the latest game in the series. The Great Hot-Blooded Athletic Meet is very much in the spirit of those Challenge NES titles, with multiple track, field, and backalley events for huge-headed characters to tackle. Of course, many of the sports on display boil down to the participants racing around and pounding each other with nearby objects, not unlike Power Stone or Smash Bros. Players can also customize a character for the competition, though they should name him "Alex" or "Slick" or something else that refers to River City Ransom.
Import Barrier: The fighting needs little text comprehension, but you'll need some Japanese to make complete sense of the character-creating mode.
Chances of a Domestic Release: Already happening. Aksys Games will release this in North America as River City Super Sports Challenge. They'll also have another Kunio-Kun game, River City Soccer Hooligans.
LUPIN III: THE GREATEST BATTLE OF WITS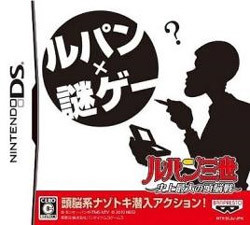 Developer: Namco Bandai
Publisher: Banpresto
Platform: DS
Players: 1
Some may accuse Lupin III's latest game of stealing from Nintendo's puzzle-driven Professor Layton series, but hey, Lupin's a thief. Besides, there's more to The Greatest Battle of Wits than a few puzzling challenges. In between the brain-teasers, Lupin slinks through side-scrolling levels full of alert sentries and other hazards, and it all looks impressive for a two-dimensional platformer. Puzzles arise in both the stealth-driven stages and in separate tasks that require spatial reasoning and cunning logic. And then there's the mini-game where Lupin rubs lotion on a sunbathing Fujiko, who is clearly manipulating our hero. Or maybe she'll innocently get captured and need rescuing. She's always been the least consistently written Lupin III character, hasn't she?
Import Barrier: Fairly high, since many puzzles involve Japanese text, and you won't get far without solving them.
Chances of a Domestic Release: Slim, since Lupin III had its shot at Adult Swim many years ago. That said, The Greatest Battle of Wits is still the most interesting Lupin III title in a long time, so a North American publisher might take a look.
ONE MILLION TON NO BARA BARA

Developer: Japan Studio
Publisher: Sony
Platform: PSP
Players: 1
I quite like the premise of One Million Ton no Bara Bara: you're commanding a military squad that sabotages huge invading airships by slicing them apart. High above the earth, your team rips through the frames of huge two-dimensional cruisers while fending off the enemy crew's various attacks. All the while, the airships are raining down explosives on your nation, and the game's over if they inflict too much damage. The visual style is also unique among modern games, resembling the moving-cutout look adopted by many European cartoons (you know, the voiceless, haunting sort you'd see on Nickelodeon or PBS as a kid). Like Patapon, it's a strange new concept that works wonders once players grasp it.
Import Barrier: The aim of each level is easy to figure out, though some of the more complex ideas may require reading. You might also want to avoid importing because…
Chances of a Domestic Release: A North American release is coming under the title Patchwork Heroes, and this is exactly the sort of weirdly unique game that becomes a cult hit in the West.
RELEASES FOR THE WEEK OF 2-28
ENDLESS OCEAN: BLUE WORLD
Developer: Arika
Publisher: Nintendo
Platform: Wii
Players: 1
MSRP: $29.99

I overlooked Endless Ocean: Blue World last week, and the reason is somewhat embarrassing: giant underwater creatures freak me out. I can watch all sorts of disturbing horror films and laugh, but I had merciless nightmares for weeks due to that scene in Finding Nemo where an enormous whale slowly swims up behind the two main characters. There's plenty of intimidatingly large aquatic life in Endless Ocean: Blue World, and, unlike the creatures of the original Endless Ocean, some of the animals in Blue World can actually hurt you. There's also a story about undersea ruins and whale songs, but that's just a means to inspire all sorts of diving expeditions. Players can now use a sonic device to heal nice animals and drive away the hostile ones, and the first game's aquarium-building feature grows more elaborate this time. It's all quite relaxing as games go, until an angry, Melville-grade leviathan rises up out of the deep and heads right for you and there's nothing you can do about it.
Get Excited If: You ever wanted to be a marine biologist.
LUNAR: SILVER STAR HARMONY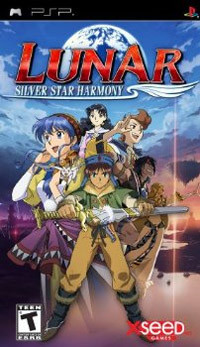 Developer: GungHo and Whatever is Left of GameArts
Publisher: XSeed Games
Platform: PSP
Players: 1
MSRP: $29.99/$39.99 (Limited Edition)
Extras: The Limited Edition includes a soundtrack and 13 "bromide" cards. If you tried the PlayStation remakes, you know what "bromide" means.

If I had to choose a good but typical Japanese RPG for some museum exhibit, I'd grab Lunar: The Silver Star. It's a competently executed piece from the 1990s, when anime cutscenes, resolute heroes, passive heroines, fetch quests, cute little dragon sidekicks, and games with actual plots weren't nearly as commonplace as they are now. Silver Star Harmony is yet another new version of Lunar, though it builds on some old content. The story is much the same, featuring an adventure-hungry kid and his childhood friend Luna on a quest marked by dragons, gimmicky allies, and a somewhat predictable plot twist or two. The animated intermissions are also like their PlayStation incarnations, though the voice acting is new, as is the rest of the translation. As for the other differences, the 2-D graphics were redone almost entirely, and the battle system has a more streamlined menu. And while this may not draw in those who've explored Lunar already, it's been over ten years since the PlayStation remake set the standard. So there's an entire generation in need of a good version of Lunar, and the GameBoy Advance port didn't really count. Either way, it's nice to see Lunar again, even if it's just another re-issue of the original. And it's also nice to see GameArts doing something, even if they're just a shell of the company they were in Lunar's heyday.
Get Excited If: You want an RPG with old-fashioned charm. No huge swords or belt-festooned j-pop stars or wordy dialogue trees or high-school dating simulators.
---
discuss this in the forum (41 posts)
|
this article has been modified since it was originally posted; see change history
One of the most beloved seasons in this classic anime is finally available to own with a brand-new dub! Rebecca Silverman explores how well Sailor Moon S holds up after all these years.
― Sailor Moon S is hailed as one of the best seasons of the five-season series, and even just from the first few episodes, you can see why. Unlike its predecessors, Sailor Moon S gets right down to business introducin...
It's Dark Souls by way of creative powderkeg Suda 51, and Dustin has strapped in for a weird, bloody ride. PLUS: Death Stranding, Final Fantasy XV, Super Mario Run and much more!
― It's the end of the year, and that means it's time for game releases to start winding down—but don't worry, January is already packed. There's only one release of any note this week, but don't think the lack of new games m...
This unusual historical fantasy anime might have gotten lost in the shuffle of bigger titles over time, but it's still one of a kind today. Theron Martin explores just what makes this series special.
― Maria the Virgin Witch is a remarkable series in many respects. It's nearly as raunchy as a high-end fanservice anime – even being assigned a TV-MA rating despite not having any detailed nudity – and y...
Like this season's Izetta: The Last Witch, historical fiction anime plays fast and loose with real events to spin some fantastic yarns that nevertheless teach us plenty about real history!
― Though it has never been a dominant anime genre, historical fiction has nevertheless persisted in anime since its earliest days. These days hardly a season goes by without some new interpretation(s) of Sengoku-er...
The extras are insightful in this new release of Summer Wars, even if the story may not hold up the way it once did. Rebecca Silverman offers her take on Mamoru Hosoda's breakout film.
― Time is the greatest test of any work. Poems written by Heian era women over a thousand years ago are still intimately relatable to modern readers, novels by men in the 19th century still have a lot to say about soci...
Win tickets to see SAO The Movie in theater, Yuki Kajiura in concert, or other great prizes.
― ©2016 REKI KAWAHARA/PUBLISHED BY KADOKAWA CORPORATION ASCII MEDIA WORKS/SAO MOVIE Project Get ready to LINK START Sword Art Online fans and join Kirito, Asuna, and all of your favorite characters again as they make their big screen debut! With the U.S. premiere of Sword Art Online the Movie on March 1, 201...
Monster Musume is a very, very naughty manga. When you've got a harem interspecies comedy where the girls are half-snake, half-horse or half-slime mould, the sexy permutations are pretty much infinite. Below, we've nominated our seven favourite guilty pleasures from Monster Musume's early chapters. Warning: the following scenes contain acts which some people may find unnatural... 1 – Monster Musu...
Keijo!!!!!!!! shoots up the charts and Sound! Euphonium 2 retakes the top spot in our weekly user rankings! See how your favorite shows performed!
― Our team of reviewers are following 27 anime series of the Fall 2016 season and readers are rating each episode as the reviews go up. So let's have a look at what ANN readers consider the best (and worst) of the season. Keep in mind that these rankings ...
After a decade in development, the latest entry in the Final Fantasy franchise is finally here! Dustin Bailey has the lowdown on this bishounen-packed road trip.
― Every time you boot up Final Fantasy XV, it presents you with a message, calling itself a "Final Fantasy for fans and first timers." The series' disconnected chronology has always favored reinvention, but this one takes that that further t...
We've added yet another prize to the Monster Musume Favorite Character Contest. Only 6 days left to vote.
― Contest Giveaway Manga Sale 1. Contest Details Vote for your favorite Monster Musume character in this official Monster Musume Popularity Contest! If you have a BookWalker Global account, you'll also be eligible for some AMAZING PRIZES. To participate, fill out the form below. Contest ends Dec...
What role does streaming play in giving back to your favorite anime creators?
― Cody asks: I was wondering how much does viewer count matter on streaming services like crunchyroll if at all? They've recently added some older shows, like A Certain Scientific Railgun, that I've already watched and I honestly tend not to rewatch shows very often unless showing them to friends. However I do want to supp...
Paul takes on the frequently frustrating melodrama of the classic shojo series, "Boys over Flowers." Plus, all this week's new releases!
― I can tell we're still a long way away from the heart of winter because I still feel annoyed instead of relieved when the forecast predicts more snow than we actually get. If it's going to snow, let's skip all the inconsequential flurries and get on with it! (Let...
Prison School is a gleefully gross adventure that succeeds by embracing its own smutty soul. Nick Creamer has the details.
― It's hard to say what makes for a "good fanservice show." After all, some of the things that people seek from fanservice run directly counter to the qualities generally valued in other shows. Gratuitous fanservice tends to ruin an audience's ability to take a story or its chara...
The spicy boy-meet-girl-monsters manga comedy Monster Musume has been a hit since it slithered sexily from the mind of artist OKAYADO. You could call it a harem manga, but you've never seen a harem like this one. It starts with a bird-girl, a snake-girl and a horse-girl, and then it gets really strange. All these ladies are flying, clopping and otherwise perambulating to Japan as part of a govern...