The X Button
Xeno Morphing
by Todd Ciolek, Jun 30th 2010
I'm discussing Xenoblade this week. It leaves me conflicted. That's because Xenoblade is the latest RPG from Monolith Soft, and I'm a strange sort of Monolith Soft fan. I've often thought that their games come tantalizingly close to greatness, only to be derailed somehow. Xenogears, which Monolith's future founders made while at Square, was spellbinding for its day, but it would've been so much better if the developers had gotten the time, money, and staff to actually finish the game.
The Xenosaga trilogy, an attempted reboot of the Xenogears universe, has a similar problem: each game in the series does some things right and at least one thing spectacularly wrong. It's a showcase for both the good and bad forms of anime overkill, embodied by the destructive sex-bot KOS-MOS (above). Baiten Kaitos and Soma Bringer, two other Monolith Soft creations, are in the same boat.
So you can understand why I hesitate to get behind Xenoblade at this point. Even though it seems like the ideal evolution of Final Fantasy XII's gameplay, it could just as easily turn into another Monolith misstep.
NEWS
BLAZBLUE: CONTINUUM SHIFT ADDS PLAYABLE SQUIRREL-GIRL, OTHER THINGS
BlazBlue: Continuum Shift was at first a mere upgrade to last year's fighter, as it tacked on three new characters, some fresh backgrounds, and subtle gameplay fiddling. Now that the game's a month away from showing up on the Xbox 360 and PlayStation 3 in North America, Arc System Works is throwing in an expanded story mode and, more importantly, downloadable characters. One of them is Makoto Nanaya, a squirrel-tailed, squirrel-eared former classmate of the already-playable Noel Vermillion and Tsubaki Yayoi. Makoto and Tsubaki were shown in school uniforms during the original BlazBlue's story mode, but Tsubaki got a heavy coat and a valkyrie-like headdress when she became a full-fledged combatant. I'm sure Makoto will be redesigned in a similarly dignified and sensible…
Oh. Well, this isn't out of place in a game that already had a hooded cat-girl constantly trying to bite a buxom doctor's chest. Anyway, early reports paint Makoto as a short-range character, as her cross-shaped tonfa-gauntlets apparently do not hide any projectiles or nuts for the winter. Makoto will be available for download shortly after Continuum Shift arrives in July, and players can just unlock another character: v-13, the mecha-girl boss from the original game. She was replaced by Λ-11 in Continuum Shift, but someone wanted her back. You can expect to see Makoto (and perhaps v-13) on collectible BlazBlue body-pillow covers before the end of the year. That is not a joke. It's a prediction, and I will bet five dollars on it coming true.
BlazBlue: Continuum Shift's downloadable cast might not stop at the game industry's first ever (I think) squirrel-girl. Shadowy figures were shown in a Famitsu preview for the game, suggesting that more DLC fighters might be waiting. The most likely suspects are the elderly butler Valkenhayn and cat-girl scientist Kokonoe, which would dramatically offset the game's cat-girl/squirrel-girl ratio. The actual prices of these downloadable characters were not announced at this writing, though fans might want to buy Makoto as soon as possible. You know, just in case Marvel Comics files a lawsuit and has her pulled from the market.
AKSYS LICENSES GLADIATOR BEGINS, SOME GAME WITH LOTS OF NINES
Aksys Games decided to wait until the post-E3 hush to spring a bunch of licensing announcements, or, rather, GameFly decided to spring some of the announcements for Aksys. Everyone knew about BlazBlue: Continuum Shift coming on July 27, but Gladiator Begins, Blazing Souls: Accelate, and 999: 9 Hours, 9 People, 9 Doors are all new to the publisher's stable.
A PSP brawler, Gladiator Begins looks like it came from the Roman-warrior phase that the game industry went through a few years ago, giving us Gladius and Shadow of Rome. But no, Gladiator Begins is a new creation from Acquire, developer of several games in the Tenchu series. Their Roman excursion lets players create their own gladiators, male or female, and endure all sorts of nasty coliseum battles. There are many weapons to use, five different patrons to work for, and a steady stream of new moves to learn. The story itself seems patterned on Ridley Scott's inexplicably Oscar-winning Gladiator, as it's set during the power struggle that followed the death of Emperor Marcus Aurelius Antoninus. It's a different sort of project for Aksys Games, and it might reach beyond the anime-fan field when it ships in September. A demo's going up on July 13, for anyone who's interested.
Blazing Souls Accelate, on the other hand, is the sort of game Aksys typically puts out: an anime-toned strategy-RPG. It's part of Idea Factory's big shared Spectral series, and it's a port of the original Blazing Souls, released on the PS2 in 2006. Aksys hasn't nailed down the game's new features (or if they'll change the title to Blazing Souls Accelerate), but GameFly thinks that it'll be out for the PSP in October.
The most interesting Gamefly-leaked Aksys acquisition is 999: 9 Hours, 9 People, 9 Doors. This DS adventure game finds nine passengers on a cruise ship filled with deadly puzzles, all of which need to be disarmed with the DS stylus. The guests, encompassing all sorts of anime stereotypes, are faced with bizarre rules from their captor, who has apparently planted bombs on their bodies. Backstories are divulged, gruesome fates are met, and it's up to the player to save as many passengers as possible. Aside from that premise, 999 is set apart by the designs of CAPCOM-affiliated artist Kinu Nishimura and the pedigree of developer Chunsoft, best known for developing many Dragon Quest and Pokémon titles. Yet Chunsoft is almost as famous in Japan for visual novels, and 999 is the first of them on track for a North American release.
NI NO KUNI AIN'T JUST FOR DS ANY MORE
Ni no Kuni: The Another World was too good of an idea for a single game system. It started out as a DS-based RPG collaboration between Level-5 and Studio Ghibli, and said RPG is still set to hit Japan this December. But now Ni no Kuni: Queen of the Holy WHITE ASH is also coming to the PlayStation 3, and it looks just as good as you'd expect from a high-budget RPG with Ghibli's animators involved.
The PlayStation 3 game's first trailer touts its visual punch, comparing Ghibli's animation to the nearly identical 3-D look of the game. The setting itself is similar to the one laid down by the DS version of Ni No Kuni, wherein a boy named Oliver escapes to a convincing fantasy world after his mother's death. Of course, everything looks considerably more impressive on the PS3, including the game's battles. Japanese fans will be waiting a while for it, though, as the PlayStation 3 version won't be out until 2011.
IMPORT ROUNDUP: JUNE
ATELIER TOTORI

Developer: Gust
Publisher: Gust
Platform: PlayStation 3
Players: 1
The Atelier series was ahead of its time, at least when it came to pairing shiny-eyed anime girls with item-crafting RPGs. Gust was doing all of that back in the 1990s, well before the game industry built fan subcultures where everything is moe this and tsundere that. Fortunately, Gust stuck around to reap the benefits of their pioneering, and now there's a new and presumably profitable Atelier game out every few months. Atelier Totori is a sequel to the recent Atelier Rorona, which distinguished itself by putting typical Atelier characters and gameplay in decent 3-D (well, decent for a developer that rarely did 3-D before). The Totori of the title is a young apprentice to Rorona, and several years after Rorona's adventure, Totori sets out to hunt down her missing mother and an alchemist's license. The alchemist's license involves item-creating experiments and ingredient hunts, and the mom-search involves what's likely a very melodramatic storyline. And Atelier fans like it that way.
Import Barrier: Lots of text, lots of voices, and lots of things that'll be lost on you if you don't read Japanese.
Chances of a Domestic Release: Quite good, since NIS America has Atelier Rorona due for a September release over here.
BOKU NO NATSUYASUMI PORTABLE 2

Developer: Millennium Kitchen
Publisher: Sony
Platform: Sony PSP
Players: 1
There's something vaguely depressing about Boku No Natsuyasumi's concept: you pretend to be a boy named Boku (note the pun for the male Japanese "I") as he enjoys an idyllic summer of catching bugs and wasting time. It's the best way of recapturing your charmed young life now that you're a beaten-down office worker or, worse, a self-loathing recluse. Anyway, Boku No Natsuyasumi's one of those relaxing games that's all about setting a laid-back mood and throwing lots of humdrum diversions at the player. You can scuba-dive, talk to villagers, hang out with local kids, fill a diary, and not worry too much about the crushing school studies and professional life that await you once you grow up. The game uses simplistic 3-D characters against more realistic backgrounds, and it's all part of a summer vacation back in the sweet, unspoiled time of…uh, 1975.
Import Barrier: To fully enjoy this, you'll need to know a bit about both Japan's language and its culture.
Chances of a Domestic Release: Minimal, since no one ever tried to bring the other Boku No Natsuyasumi games out for other PlayStation systems.
XENOBLADE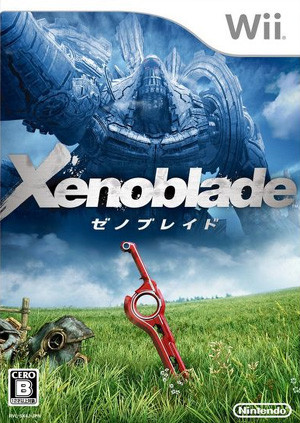 Developer: Monolith Soft
Publisher: Nintendo
Platform: Wii
Players: 1
Nintendo president Satoru Iwata remarked earlier this year that Xenoblade was so named "to honor Mr. Tetsuya Takahashi," the co-creator of Xenogears and Xenosaga. This was far more tactful than saying "We decided to call it Xenoblade to rope in the crazy-ass RPG fans who'll buy anything with 'Xeno' in the title." According to Takahashi himself, there's no connection between his work on Xenoblade and his previous games, as Xenoblade is set in an inventive new stage: the upright corpses of two godlike alien creatures. In the long ages since the pair seemingly died mid-fight, humans and humanoid races came to populate one giant body, while chitin-covered machines started a civilization on the other. War inevitably breaks out, though it leads to a somewhat routine RPG premise, as a young man named Shulk takes up the toylike Monado blade after its former handler can no longer control the weapon. If its cast is largely generic, Xenoblade stands out in other ways. The game's built around exploration and a free-flowing battle system that plays a bit like Final Fantasy XII with more special attacks. It's in sharp contrast to the extensive story scenes and linearity of those previous and unrelated Xeno games, but Xenoblade's cinematic spectacles are still impressive. It also shares the Xenosaga knack for good music, with a soundtrack from a team of six composers. Yasunori Mitsuda (Chrono Trigger, Xenogears) and Yoko Shimomura (Kingdom Hearts, Legend of Mana) are the biggest names, and they're backed by Manami Kiyota (Pokémon) and the three-member team of ACE+.
Import Barrier: The basics of combat shouldn't be too hard to figure out, but the story's another matter.
Chances of a Domestic Release: Funny thing. Nintendo quietly confirmed that Xenoblade is coming to North America, but they called it by its original title: Monado: Beginning of the World. There's no release date yet, so they have time to change the title and, for that matter, Shulk's name.
NEXT WEEK'S RELEASES
PERSONA 3 PORTABLE
Developer: Atlus
Publisher: Atlus
Platform: Sony PSP
Players: 1
MSRP: $39.99

Some people surely bought both Persona 3 and Persona 3 FES for the PlayStation 2. Those people may be a little bitter at the prospect of buying the game one more time with Persona 3 Portable. Yet Portable brings more changes, and the most obvious one is right there on the cover: players can go through the game as either the original Persona 3's long-banged schoolboy or Portable's all-new heroine. Her story, her Persona, and her choices in dating are largely different from the male-centric tone of the original Persona 3. The game also adopts a battle system that offers direct control of all party members, something that Persona 3 should've had in the first place. What this new Portable version doesn't have is the "Answer" mode from FES, but I supposed Atlus had to leave that edition of the game with something unique. Instead, Portable has a battle-rush epilogue with nastier versions of the game's bosses. All in all, Portable makes many alterations to Persona 3's tale of supernatural demon-hunting at a secretly surreal academy. But most of you will be after the schoolgirl's storyline, won't you?
Get Excited If: You wanted a broader dating pool in Persona 3.
---
discuss this in the forum (22 posts)
|
this article has been modified since it was originally posted; see change history
Around The Web
Marketing specialist for Aniplex of America EJ Rivera drops by the show to chat all things Aniplex, including some sales numbers, upcoming releases, and those pesky prices people love to fight about.
― ANNCast Episode 223: Aniplex Machina Get the Flash Player to see this player. Marketing specialist for Aniplex of America EJ Rivera drops by the show to chat all things Aniplex, including some sales n...
Please take a few minutes to answer our annual reader-survey. The information is very helpful to us.
Justin takes on the backlash over simulcast subtitle quality. Then, why anime studios change in the second season of a show, what happens when a US publisher gets the rights to release something elsewhere, and more.
― After last week's column was posted, I got some grief on Twitter from a handful of readers, who were incredulous that I had such high praise for the staff that works on simulcast subti...
The Grand Magic Games heat up as unscrupulous contenders make the fights more dangerous while ominous powers move behind the scenes. Can Fairy Tail still come out on top?
― Fairy Tail has successfully made the standard shounen tournament arc into something that, if not precisely new, is still interesting even as it maintains the genre standards of increasingly powerful battles and hidden powers. Inde...
If you were ever curious what life was like for the woman who created Princess Jellyfish, Jason has the manga for you.
― Kakukaku Shikajika "I want to go back in time and beat up that moron." —Akiko Higashimura, and many other artists, talking about their younger self Few artists "live the dream" of becoming a professional when they're still a teenager. When I was a kid I dreamed of being a horror a...
Rising from the dusty wastes of 2002, the grim embodiment of tragedy porn known as Saikano has returned to DVD. Run for your lives.
― In television writing there's an old adage about manipulating the emotions of your audience; there are various permutations on it, but the most common one is known as "kicking the puppy". This refers to a hypothetical situation in which a writer, desperate to wring som...
This week: part two of Global Gamers Day with Godzilla, Tales, and manga stars! Plus Amnesia: Memories, Tokyo Xanadu, and your chance to pick your GameArts favorites!
― GameArts doesn't make much noise these days. GungHo Online Entertainment took over the company years ago, and they seldom bring up the Lunar games, the Grandia series, Thexder, GunGriffon, or any GameArts series other than Ragnarok O...
Straight from your childhood and the pages of Nintendo Power, Manga great Shotaro Ishinomori puts his own spin on the classic Nintendo game.
― Link, that pantsless elven hero of many a video game, is back from the dead pages of Nintendo Power Magazine! For fans of the Nintendo franchise The Legend of Zelda who were either not subscribing to the Nintendo Power Magazine in 1992 or are not familiar with...
These guys are releasing the soundtrack to Yoshiaki Kawajiri's classic horror flick Wicked City on vinyl. We sat down to ask them why.
― Tiger Lab Vinyl recently announced that they'd be releasing the soundtrack to the classic Yoshiaki Kawajiri horror anime Wicked City on limited edition vinyl. They're the first record label to release classic anime soundtracks on the resurging format, and we sat dow...
A story about hope that travels through space and time.
― Wish upon the Pleiades Visit the Official Site › Story Characters Trailer Cast & Staff Gallery Broadcast Begins April 2015 (JST) Key Staff Director: Shoji Saeki (FLCL (OVA), Medaka Box Abnormal) Character Design: Mai Otsuka ( Astarotte's Toy, Hanamaru Kindergarden) ↑ Top Story Subaru is a junior high student that loves the stars. One day, aft...
Trigger's chuuni-drenched follow-up to Kill la Kill struggles to get out of that hit show's long shadow.
― When Supernatural Battles Became Commonplace is many things. Firstly, it's a light novel adaptation, as its lengthy title might indicate. It has the familiar marks of the genre: chuunibiyou characters with insights into how they tick, goofy school antics and a harem for the main male chuuni. Yet...
A harrowing story of survival, police, danger, high speeds and car wrecks involving a giant mecha, playing out in real life the streets of Los Angeles!
― Welcome to "Tales of the Industry," a column where we will share stories from real working professionals in the anime business. This week, we have another anonymous tale contributed by a current or former members of the industry, with details chang...
ST☆RISH and QUARTET NIGHT will put it all on the line for a chance to perform at the international sports festival!
― Utano☆Princesama Revolutions Visit the Official Site › Story Characters Trailer Cast & Staff Gallery Broadcast Begins April 2015 (JST) Key Staff Director: Makoto Hoshino (Uta no Prince-sama 2000% episode director (eps.1,7,12), Sword Art Online episode director (eps. 7,20)) Series Com...
Alice Cartlet, Shinobu Omiya and friends are back for another season of high school comedy fun!
― Hello!! KINMOZA Visit the Official Site › Story Characters Trailer Cast & Staff Gallery Broadcast Begins April 2015 (JST) Key Staff Director: Tensho (The Fruit of Grisaia ) Series Composition: Yuniko Ayana (Ground Control to Psychoelectric Girl, Locodol) ↑ Top Story Alice Cartelet, 16 years old. A Briti...