Advertorial

Fairy Tail: The Grand Magic Games

by Paid advertisement by FUNimation,

The Grand Magic Games are afoot, and it's time to see if all the training and hard work is going to pay off. 113 teams have arrived at the competition. Each team seeks to prove that their Magic Guild is the most powerful in all of Fiore, and claim the 30,000,000 Jewel prize! We get ready to rejoin our favorite teams in the Domus Flau arena as the X791 Tournament gets underway in FUNimation's Fairy Tail 15.
Get your money ready because it's betting time. Although they are coming in as underdogs, Fairy Tail are picking up some major steam, and exceeding everyone's expectations. There's a bunch of really interesting bets on the table, and the odds keep changing after every match, making for some white knuckle moments for anyone with cash on the line. We take a look at some of our favorite contenders, and how they stack up against the fearsome competition.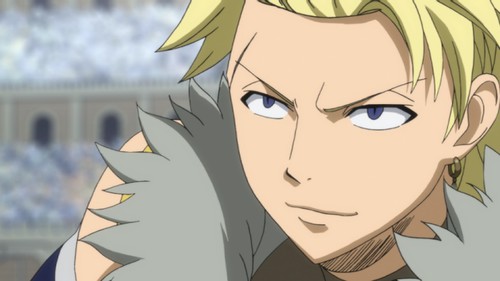 Sting Eucliffe
Sting Eucliffe Coming in as a pretty safe bet is Sabertooth Guild's Sting Eucliffe, with 3:2 odds. As the Guild Master, the powerful Dragon Slayer comes packing White Dragon Slayer Magic—a holy light magic that he uses to pass judgment to any foe unfortunate enough to cross his path. Sabertooth quickly moved into the top spot, but will Sting's motion sickness and pride prove to be the team's downfall?

Jura Nekis
Jura Nekis The Wizard Saint, Jura Nekis, comes in at an intimidating 4:3 odds. "Iron Rock" Jura represents the Lamia Scale Guild, packing a fearsome punch with his Earth Magic, which also gives him the ability to become nigh invulnerable. He enters the games confidently and with enthusiasm, jokingly referring to them as a festival, and rallying Lamia Scale behind him. A pretty safe bet all around, but could his insecurities about his baldness become an issue?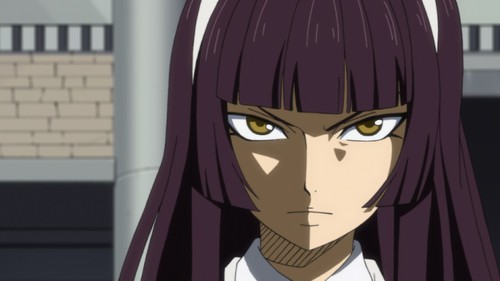 Kagura Michizuki
Kagura Michizuki The calm and collected Kagura Mikazuchi brings in quite favorable odds at 2:1. Representing the Mermaid Heel Guild, the often stone-faced beauty is a master of Gravity Magic, as well as a master swordswoman. The members of her all-female guild have decided to put their trust in Kagura, choosing her abilities, even against fearsome opponents like Yukino Aguria. Will the heartaching memory of the brother she lost overwhelm her in the games, or will it fuel her towards success?

Erza Scarlet
Erza Scarlet Costume fanatic, Erza Scarlet represents the Fairy Tail Guild with respectable 4:1 odds. The master of both Requip and Sword Magic is also a powerful telekinetic: her arsenal of weapons and armor are a dizzying surprise for anyone facing Team Natsu. Erza was instrumental in training the team for the games, but could her strict rules and constant nagging have done more damage than good? They were met with boos on their arrival; but can Erza and Team Natsu win the hearts of those in attendance and come out winners?

Laxus Dreyar
Laxus Dreyar Representing Team B of the Fairy Tail Guild is the dynamic Laxus Dreyar, sporting 5:1 odds. Far removed from his early days in the guild, Laxus has become a somewhat likeable guy, recently re-joining the ranks of Fairy Tail. He was initially not into the idea of making a Team B in the games, but then he heard the losing team would have to obey the winning team. This of course means that he could order Natsu around, and so the intense training began. Laxus is a Second Generation Dragon Slayer: his Lightning Dragon Slayer Magic powers were artificially implanted.

Natsu Dragneel
Natsu Dragneel Representing Team A of Fairy Tail is our favorite Dragon Slayer, Natsu Dragneel. The free living master of Fire Dragon Slayer Magic has no problem speaking his mind openly, and doesn't mind a brawl with his fellow team mates. Fairy Tail has lost badly the last three times they participated in the Games, so his odds come in at 5:1, the same as Laxus, coming in at 5:1. Often the underdog, that doesn't seem to ever bring his fighting spirit down. Natsu has a bit of a rough start at the beginning of the games, but that doesn't mean that he is a bad bet in any way. Could you really bet against Natsu? Much like other Dragon Slayers, Natsu's motion sickness rears its head at the games, but that's nothing new for the fiery hero.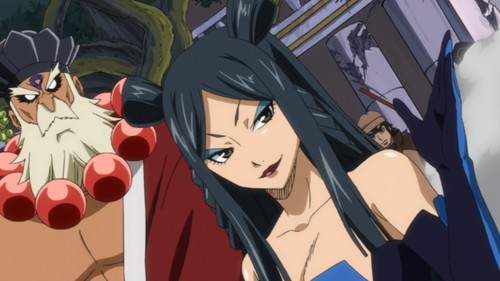 Minerva Orlando
Minerva Orlando Don't let the paltry 20:1 odds fool you. Minerva Orlando of the Sabertooth Guild is not a foe to overlook. She comes into the games as a reserve member, which heavily skews the odds, as she might not even get to compete. Reserve members tend to only be brought in if others are too injured to continue. Something you might want to consider when you make your wager is that Wizards tend to get injured in the Grand Magic Games. The sadistic and powerful mage possesses the power "Territory," giving her the ability to manipulate time and space. The odds may make you want to overlook Minerva, but you probably do not want to turn your back on her. Going into the games she seems to have her eyes on Fairy Tail's Erza, not necessarily the best person to pick a fight with.
Whether or not you're the betting kind of person, there is no way you should miss the continuation of the Grand Magic Games story arc in FUNimation's Fairy Tail 15. It's not all fun and games this time, as things start to get serious and lives are put on the line. While the world has its eyes on the games, a threat begins to arise during the distraction. Make sure you pick up Fairy Tail 15, available now as a specially-priced Blu-Ray and DVD combo over at FUNimation.com,/a>.

---
discuss this in the forum (8 posts)
|