Anime Spotlight - Amagi Brilliant Park
by Anthony Foronda,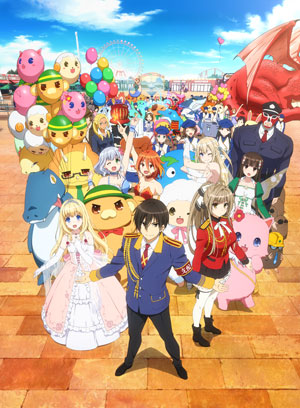 Broadcast Begins October 2014(JST)

Key Staff
Original Creator: Shouji Gatou

(Full Metal Panic!)

Director: Yasuhiro Takemoto

(Full Metal Panic! The Second Raid (TV), Hyoka (TV), The Disappearance of Haruhi Suzumiya (Movie))

Series Composition: Fumihiko Shimo

(Air (TV), Clannad (TV), Dai-Guard (TV) )
Story
Seiya Kanie was forcefully asked on a date to an amusement park from Isuzu Sento, the new mysterious beauty of a transfer student. Without understanding of anything, he was brought to Amagi Brilliant Park, the most disappointing amusement park in Japan known for its deserted attractions and lackluster service.
Seiya, shown through to its owner Latifah, a "true princess", for no reason is suddenly entrusted with rebuilding the park that is facing closure. Furthermore, it was not just a commonplace amusement park--!?
Characters
Seiya Kanie
VA:Kouki Uchiyama

High-school student with both amazing intelligence and athletic skills. He looks rather handsome too, but he's a sorry little narcissist who has no friends.

Isuzu Sento
VA:Ai Kakuma

A beautiful girl, frail yet charming, with flaxen hair and big eyes. She transferred into Seiya's class.

Latifah Fullanza
VA:Yukiyo Fujii

A girl who acts as the general manager for Amagi Brilliant Park. Requests Seiya to rebuild the park that is facing closure due to lack of visitor attendance.

Moffle
VA:Ayako Kawasumi

The fairy of sweets that lives in "Moffle's Sweets House". The popular mascot character for Amagi Brilliant Park and is trusted by other cast members, but is a bit on the aggressive side.

Macaron
VA:Ryoko Shiraishi

The fairy of music that lives in "Macaron's Music Theater". Has the artist air, and often takes time off of work if not in the mood for it.

Tiramie
VA:Ai Nonaka

The fairy of flowers that lives in "Tiramie's Flower Adventure". Despite the cute looks, always has a keen eye for young women and bewitching older women.
Cast
Seiya Kanie

Kouki Uchiyama

Isuzu Sento

Ai Kakuma

Latifah Fllanza

Yukiyo Fujii

Moffle

Ayako Kawasumi

Macaron

Ryoko Shiraishi

Tiramie

Ai Nonaka

Mues

Yuka Aisaka

Sylphie

Tomoyo Kurosawa

Kobory

Shiori Mikami

Sarlama

Minami Tsuda
Staff
Original story

Shouji Gatou(KADOKAWA/published by Fujimi Fantasia Bunko)

Director

Yasuhiro Takemoto

Series supervisor

Fumihiko Shimo

Original character ideas

Yuka Nakajima

Character design

Miku Kadowaki

Music

Nobuyoshi Mitsumune

Animation production

Kyoto Animation

Opening theme

AKINO with bless4 "Extra Magic Hour" (Flying Dog)




©Shouji Gatou・Yuka Nakajima/Amaburi Restoration Committee
---
discuss this in the forum (15 posts)
|
back to Anime Spotlight Fall 2014 - The List
Anime Spotlight homepage / archives