Anime Spotlight - GUNDAM Reconguista in G
by Anthony Foronda,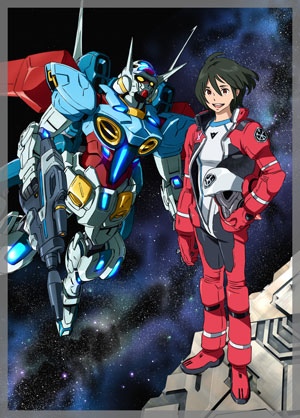 Broadcast Begins October 2014(JST)


Key Staff
Chief Director:Yoshiyuki Tomino

(Mobile Suit Gundam (TV), Heavy Metal L- Gaim (TV), Overman King- Gainer (TV) )

Animation Production:SUNRISE

(Cowboy Bebop (TV), Buddy Complex (TV), The Big 0 (TV), Witch Hunter Robin (TV), Vision of Escaflowne (TV), Escaflowne (Feature))

Introduction

The long-anticipated new series drawn out by the creator of GUNDAM, director Yoshiyuki Tomino!

Story

It is a new century, long after the era of immigration to space and space wars. The construction of humanoid "mobile suit" weapons is now taboo. The people of this new century hold the space elevators to be sacred and rejoice in a fleeting peace.

Bellri Zenam, a cadet in the Captial Guard which protects the Tower, ends up in battle against a pirate group who attacks during a training exercise. He meets Aida Surugan, who pilots the "G-Self" mobile suit which closely resembles the legendary "Gundam". This is the beginning of an adventure which will bring Bellri and Aida close to the mysteries of the world and their births.

Characters

Capital Territory
Bellri Zenam
VA:Mark Ishii

A cadet in the training school of the Capital Guard which protects the Capital Tower. He is incredibly talented, and has skipped ahead two grades. Falling in love with Aida at first sight, Bellri ends up fighting alongside the pirates against the Capital Army. He is one of the three people able to pilot the G-Self.

Capital Territory
Raraiya Monday
VA:Yukari Fukui

A mysterious girl who suddenly appeared on the Earth in the G-Self. She loses her memory, and because she was rescued by Captain Dellensen of the Capital Guard on a Monday, she is named after that day. She is one of the three people able to pilot the G-Self.

Pirates
Aida Surugan
VA:Yu Shimamura

A girl who has joined the Amerian pirates. Aida joins an operation to steal Photon Batteries with the G-Self which came from Raraiya. The operation fails however, and she is captured by Bellri. She uses the alias Aida Rayhunton when captured, but there is a secret behind her origins.

G-Self


A mysterious mobile suit not belonging to any known country. It only activates under specific conditions, and Bellri, Aida and Raraiya are the only ones who can pilot it. It is a generalized mobile suit that can deal with various situations by equipping various types of backpacks. The G-Self's color also changes depending on the backpack used.

Capital Army
Catsith


A flight mobile suit used by the Capital Army. It has gigantic wings on its back and can fly when they are spread.

Pirates
Grimoire


A mass production mobile suit used by the Pirates.
Cast
Bellri Zenam

Mark Ishii

Aida Rayhunton

Yu Shimamura

Raraiya Monday

Yukari Fukui
Staff
Chief Director

Yoshiyuki Tomino

Character Design

Kenichi Yoshida

Mechanical Design

Akira Yasuda
Ippei Gyoubu
Kimitoshi Yamane

Design Works

Shigeto Koyama
Kinu Nishimura
Gouda Cheese
Pablo Uchida
Takumi Sakura
Ayumi Kurashima

Color Designer

Nobuko Mizuta

Art

Tomoaki Okada

Music

Yugo Kanno

Sound Director

Eriko Kimura

Planning and Production

SUNRISE




© SOTSU, SUNRISE, MBS
---
discuss this in the forum (27 posts)
|
back to Anime Spotlight Fall 2014 - The List
Anime Spotlight homepage / archives