×
remind me tomorrow
remind me next week
never remind me
Subscribe to the ANN Newsletter • Wake up every Sunday to a curated list of ANN's most interesting posts of the week.
read more
Anime Spotlight - Invaders of the Rokujyoma!?
by Anthony Foronda,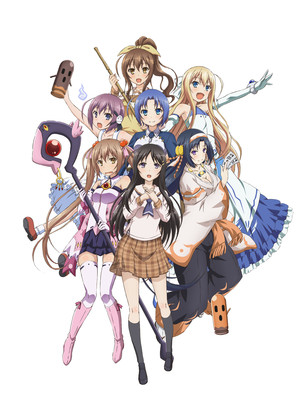 Broadcast Begins July, 2014


Key Staff
Director: Shin Oonuma

(Baka and Test-Summon the Beast, C3, ef: a tale of melody)

Series Composition: Shogo Yasukawa

Character Design: Hideki Furukawa

(WATAMOTE)

Introduction

Even if I'm facing a beautiful girl, I can't relinquish this rokujyoma (rent: 5000 yen)

Story

Koutarou Satomi, a poor student who ended up having to rent a room of his own from high school, found a super-cheap rokujyo (~94 sq.ft) one-room apartment for 5000 yen a month (about $50usd a month). That room – Corona-sou room 106 – was targeted by others! Many cute invaders appear one after another in hopes of acquiring the rights to Corona-sou room 106 from right when Koutarou moves in. As the intents of each girl intertwines, the sparks of fierce(?) battle between them and Koutarou fly all within that small space of rokujyo!

Characters

An ex-baseball boy who was forced to start living by himself from his first year in high school due to the sudden transfer of his father's workplace. He has lost his mother to a traffic accident, and probably because of that experience he is kind to others but does not often rely on other people. In order to lighten the burden on his father, he decided to move into a super-cheap apartment with a questionable past that charges only 5000 yen per month for rent – Corona-sou room 106. But all sorts of problems were awaiting him in that room...!

A girl that was attached to Corona-sou room 106. Bluntly put, a ghost, and most likely the reason why the rent was so cheap. She had been getting rid of previous tenants with rapping sounds and other poltergeists; but she seems interested in Koutarou as he can see her figure. Just like her young appearance, she is an energetic and naïve girl.

A girl who appeared within Corona-sou room 106 by passing through a mysterious door of light. The 7th princess of the Holy Galaxian Kingdom of Fortorthe, a country on a planet which is more civilized than Earth. Due to her upbringing, she is basically acts proud and selfish. She is conscious of the fact that she lacks height or breast size, and often ends up in arguments with Koutarou who pokes fun of that. Strong-willed, she is a small but powerful girl.

A girl that appeared from under the tatami mats of Corona-sou room 106. The only daughter of the chief of a small clan of people that taken root with the earth, and had been living underground. She has a nice body and a calm head, but also has a mischievous side and a broad mind. Of all the girls that show up in room 106, she is the most sensible girl. But, even she has her own objectives for being there..? She totes around two Haniwa-shaped robots named Karama and Korama.

Karama/Korama


Haniwa-shaped "servants" that protect Kiriha. It uses spiritual energy.

A girl who "rolled into" Corona-sou room 106. She covers herself in an outfit that makes you want to facepalm from embarrassment and calls herself "Magical Girl Rainbow Yurika." But, for some reason people can't shake the fact that she's missing screws somewhere, and is a slightly pitiful girl that everyone just views as a helpless cosplayer girl.

Theia's servant that arrived from the Holy Galaxian Kingdom of Fortorthe. From following up Theia who is a bit too energetic, to all of her daily affairs, she handles everything. A very able individual who is even willing to remonstrate her master's behavior. Gentle, polite, and beautiful, Koutarou's trust in her is very high.

An upperclassman at Koutarou's high school that he met on the day of the entrance ceremony. The leader of the Knitting Club, she was doing her best to make the club grow from just herself. She has a frail body, and routinely goes to the hospital for this and that. She posesses an overpoweringly high level of girl-power being tidy, kind, and can politely teach someone how to knit. For that reason, Koutarou looks up to her highly as an upperclassman of the Knitting Club.

A girl with strong character who is the landlord of Corona-sou while being a student of the same high school as Koutarou. She cares deeply about Corona-sou, which is a memento of her parents, and its tenants. She shows extraordinary powers when either of them are about to face any sort of harm. She has a frank yet caring personality, and is often worried about room 106 that ends up being very rowdy for one reason or another.
Cast
Koutarou Satomi

Yūichi Nakamura

Sanae Higashihongan

Eri Suzuki

Yurika Nijino

Nichika Omori

Kiriha=Kurano

Masumi Tazawa

Theiamillis Gre Fortorthe

Maria Naganawa

Kenji Matsudaira

Karama

Korama

Ruthkhania Nye Pardomshiha

Saori Hayami

Harumi Sakuraba

Megumi Takamoto

Shizuka Kasagi

Aya Suzaki
Staff
Director

Shin Oonuma

Series supervisor

Shougo Yasukawa

Character design/Chief animation director

Hideki Furukawa

Music

Music production

Produced by

Animation production

Original story

"Rokujyōma no Shinryakusha!?/Invaders of the Rokujyōma!?" byTakehaya (published by Hobby Japan's HJ Novels)

Original story ilustration

Poko




© Takehaya・HOBBY JAPAN/CORONA106
---
discuss this in the forum (10 posts)
|
back to Anime Spotlight Summer 2014 - The List
Anime Spotlight homepage / archives