×
remind me tomorrow
remind me next week
never remind me
ANNual Pumpkin Carving Contest 2020 w/ Ciarán Strange! • It's a match made in Halloween! Voice actor Ciaran Strange is joining our Spooktacular Pumpkin Carving Contest as a guest judge! Click to find out how YOU can win over US$1,000 in anime!
read more
Anime Spotlight - Castle Town Dandelion
by Anthony Foronda,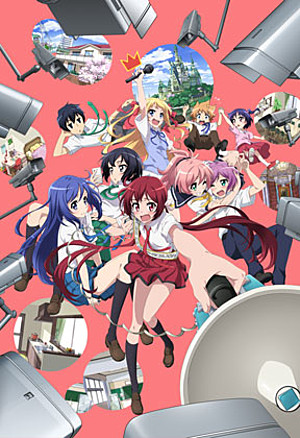 Broadcast Begins July 2, 2015 (JST)

Key Staff
Director: Noriaki Akitaya

(Bakuman, BONJOUR Sweet love Patisserie)

Series Composition: Reiko Yoshida

(Yowamushi Pedal Grande Road, K-ON!)

Story

The Sakurada family lives normally in the middle of town, but they actually are royalty that rules over the kingdom. Furthermore, they all have special powers! Of the three boys and six girls born into such a family, the next ruler of the kingdom was to be elected by a national election. As a means to decide, multiple cameras were set up all over town, trying to televise their every move, the siblings do their best to dodge the cameras, look enthusiastic about the election, or just generally helping each other out. Somehow, the family is still friendly to each other... but who will win out in the election!? The slapstick comedy created by the Sakurada family begins!

Characters

Akane Sakurada
VA:Kana Hanazawa

1st year in high school. Has a sense of justice, and is always by the books. Working as the class representative, shows signs of leadership. Therefore, she has high approval from girls and is feared by boys. She has two close friends who she can be herself with. Has a personal fan club.

Aoi Sakurada
VA:Ai Kayano

3rd year in high school. Very docile personality, and ordinary people see her as a perfect person, but among close friends she is dubbed a piece of junk as she can be a bit idiotic at times. Has many fans spanning across all grades. She herself is troubled by it, but many of the populace treat her like a goddess.

Shu Sakurada
VA:Ryohei Kimura

2nd year in high school. Frank, calm, and funny. He is a bit aloof, but has many male friends that he gets along with. Because all of his actions are based on his desires, he is distinguished among the boys while the girls can't see him as a potential romantic interest as it is far from their image of a prince. Someone with common sense to act sincerely and maturely as a member of the royal family in front of a stranger.

Kanade Sakurada
VA:Kaori Ishihara

2nd year in high school. Has a very convoluted, scheming personality. However, superficially she plays a good-natured girl of good upbringing, so the boys treat her as someone beyond their reach. Many of her friends are the graceful well-to-do girls, so if you cut her immediate social circle out, it would give you the impression that she goes to a noblewoman's school.

Haruka Sakurada
VA:Ayumu Murase

2nd year in middle school. A bit high-strung. Pretends to be cool-headed, and likes to be alone but is not necessarily isolated. Tries to have enough social activity that is necessary to survive. From the girls, he is secretly popular as the cool-headed prince

Misaki Sakurada
VA:Eriko Matsui

2nd year in middle school. Bright, cheerful girl with common sense. Has a huge social circle, and is good at getting around in the world so has many friends of both genders. But, has a tendency to overdo her wanting to be liked and not hated so she might not have someone she can call a close friend. Among her peers, she is credited to be the easiest to approach and most plebian of all siblings. Older twin sister of Haruka.

Hikari Sakurada
VA:Yui Ogura

5th grader. From the girls, she is seen as a charismatic individual, and is the center of attention in class. Very carefree, and forgets about all bad things when she sleeps. People around her have an impression that she is more mature than she really is. The boys often make fun of her, but she shows maturity in response to show her composure.

Teru Sakurada
VA:Shiori Katsuta

1st grader. Kind and strong, well-liked by both genders and is the central figure of his class. A character that feels like the main character of an anime for young children.

Shiori Sakurada
VA:Aina Suzuki

2nd year in kindergarten. A worrysome person, and is very quiet. Her friends tend to be just like her and very docile. She personally is not good at making friends, but as the princess the girls around her all want to become friends with her. Even the boys that pull pranks on the girls can't do anything against her.
Cast
Akane Sakurada

Kana Hanazawa

Aoi Sakurada

Ai Kayano

Shu Sakurada

Ryohei Kimura

Kanade Sakurada

Kaori Ishihara

Haruka Sakurada

Ayumu Murase

Misaki Sakurada

Eriko Matsui

Hikari Sakurada

Yui Ogura

Teru Sakurada

Shiori Katsuta

Shiori Sakurada

Aina Suzuki

Soichiro Sakurada

Dai Matsumoto

Satsuki Sakurada

Satsuki Yukino

Hana Sato

Yuka Aisaka
Staff
Original Story

Ayumu Kasuga (serialized in "Manga Time Kirara Miracle", Hobunsha)

Director

Noriaki Akitaya

Assistant Director

Toshinori Fukushima

Series Composition

Reiko Yoshida

Character Design/Chief Animation Director

Shinpei Kobayashi

Sub-Character & Prop Design

Kana Miyai

Prop Design

Hitomi Odajima
Miyana Okita

Color Coordinator

Yuko Tsumori (M.S.C)

Art Settings

Jiro Kono (Image Room Jiro)

CG Director

Mao Ueki (SUBARU)

Filming Director

Koshiro Iwamoto (Studio Twinkle)

Editing

Manabu Jinno (Sony PCL)

Sound Director

Toshiki Kameyama

Music

Subaru Ohmama
Shu Kanematsu
Natsumi Tabuchi

Sound Production

Dax Production

Animation Production

Production IMS




©Ayumu Kasuga・Houbunsha/Royal Sakurada Family Project
---
discuss this in the forum (5 posts)
|
back to Anime Spotlight Summer 2015 - The List
Anime Spotlight homepage / archives