Anime Spotlight - DIMENSION W
by Anthony Foronda,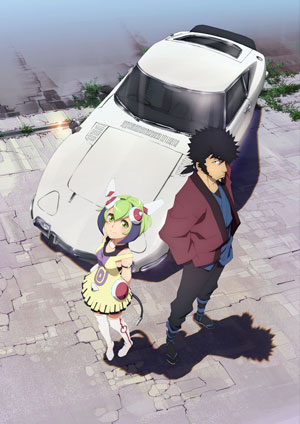 Broadcast Begins January 2016 (JST)

Key Staff
Director: Kanta Kamei

(Saekano: How to Raise a Boring Girfriend, Nanaana's Buried Treasure)

Series Composition: Shotaro Suga

(Darker than Black, The Seven Deadly Sins)

Character Design: Tokuyuki Matsutake

(you're Under Arrest (TV), Medabots)







Story
In the year 2071, the world's energy problems seem solved by a network of cross-dimensional electric-field inductors- "coils" -that extract energy from a seemingly infinite source. That source is the W dimension, a fourth plane that exists beyond the X, Y, and Z dimensions.
In this world, unofficial "illegal" coils harness powers that the police can't hope to counter. Dealing with these coils is the job of coil-hating repo man Kyoma, whose run-in with the unique coil android Mira leads the two to form a reluctant partnership.
Characters
Kyoma Mabuchi
VA:Daisuke Ono

A Collector who retrieves illegal coils for a reward. He's very capable but is an eccentric who hates coils and has a pessimistic personality.

Mira Yurizaki
VA:Reina Ueda

The mysterious girl Kyoma meets while on a coil-collecting job. She used to live with the missing coil inventor, Dr. Shidou Yurizaki.

Albert Schumann
VA:Akira Ishida

Chief investigator of the elite Qi troops of the giant coil corporation New Tesla Energy's Dimensional Administrative Bureau. He and Kyoma are former war buddies.

Elizabeth Greenhough-Smith
VA:Eri Suzuki

A Collector who excels at manipulating coils. She is curious about everything and is interested in Mira.

Mary
VA:Kimiko Saitoh

A broker who hires Collectors to collect illegal coils for New Tesla Energy. Kyoma's employer.

Loser


An art thief who has never successfully pulled off a heist. He also appears to know about Kyoma's past...

Koorogi


An engineering genius who works for Mary. Even though he has a wealth of knowledge and skills, he and Kyoma don't get along.

Four


An android bodyguard Mary got from somewhere. He can't speak but uses a military-grade coil that gives him high combat power.

Salva-Enna-Tibesti


The prince of the small African country of Isla and the CEO of the world's number one robot manufacturer, Islero. He is also the COO of Central 60.

Lwai-Aura-Tibesti


Salva's little brother. A friendly boy with big eyes who likes all things Japanese.
Cast
Kyoma Mabuchi

Daisuke Ono

Mira Yurizaki

Reina Ueda

Albert Schumann

Akira Ishida

Elizabeth Greenhough-Smith

Eri Suzuki

Mary

Kimiko Saitoh
Staff
AUTHOR

Yuji Iwahara (Serialized in YOUNG GANGAN SQUARE ENIX Issue)

DIRECTOR

Kanta Kamei

SERIES STRUCTURE

Shotaro Suga

CHARACTER DESIGN

Tokuyuki Matsutake

CHIEF ANIMATION DIRECTOR

Ripa

ACTION CHOREOGRAPHER

Ryoma Ebata

MECHANICAL DESIGN

Sinobu Tsuneki

PROP DESIGN

Ripa

BACKGROUND DESIGN

Yuho Taniuchi
Takumi Kawamura

ART DIRECTOR

Yusuke Takeda

3DCG PRODUCER

Eiji Inomoto

3DCG DIRECTOR

Yuji Koshida

COLORIST

Rie Kato

DIRECTOR OF PHOTOGRAPHY

Kazuto Izumita (T2 studio)

EDITOR

Tsuyoshi Sadamatsu (SATELIGHT)

2D WORKS

Hirofumi Araki

SOUND DIRECTOR

Jin Aketagawa

MUSIC

Go Shiina
Yoshiaki Fujisawa

MUSIC PRODUCER

Shigeru Saito

MUSIC PRODUCTION

Lantis
I WILL

PRODUCTION STUDIOS

Studio 3Hz
ORANGE




©YUJI IWAHARA/SQUARE ENIX, DW PROJECT
---
discuss this in the forum (12 posts)
|
this article has been modified since it was originally posted; see change history
back to Anime Spotlight Winter 2016 - The List
Anime Spotlight homepage / archives