Anime Spotlight - Scum's Wish (Kuzu no Honkai)
by ANN Staff,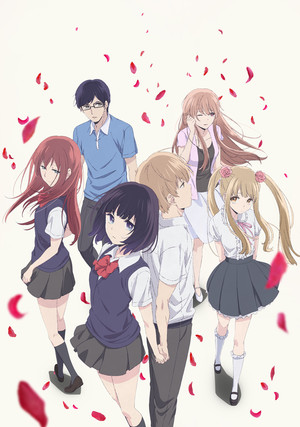 On air starting January 12, 2017

Key Staff
Director: Masaomi Andō

(White Album 2)

Series Composition/Scripts: Makoto Uezu

(School Days)

Sound Director: Jin Aketagawa

(Mobile Suit Gundam: Iron-Blooded Orphans)

Music: Masaru Yokoyama

(Mobile Suit Gundam: Iron-Blooded Orphans)







Introduction
Manga creator Mengo Yokoyari began her Scum's Wish (Kuzu no Honkai) manga in Square Enix's Monthly Big Gangan magazine in 2012. The anime adaptation of the manga was announced during the Noitamina Project Announcement Conference 2016 in March 2016. The anime will air on TV channel Fuji TV's Noitamina animation programming block.
Yen Press publishes the English version of the original manga in North America.
Story
A love that will never be returned. A lonely love. An unrequited love.
Are those really all that beautiful?
Hanabi Yasuraoka--a second-year in high school--is painfully in love with someone who will never return her feelings. She seeks the warmth of another person, hurting herself and someone precious to her in the process. This is a pure yet twisted love story.
Characters
Hanabi Yasuraoka
Voice: Chika Anzai

A 17-year old girl in her second year of high school. She's an honor student with such good grades that she is able to attend the school's special classes. She also has a more family-oriented side to her, and can even cook. She has an earnest and honest personality.

Mugi Awaya
Voice: Nobunaga Shimazaki

A boy who attends the same school as Hanabi with brightly-colored, smooth hair. He didn't know Hanabi at all until one fateful day...

Sanae Ebato
Voice: Haruka Tomatsu

Hanabi's friend who was classmates with her during their first year of high school, but ended up being in different classes in their second. Despite this, they still get along very well and eat lunch together.

Noriko Kamomebata
Voice: Shiori Izawa

Mugi's childhood friend who has a crush on him, and even goes so far as to call him "Prince." She hates being called by her real name, and instead calls herself "Moka," meaning "the cutest" in Japanese.

Narumi Kanai
Voice: Kenji Nojima

The teacher in charge of Hanabi's class who is also the Language teacher. Because he has been around Hanabi since she was very young, she calls him "Big Brother."

Akane Minagawa
Voice: Aki Toyosaki

The Music teacher at the school Hanabi and Mugi attend. She is popular amongst students thanks to her polished appearance and personality. She was also Mugi's personal tutor when he was in middle school, leading her to call him "Mugi-chan."
Cast
Chika Anzai

Hanabi Yasuraoka

Nobunaga Shimazaki

Mugi Awaya

Haruka Tomatsu

Sanae Ebato

Shiori Izawa

Noriko Kamomebata

Kenji Nojima

Narumi Kanai

Aki Toyosaki

Akane Minagawa
Staff
Original Work:

Mengo Yokoyari (serialized in Square Enix's Monthly Big Gangan magazine)

Director:

Masaomi Andō

Series Composition/Scripts:

Makoto Uezu

Character Design/Animation Director:

Keiko Kurosawa

Key Animator:

Mayumi Watanabe

Design Works:

Keiko Shiraishi

Prop Design:

Mizuki Yoshida

Art Director:

Tomonari Suzuki

Color Design:

Kumiko Yanagisawa

Director of Photography:

Tomoyuki Kunii

Editing:

Yukie Oikawa

Sound Director:

Jin Aketagawa

Music:

Masaru Yokoyama

Animation Producer:

Yūji Higa

Animation Production:

Lerche

Production:

Scum's Wish Production Committee




©Mengo Yokoyari/SQUARE ENIX, Scum's Wish Production Committee
---
discuss this in the forum (6 posts)
|
this article has been modified since it was originally posted; see change history