×
remind me tomorrow
remind me next week
never remind me
Subscribe to the ANN Newsletter • Wake up every Sunday to a curated list of ANN's most interesting posts of the week.
read more
Anime Spotlight - INUYASHIKI LAST HERO
by ANN Staff,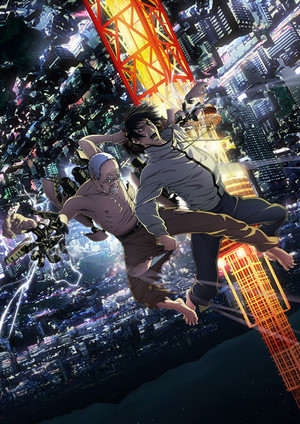 Premiering on October 12, 2017
Streaming available at: Amazon Prime Video

Key Staff
("GANTZ")
("Ajin", "Terror in Resonance")
("Rage of Bahamut: Virgin Soul", "GANTZ")







Introduction
Ichiro Inuyashiki, a dull-looking elderly employee approaching retirement who lives an alienated life from his uncaring family and distant coworkers, is put in total despair when he is diagnosed as having terminal cancer.
On his way back home from the hospital, he is suddenly struck by a UFO falling from the sky, and he is reborn with a mechanical body which gives him super powers that by far transcend limitations of those of a human. Meanwhile, Hiro Shishigami, a high-school student who also encountered the same phenomenon as Inuyashiki, starts to use his super powers compulsively.
Shishigami goes on attacking people with his powers while Inuyashiki keeps on saving the people injured by Shishigami. Is the human nature fundamentally good or evil? Two individuals, who went through the same phenomenon and obtained a body with extraordinary powers, will now choose their own paths.
Characters
Ichiro Inuyashiki

Voice: Fumiyo Kohinata

A 58-year-old businessman with an aged face and so many gray hairs that he doesn't even look his age. His body was reborn into a mechanical one after he was caught up in the crash of a UFO while taking a walk with his dog Hanako. After losing his human body, he starts using his newfound powers to save others in order to feel alive.

Hiro Shishigami

Voice: Nijirō Murakami

This young man cares more about his childhood friend Ando and his mother more than anyone, but is completely indifferent to anyone else. Just like Inuyashiki, Shishigami got a mechanical body after being involved in the same UFO accident, but unlike Inuyashiki, he uses his powers to commit crimes in order to feel alive.

Naoyuki Ando

Voice: Kanata Hongō

Shishigami's childhood friend and the only person outside of his family he can open up to. His nickname is Chokkō. He had become a shut-in due to his classmates bullying him because of his pushover personality, but teams up with Inuyashiki to stop Shishigami when he goes on a crime spree after obtaining a mechanical body.
Cast
Ichiro Inuyashiki

Fumiyo Kohinata

Hiro Shishigami

Nijirō Murakami

Naoyuki Ando

Kanata Hongō
Staff
Original Story

"Inuyashiki" by Hiroya Oku (originally serialized in the bi-weekly EVENING magazine published by Kodansha Ltd.)

Executive Director

Keiichi Satō

Director

Shūhei Yabuta

Series Composition/Screenplay

Hiroshi Seko

Character Designer

Naoyuki Onda

Animation

MAPPA




©Hiroya Oku, KODANSHA/"Inuyashiki" Partners.
Based on the manga "Inuyashiki" by Hiroya Oku originally serialized in the bi-weekly EVENING magazine published by Kodansha Ltd.
---
discuss this in the forum (9 posts)
|
this article has been modified since it was originally posted; see change history