×
remind me tomorrow
remind me next week
never remind me
Subscribe to the ANN Newsletter • Wake up every Sunday to a curated list of ANN's most interesting posts of the week.
read more
Anime Spotlight - Princess Principal
by ANN Staff,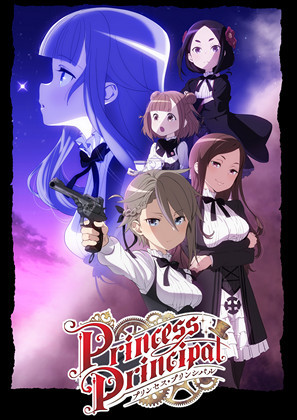 On air starting July 9th, 2017
Available at:


Key Staff
Director: Masaki Tachibana

Series Structure: Ichiro Ohkouchi

(Angelic Layer (TV), Azumanga Daioh (TV), Berserk: The Golden Age Arc I, II, III)

Music: Yuki Kajiura














Introduction
Profession: Spy
Mission: Female High School Student
This is a spy action story starring girls battling it out in London, which has been split into East and West sides!
At the end of the 19th century, London, the capital of the Kingdom of Albion has been split into East and West sides by a giant wall. Five girls attend Queen's Mayfaire, a traditional and prestigious school. Under the guise of regular high school girls, they act as spies under cover. Disguise, reconnaissance, infiltration, car chases... Each girl uses their own set of special skills to dart around the world of shadow.
"What are we?"
"We're spies. We live to lie."
Characters
Ange

Voice: Ayaka Imamura

A genius spy with masterful skills. Because she has an unfriendly personality and doesn't speak much, she confuses those around her because she often makes outrageous lies.

Princess

Voice: Akira Sekine

The princess of the kingdom of Albion. She's a little spacey, but has a very strong heart and is popular amongst her people.

Dorothy

Voice: You Taichi

Ange's partner who is basically the leader of the group. She's very skilled at things like driving cars, and her shooting abilities are top-notch. She's very good at seducing her targets, but is in fact very pure and innocent.

Beatrice

Voice: Akari Kageyama

A noble girl who is always by Princess's side. Because she was saved by her when she was just a child, Beatrice respects and loves Princess with all her heart.

Chise

Voice: Nozomi Furuki

A Japanese girl who came to the academy as an international student. Despite her small stature, her skill with the sword is at a master's level. She sometimes makes naïve comments due to her lack of acquaintance with Western culture.
Cast
Ange

Ayaka Imamura

Princess

Akira Sekine

Dorothy

You Taichi

Beatrice

Akari Kageyama

Chise

Nozomi Furuki
Staff
Director

Masaki Tachibana

Series Structure

Ichiro Ohkouchi

Original Character Design

Character Design/Chief Animation Director

Chief Animation Director

Kimihiro Nishio

Concept Art

Fumihilo Katagai

Researcher

Setting Cooperation

Prop Design

Ryo Akizuki

Music

Yuki Kajiura

Sound Director

Opening Theme Song

"The Other Side of the Wall" by Void_Chords feat. MARU

Ending Theme Song

"A Page of My Story" by Ayaka Imamura, Akira Sekine, You Taichi, Akari Kageyama, Nozomi Furuki (as Ange, Princess, Dorothy, Beatrice, Chise)

Senior Art Director

Art Director

Background Design

Yuho Taniuchi

Colorist

HOA

Graphic Art

Director of Photography

Editor

Tsuyoshi Sadamatsu

Production Studios




©Princess Principal Project
---
discuss this in the forum (2 posts)
|