Anime Spotlight - Chaos; Child
by ANN Staff,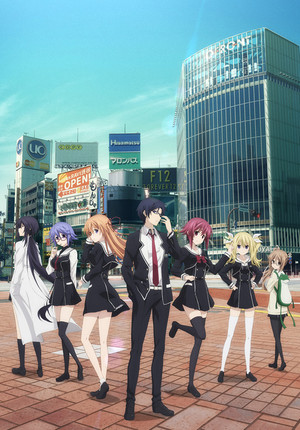 On air starting January 12, 2017

Key Staff
Director: Masato Jinbo

Original creator: Chiyomaru Shikura








Introduction
Shibuya, 2015. A boy named Takuru Miyashiro attends Hekiho Academy—a private high school that was established after the town was destroyed in the "Shibuya Earthquake" six years ago. As one of the activities of the newspaper club he runs, he and his fellow club members seek the truth behind a series of murders called the "The New Generation Madness Resurgence."
Characters
| | |
| --- | --- |
| | A third-year high school student that is the protagonist of this story and the president of his school's newspaper club. He lost his parents in the great earthquake six years prior to the beginning of the story. He lives in a trailer parked at Miyashita Park, a location that also serves as an evacuation area. He makes people cringe a little with his insistence on calling himself "normal" and "in-the-know." |
| | A second-year high school student who is part of the school's newspaper club. Takuru is her childhood friend whom she calls "Taku." |
| | The president of Hekiho Academy's student council and the vice-president of the Newspaper Club. Like Takuru, she lost her parents in the earthquake and lived in the same foster home as him. Accomplished in both in academics and sports, she is respected by both her male and female classmates. |
| | A second-year high-schooler and the president of the Literary Club. She's a modern high school girl who is up-to-date with the latest trends. |
| | The only first-year in high school who is part of the Newspaper Club. She is extremely silent and usually only says "Mm..." Because of her experience as a net gamer, she is very skilled with computers. This leads the other members of the club to leave information organization and research duties to her. |
| | She may have a young-looking appearance for a 14-year old girl, but she's actually pretty calm and collected. She's really bad when it comes to cell phones, computers, and other technology, though. |
Cast
Takuru Miyashiro

Yoshitsugu Matsuoka

Serika Onoe

Sumire Uesaka

Nono Kurusu

Sarah Emi Bridcutt

Hinae Arimura

Suzuko Mimori

Uki Yamazoe

Inori Minase

Hana Kazuki

Sayaka Nakaya

Mio Kunosato

Shinji Itō

Yūki Fujiwara

Masashi Kawahara

Yui Tachibana

Yuito Tachibana

Takeshi Shinjō

Katsuko Momose

Hisashi Sakuma

Shūichi Wakui
Staff
Original Creator

Chiyomaru Shikura/MAGES.

Director/Series Composition

Masato Jinbo

Scenario Supervision

Original Character Design

Character Design/Animation Director

Prop Design

Art Director

Daiki Kuribayashi, Yūki Hatakeyama (Kusanagi)

Art Setting

Eiko Tsunadō (Kusanagi)

Backgrounds

Kusanagi

Color Design

3DCG

Director of Photography

Photography

Editing

Kentarō Tsubone (REAL-T)

Sound Director

Sound Production

Music

Music Production

Animation Production

Production

Opening Theme Song

"Uncontrollable" by Kanako Itō

Ending Theme Song

"Chaos Syndrome" by Konomi Suzuki
©2017 MAGES./
KADOKAWA
/CHAOS;CHILD Partners
---