×
remind me tomorrow
remind me next week
never remind me
Subscribe to the ANN Newsletter • Wake up every Sunday to a curated list of ANN's most interesting posts of the week.
read more
Anime Spotlight - Ingress
by ANN Staff,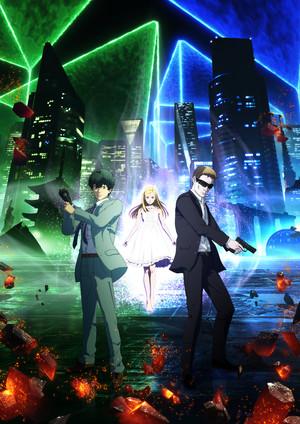 Premieres at 0:55 of October 18, 2018.

Key Staff
Director: Yūhei Sakuragi












Introduction
At the CERN facility in Geneva, in the shadow of discovery of the Higgs-Boson, a secret project was taking place: The Niantic Project, where scientists discovered a mysterious substance that can interface directly with the human brain.
This substance, called "Exotic Matter (XM)", has existed since ancient times, influencing human minds and the progress of humanity.
In the wake of this discovery, a battle of powerful nations and corporate giants has been unleashed. Organizations across the globe have embarked on a secret race to exploit XM. It represents both an opportunity and a threat to humanity.
Two Factions seeks to control the XM, and through it, human destiny.
The Enlightened view XM's power as a gift that enhances human experience and discovery.
The Resistance see XM as a hostile takeover of the human mind, choosing technology as humanity's best path forward.
XM, and the mystery behind it, lie at the center of this battle for the fate of humanity.
2018 ──
Now, a new struggle is about to unfold in Tokyo and across the globe. Dangerous and powerful forces seeking to exploit the potential of XM will collide.
This groundbreaking project will mark the beginning of an epic augmented-reality experience combining the three elements of animation, location-based gaming, and the real world.
Story
Since he was little, Makoto had a strange power which enabled him to read the memories of objects he touched.
Hiding his uncontrollable power, he works as a special agent in the police force. One day, while investigating an explosion at a laboratory that researches a unknown substance called "XM", he sees a mysterious memory.
The memory was from Sarah's ring, who was the sole survivor of the accident.
It was a sight of a person being swallowed into a red light and disappearing.
Makoto becomes embroiled in a massive conspiracy.
The battle for "XM", a material that could affect human mind, starts now――
Character Names & Descriptions
Makoto Midorikawa

Voice: Yoshiki Nakajima

A special agent who belongs to the police force. He can read the memory of an object he touches with his right hand. After meeting Sarah, he becomes aware of the existence of XM and the secrets surrounding his ability.

Sarah Coppola

Voice: Reina Ueda

A woman who has lost her memory. She meets Makoto after the explosion at Hulong Laboratory. She and Makoto are being hunted down by Jack.

Jack Norman

Voice: Shigeo Kiyama

An agent who used to be a mercenary. A mysterious man who chases Sarah. He has the ability to predict moments into the future ("flash forward").

Liu Tien Hua

Voice: Kousuke Toriumi

Executive member of Hulong (Security officer = in charge of security dept). He acts for the organization goal and often stands in front of Makoto.

Zion Kunikida

Voice: Kentarō Tone

Makoto's friend since he was being a hacker. "Counterfeit man" to create fake public documents as business.

Voice: Hiroo Sasaki

Ex Spec Ops (US Special Forces). Currently an archaeologist who is discovering and researching a special "power spot" location that can be connected to an exotic matter (XM) portal.

Artificial Intelligence, ADA A Detection Algorithm

Voice: Megumi Ogata

ADA is an artificial intelligence that was created to assist Naiantic Project researchers, and became sentient possibly to exposure to XM.
Cast
Makoto Midorikawa

Yoshiki Nakajima

Sarah Coppola

Reina Ueda

Jack Norman

Shigeo Kiyama

Christopher Brandt

Liu Tien Hua

Kousuke Toriumi

Zion Kunikida

Kentarō Tone

Hank Johnson

Hiroo Sasaki

Artificial intelligence ADA

Megumi Ogata
Staff
Original story

NIANTIC

Director

Yūhei Sakuragi

Screenplay

Sōki Tsukishima / Tora Tsukishima / So Akasaka

Music

Character design

Deputy Director

CG Director

Art Director

Art Director Assistant

Concept Artist

Modeling Director

Animation Director

Kobayashimaru

Director of photography

Producer / Music Director

Animation Production

craftar


©INGRESS Committee
---
discuss this in the forum (1 post)
|