×
remind me tomorrow
remind me next week
never remind me
Subscribe to the ANN Newsletter • Wake up every Sunday to a curated list of ANN's most interesting posts of the week.
read more
Anime Spotlight - Mob Psycho 100 II
by ANN Staff,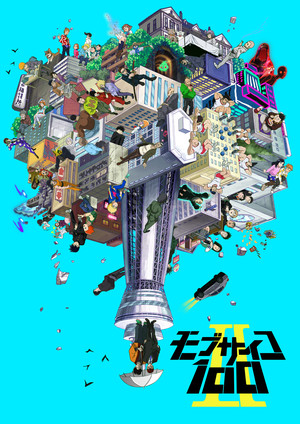 Premieres on January 7, 2019

Key Staff
Director: Yuzuru Tachikawa

Series Composition: Hiroshi Seko

Character Design: Yoshimichi Kameda

(Doraemon: Nobita no Takarajima (movie))







Introduction
This tale of youth and psychic powers that has won the Jury's Recommendation Award at the 20th Japan Media Arts Festival and Best Action Scene and Fighting Scene at the Crunchyroll Anime Awards 2016 returns to shake the world once again!
Shigeo "MOB" Kageyama is an ordinary 8th grader who just wants to live a normal life. Although he can disappear in the crowd in a flash due to his inability to stand out, he is actually a psychic who is more powerful than anyone around. The happenings in daily life and romantic exploits of him and those around him lead to emotions that pile up inside him, eventually leading them to explode. And, the mysterious group "Claw" stands before him once again.
In the midst of his youthful days, where will his roaring heart take him!?
Character Names & Descriptions
Shigeo Kageyama (MOB)

Voice: Setsuo Ito

An 8th grader known as "MOB." He has psychic powers strong enough to destroy an organization known as "Claw," which aimed to conquer the world. He is not much of a talker and cannot blend in with the crowd. He looks up to Reigen as his "Master." as he was the one who advised him on how to control his dangerous psychic powers. Since then, he has been worshiped as the leader of cult religious group known as "Psycho Helmet," and is feared by the local delinquents as "White-T Poison." However, he doesn't seem to care about anything like that.

Arataka Reigen

Voice: Takahiro Sakurai

A self-proclaimed psychic who owns a psychic counseling shop known as "Spirits and Such." However, his real talent lies in the art of conversation as he has no actual psychic powers. When things are too much for him to handle, he calls his assistant, MOB to deal with it. He also watches over MOB and supports him mentally. He can now see the high-level evil spirit Ekubo after the incident with the seventh division of the "Claw."

Ekubo

Voice: Akio Ōtsuka

A higher evil-spirit who had the ambition on becoming God. He can take over the bodies of people and move them accordingly. He met MOB when he set up a dubious religious cult called "LOL." Since then, he believes that MOB is the true God material and spends time with him ever since. Even though he is after MOB and his immense powers, he tends to lend a hand to him when he needs. Although he tries to be evil, he is good in general.

Ritsu Kageyama

Voice: Miyu Irino

MOB's younger brother who is in the school council and skilled with both his studies and sports. He is also sociable--the opposite of MOB. He always feared and envied his brother since he witnessed MOB's power getting out of control. His own psychic powers were awoken by the "School Reform" incident conducted by the student council president, Kamuro. As MOB is somewhat naïve, he supports him closely.

Teruki Hanazawa

Voice: Yoshitsugu Matsuoka

Another psychic, whom once stood before MOB as the delinquent leader of Black-Vinegar Junior High. However, he has the tendency to become pigeon-legged when he uses his powers. He has grown mentally since the battle with MOB. When Ritsu was kidnapped by the seventh division, he accompanied MOB to rescue him. They both fought fierce battles with the high-ranked members. He is now a loyal friend, and has healthy rivalry with MOB. His nickname is "Teru."
Cast
Shigeo Kaheyama (MOB)

Setsuo Ito

Arataka Reigen

Takahiro Sakurai

Ekubo

Akio Ōtsuka

Ritsu Kageyama

Miyu Irino

Teruki Hanazawa

Yoshitsugu Matsuoka

Shinrabansho-maru

Keiji Mogami
Staff
Original Work

ONE (Serialized in "Manga ONE" / Published by Shogakukan)

Director

Yuzuru Tachikawa

Series Structure

Hiroshi Seko

Character Design

Yoshimichi Kameda

Art Director

Color Design

Director of Photography

Editing

Hiroshi Kiyose

Sound Director

Music

Animation Production
---
discuss this in the forum (1 post)
|