Manga Answerman - Why Did Yen Press Give Away The Latest Volume of Overlord?
by Deb Aoki,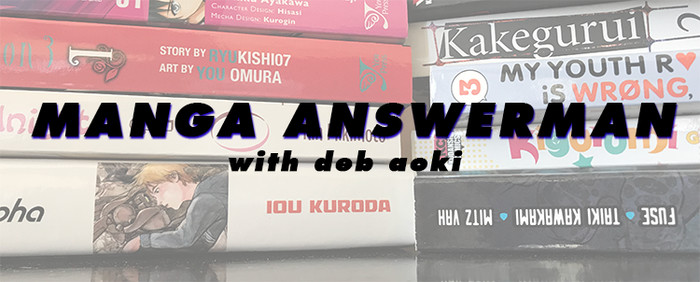 Q: Why is Yen Press offering the latest digital volume of the Overlord light novel series for free (at least on Amazon and B&N)? I was rather surprised to get an email last night from Amazon showing a $0.00 price. How long will it be free? My print edition is on its way from RightStuf, but I grabbed the digital edition, too. I presume that it's an attempt to draw new readers from those who watched the second series. Is there any other thinking behind the discount? Volume 7 continues from where the recent series finished, IIRC.
I'm not sure when you wrote this question, but one reason behind this promotional push from Yen Press for the Overlord light novel series became apparent when Anime Expo announced that Kugane Maruyama, the author and creator of Overlord is a featured guest at the 2018 show, along with Naoyuki Ito, the director of the Overlord animated series. These appearances by both Maruyama and Ito also coincide with the July debut of the third season of the Overlord anime. Both creators are making their first overseas convention appearances at AX2018. With this in mind, there's definitely an interest from Overlord's publishers and anime distributors from N. America and Japan in getting as many fans as possible introduced to this light novel series.
In Japan, Overlord is a popular light novel series published by Kadokawa that is noted for having an adult protagonist in his late twenties/early 30's -- older than the usual teen hero of isekai (stories where a character from the 'real world' gets send/reborn into a fantasy game world). To date, there are 7 million copies of the series' 13 novels in print. In N. America, Overlord hasn't reached that level of popular success, but the anime is airing on Netflix, Hulu and Crunchyroll, which is giving the series exposure to a lot of potential viewers and readers.
I'm guessing that the heavily discounted digital edition of Overlord that you saw on Amazon happened around the time that the second season of the anime aired, between January and April of 2018, since at press time when I checked Amazon's listings, the current price for the Kindle edition is $9.99. So lesson one here is, when you see a manga / light novel that you're interested in at a heavily discounted price, assume that the price is being offered for a very limited time, and prices can change with little or no advance warning.
In retail terms, this kind of discounting is referred to as a "loss leader" strategy, where a store (or in this case, a publisher) is willing to sell a product (light novel) at a price where they'll lose money on the sale of the first volume of a series in hopes that it will stimulate sales of other products (or in this case, other novels, manga or anime in this series) that are sold at regular, or at least a not-as-discounted price. In this case, it's pretty clear they gave away the most recent volume so fans could get a sneak peak at the next season, which will likely cover the material from that volume. It makes sense from a promotional standpoint, even if it is a little odd - this would be like if Bantam Books gave away the third Game of Thrones book right before the premiere of season 3. As a strategy for converting TV consumers to book consumers, it's an interesting strategy.
Side note: if you like what you've seen or read so far in the series, by all means, pick up the books and enjoy more of what Maruyama has in store for you and his characters. If you're in Los Angeles for Anime Expo, make sure to check out Maruyama and Ito's appearances and show your appreciation for their work on Overlord!
---
Do YOU have a question for the Answerman?
We want your questions! Send in as many or as often as you like. We can only pick three questions a week (and unfortunately I don't have ALL the answers) so if you haven't been chosen, don't be discouraged, and keep on sending.
However, READ THIS FIRST:
CHECK THE ARCHIVES FIRST. I've answered a lot of questions already!

If you want to be a voice actor, READ THIS.

I can't tell you if or when a show will get another season. New productions are closely guarded secrets until they're publicly announced, so there's nothing I can tell you that Google can't.

I cannot help you get in touch with any producers, artists, creators, actors or licensors. If you're trying to pitch an idea, you should read this.

I usually won't bother with questions asking if something is a trend. Maybe? It's impossible to know until it becomes obvious.

I take questions by email only. (Tweeted questions get ignored!)

I will not do your homework/research/report for you.

Keep it short -- like, a paragraph at most, and use proper grammar or punctuation.
Got all that? Great! The e-mail address is answerman (at animenewsnetwork.com). And thanks!!
Deb Aoki was the founding editor for About.com Manga, and now writes about manga for Anime News Network and Publishers Weekly. She is also a comics creator/illustrator, and has been a life-long reader of manga (even before it was readily available in English). You can follow her on Twitter at @debaoki.
---
discuss this in the forum (8 posts)
|