Manga Answerman - Why Don't More Japanese Manga Artists Come to North American Conventions?
by Deb Aoki,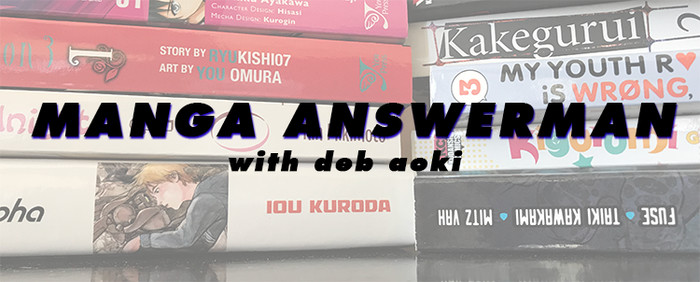 Why don't more Japanese manga artists come to N. American comic / anime conventions?
It's largely a matter of time, availability and money. Most manga artists, especially those who have series that are published on a weekly basis, have very busy schedules. Even with assistants, it can be a race against time to deliver 20-30 pages of art per week. Taking the time to prepare to travel overseas, the often 10-12 hour one way trip via plane, time on the ground at the event and/or sightseeing, then another 10-12 hours plane ride back eats up a lot of days in a busy week.
This big demand on their time limits their availability. It's easier for an artist who's between series, or has just recently ended a series to make the journey overseas (example: Masashi Kishimoto's visit to NY Comic-Con after Naruto ended in Japan). Another issue is health – this is particularly an issue for older artists. When Shigeru Mizuki's manga began to be published in English by Drawn & Quarterly, the creator of GeGeGe no Kitarō was already in his 90s. While he was an avid traveler in his younger years, Mizuki-sensei was not up for making the long overseas journey by the time his work was readily available in English.
Of course, even if they were available and got an invitation from an overseas publisher or anime convention, it's ultimately up to the manga artist themselves. Some artists are homebodies who'd rather stay closer to home, or they're shy and prefer to avoid public appearances. Or they may be considering invitations from other places, other shows that sound more appealing to them – for example, there are popular anime/comics shows in Europe that attract Japanese manga talent as guests. Given a choice of Paris or Los Angeles, sometimes that can be a factor too.
The next issue is money. Bringing manga talent in from Japan is not a cheap undertaking for a comic/anime convention and/or publisher. There's airfare, hotel and meals/entertainment for the artist, likely their editor, and maybe a licensing executive/representative. Then there's a translator who will likely accompany the artist and crew throughout their stay, in addition to helping to translate at the panels/signing events. For these events, publishers also put in money to promote their appearances and print up special items like posters or shikishi (signing boards) for the signing event.
So when a manga artist makes it to North America, it's a very special thing! While some make return visits to North American cons, for example Yoshitaka Amano (Vampire Hunter D), Hiro Mashima (Fairy Tail, Eden's Zero) and Akira Himekawa (Legend of Zelda) have made several visits to anime/comic cons in recent years, that's fairly exceptional. If your favorite manga artist announces plans to come to North America, it's worth making the extra effort to see them, as it may be your only chance.
By the way, If you're in NYC, be sure to check out Anime NYC on November 16-18, to meet Hiroyuki Asada (Tegami Bachi, PEZ) and Range Murata (Robot), as they help Denpa Books debut their new manga and artbooks.
---
Do YOU have a question for the Answerman?
We want your questions! Send in as many or as often as you like. We can only pick three questions a week (and unfortunately I don't have ALL the answers) so if you haven't been chosen, don't be discouraged, and keep on sending.
However, READ THIS FIRST:
CHECK THE ARCHIVES FIRST. I've answered a lot of questions already!

If you want to be a voice actor, READ THIS.

I can't tell you if or when a show will get another season. New productions are closely guarded secrets until they're publicly announced, so there's nothing I can tell you that Google can't.

I cannot help you get in touch with any producers, artists, creators, actors or licensors. If you're trying to pitch an idea, you should read this.

I usually won't bother with questions asking if something is a trend. Maybe? It's impossible to know until it becomes obvious.

I take questions by email only. (Tweeted questions get ignored!)

I will not do your homework/research/report for you.

Keep it short -- like, a paragraph at most, and use proper grammar or punctuation.
Got all that? Great! The e-mail address is [email protected] (answerman at animenewsnetwork.com). And thanks!!
Deb Aoki was the founding editor for About.com Manga, and now writes about manga for Anime News Network and Publishers Weekly. She is also a comics creator/illustrator, and has been a life-long reader of manga (even before it was readily available in English). You can follow her on Twitter at @debaoki.
---
discuss this in the forum (7 posts)
|