Manga Answerman - Which forgotten or underappreciated manga do you think deserve a big splashy omnibus rerelease?
by Deb Aoki,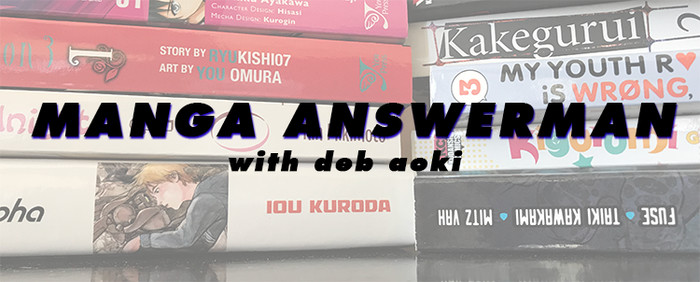 Which forgotten or underappreciated manga do you think deserve a big splashy omnibus rerelease?

Hm. This is a tough one, since a lot of terrific manga that would have otherwise not have had a chance to get an official release five or ten years ago are now getting picked up for publication. As a result, my "impossible dream" or "re-release" wish list is shorter than it once was.
At one time, it was hard to imagine that more of Hirohiko Araki's JoJo's Bizarre Adventure would be published beyond the Stardust Crusaders arc that VIZ initially published as 16 volumes starting in 2005. But here we are, with the first three arcs published in lavish hardcover editions, and the first hardcover of the fourth arc, Diamond is Unbreakable due out in early May 2019.
Same goes for Devil Man by Go Nagai, and Captain Harlock and Space Battleship Yamato by Leiji Matsumoto, all classic stories by legendary creators, out now in English or coming out soon from Seven Seas. Even long shots like Gambling Apocalypse Kaiji by Nobuyuki Fukumoto got picked up by Denpa Books. I guess never underestimate the power of a new animated series to give older manga series a major change of fortunes in the N. American manga publishing market.
VIZ is also putting out a new edition of Urusei Yatsura (a.k.a. Lum) by Rumiko Takahashi this year, and is in the middle of releasing new editions of Fullmetal Alchemist by Hiromu Arakawa and 20th Century Boys by Naoki Urasawa. Yen Press brought back Emma by Kaoru Mori, and Fruits Basket by Natsuki Takaya too.
So what's left on my wish list, as far as re-releases or rescues?
Well, perhaps given the recent announcement that Rumiko Takahashi will be guest of honor at the 2020 Angloueme festival in France, it would be nice to see her heartfelt and wacky romantic comedy Maison Ikkoku re-released, as well as her Rumic World short stories and horror series, Mermaid Forest.
Same goes for Katsuhiro Otomo – while it's been amazing to get a deluxe box set of Akira, the rest of his incredible catalog has been out of print for a long time. Domu in particular is a stand-out hit that deserves a lavish re-release.
It's kind of a niche thing, but it would be nice to see the manga of Shotaro Ishinomori get a proper print release instead of just the smattering of digital editions of Cyborg 009 and Kamen Rider now available on Comixology. Ishinomori is one of the most revered and influential manga creators in Japan, and given that many of his series inspired popular tokusatsu superhero shows, he's kind of like the Jack Kirby of Japan. Ishinomori also published numerous other stories in other genres, and it would be great to see his catalog published in English as much as the other "god of manga," Osamu Tezuka.
As for Tezuka, we certainly do have a lot of his work available in English now, but one of his most ground-breaking and influential works, Phoenix is long over-due for a re-release. The prior editions published by Viz Media are largely out of print, so it would be nice to see it return in some form. Also never released in English, but perhaps someday is Jungle Emperor, the basis for the Kimba the White Lion anime back in the day. I'm not entirely sure why this one, out of Tezuka's most celebrated and iconic works is the one that somehow never quite makes the cut. Perhaps it's the problematic depiction of African characters in this story, but other editions of Tezuka's works has disclaimers and apologies for that in some of his other stories. So I dunno?
Similarly, Lupin III by Monkey Punch got an English release back in the glory days of TokyoPop, but this manga about a globe-trotting thief and his band of compatriots hasn't had an official English print release in decades.
Speaking of monkeys, a re-release of cult hit Even A Monkey Can Draw Manga by Koji Aihara and Kentaro Takekuma (which has a sequel that hasn't been yet published in English) would be amazing. The way that it skewers manga tropes is still hilarious to read today, and maybe now more readers will appreciate its quirky humor.
Another VIZ-published series from back in the day would also be lovely to see in print again: the original ninja historical drama, Kamui and The Legend of Kamui (Kamui Den) by Sanpei Shirato. Gripping, dark, and dynamic, Kamui was published by VIZ back in 1987, but the complete series has never been published in English.
Also never published in English is boxing manga Ashita no Joe or Tomorrow's Joe by Ikki Kajiwara and Tetsuya Chiba. This heart-rending, action-packed drama about a young boxer was the inspiration for the Megalobox anime, which was developed as part of a 50th anniversary celebration of the original manga. At 20 volumes, it's a bit of a long shot, but you never know…?
While we're seeing some classic shonen and seinen manga getting a lot of that re-release love, shojo manga? Well, not as much. We're all still anxiously waiting for Udon's editions of Rose of Versailles by Riyoko Ikeda, and Sugar Sugar Rune by Moyoco Anno, and well, we all hope for some update on that front soon. One I'd love to see completed is Swan. Kyoko Ariyoshi's super dramatic ballet manga, once published (but not finished) by now defunct CMX Manga.
There's a whole lot of classic shojo and josei manga that would be great to see get an official English release, like Song of the Wind and Trees by Keiko Takemiya and Glass Mask by Suzue Miuchi. We briefly saw Pride by Yukari Ichijo on JManga back in the day, but almost nothing by this influential shojo manga creator is now available in English, unfortunately. NANA by Ai Yazawa is on indefinite hiatus, but it would be nice to see more of her past work like Tenshi Nanka ja Nai (I'm No Angel) and Neighborhood Story (Gokinjo Monogatari), which is kind of a precursor to Paradise Kiss. I'm hooked on Skip Beat! by Yoshiki Nakamura, so I'd love to read her prior series, Tokyo Crazy Paradise too.
We also have a handful of works by Kyoko Okazaki (Helter Skelter), Mari Okazaki (Will I Be Single Forever?) and Moto Hagio (Otherworld Barbara), but more, please, more!
This is only some of the books that are still left on my most-wanted licensing list – but I'm sure there are lots more! What's on your list for most-wanted manga? Add your comments to the forums.
---
Do YOU have a question for the Answerman?
We want your questions! Send in as many or as often as you like. We can only pick three questions a week (and unfortunately I don't have ALL the answers) so if you haven't been chosen, don't be discouraged, and keep on sending.
However, READ THIS FIRST:
CHECK THE ARCHIVES FIRST. I've answered a lot of questions already!

If you want to be a voice actor, READ THIS.

I can't tell you if or when a show will get another season. New productions are closely guarded secrets until they're publicly announced, so there's nothing I can tell you that Google can't.

I cannot help you get in touch with any producers, artists, creators, actors or licensors. If you're trying to pitch an idea, you should read this.

I usually won't bother with questions asking if something is a trend. Maybe? It's impossible to know until it becomes obvious.

I take questions by email only. (Tweeted questions get ignored!)

I will not do your homework/research/report for you.

Keep it short -- like, a paragraph at most, and use proper grammar or punctuation.
Got all that? Great! The e-mail address is [email protected] (answerman at animenewsnetwork.com). And thanks!!
Deb Aoki was the founding editor for About.com Manga, and now writes about manga for Anime News Network and Publishers Weekly. She is also a comics creator/illustrator, and has been a life-long reader of manga (even before it was readily available in English). You can follow her on Twitter at @debaoki.
---
discuss this in the forum (59 posts)
|