×
remind me tomorrow
remind me next week
never remind me
Subscribe to the ANN Newsletter • Wake up every Sunday to a curated list of ANN's most interesting posts of the week.
read more
Manga Answerman - What Are The Best Digital Manga Services?
by Deb Aoki,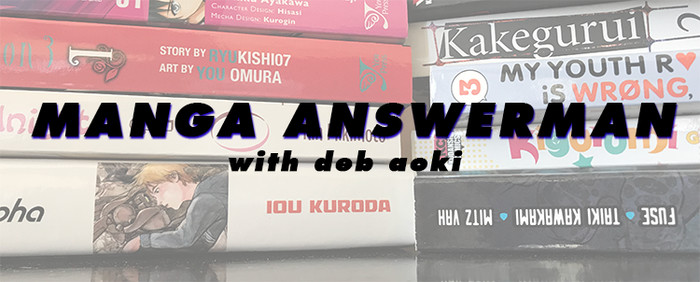 Where do you personally read digital manga, and with several apps now all competing for a similar manga-reading audience, which ones do you think are the most useful?

Well, as you mention, there are many places where you can buy and read digital manga now, including free, all-you-can-read monthly subscription type offerings, and pay-per-chapter or pay-per-volume options. It's kind of mind-boggling how much is available now, compared to what we had as recently as a year or two.
Now, that said, I don't have a single place where I buy/read manga online, simply because the various sites/apps have different selections of titles available, different pricing models and different user experiences, which for me means how easy is it to browse, buy, and read the manga I want to read. I buy / read from a mix of different sites and apps, and depending what you're looking for and what you like to read, you'll probably do the same too.
If price is your main concern then, well, free is probably where it's at for you. The best option here is the new Shonen Jump app from VIZ, which gives you all-you-can-read access to a pretty broad array of current and backlist Shonen Jump manga. It also gives you immediate access to the latest chapters of One Piece, My Hero Academia, Haikyuu!! and Blue Exorcist in English, almost as soon as it hits the newsstands in Japan, as well as some new digital-only / digital-first new / up-and-coming Shonen Jump series like ne0;lation and the RWBY manga. The nice thing here is that it gives you a chance to sample some new series, and if you like them, you can buy the digital and sometimes print version to keep and read any time.
For fans worldwide who can't access the VIZ/Shonen Jump app, then Shueisha's MANGA Plus app and website provides similar free, all-you-can-read access to the latest chapters of Shonen Jump manga in English and Spanish. It also offers an even wider selection of titles, including some that VIZ hasn't yet picked up for publication in N. America, including sumo manga Hinomaru Sumo and soccer manga Captain Tsubasa, (though that title is only available in Spanish for now).
Now, the obvious downside to these two manga apps/websites is that it's only Shonen Jump/Shueisha manga titles. What if you want to read the latest chapters of manga from other Japanese publishers like Kodansha, Kadokawa, Shogakukan or Square Enix, not to mention more "adult" offerings like BL, gay or ero-manga?
If that's what you're looking for, then it's time to do a little more shopping around.
For fans of the "all-you-can-read" subscription model, then Crunchyroll Manga is the way to go. A subsite of the popular anime/drama streaming service and included in the price of the monthly premium subscription at $6.95/month, Crunchyroll Manga provides fans with unlimited online access to a 50 or so current and backlist series. No Shonen Jump stuff here, but you can read the latest chapters of Kodansha manga like Attack on Titan and Edens Zero, and the manga version of the current anime, The Rising of the Sword Hero from One Peace.
Similarly, Comixology offers an "all-you-can-read" model with their Comixology Unlimited subscription. Comixology Unlimited has a bunch of simulpubbed Kodansha titles, like Attack on Titan and backlist series such as Battle Angel Alita. It also gives you access to some titles that are only available through their platform, like Beck and The Seven Shakespeares by Harold Sakuishi.
If a wider selection of titles is what you want, then it's time to start coughing up some money to buy manga at some of the online bookstores. This includes comics-focused app/website Comixology, manga and light-novel bookstore BookWalker. Besides the Comixology Unlimited offering, Comixology also has a pretty strong assortment of manga from Dark Horse, VIZ, Kodansha, Seven Seas and Yen Press, as well as some exclusive content like Cyborg 009 and Kamen Rider by Shotaro Ishinomori.
While BookWalker and Comixology do offer some same manga titles, if you do a little poking around, you'll find that there are some titles that are exclusive to these respective platforms. In particular, BookWalker has been licensing and publishing some light novels that are only available from their site, such as The Combat Baker and the Automaton Waitress. BookWalker also offers some pretty good sales and special offers to make manga buying even cheaper, and some freebies with purchase that are exclusive to their site.
If Boys Love manga is what you're looking for, then there's SuBLime Manga, which offers DRM-free downloadable PDFs you can read on any device, any time, and romance/BL-focused online store Renta, which offers a choice between "renting" for 48 hours or "unlimited" rental / reading access. Manhwa-focused NetComics also has several BL and shojo titles available to download to own or rent.
There are also smaller, niche sites such Digital Manga Publishing's eManga site, which has a lot of Tezuka manga titles, as well as some of their BL manga titles from their June Manga imprint and Manga Club (which has a mix of genres, including adult content). There are also some manga titles that are only available on Amazon Kindle, including Doraemon, the popular-everywhere-else-in-the-world-except-North-America robot cat comic. (go figure)
My current manga buying mix is a mishmash of the Shonen Jump app/website, Crunchyroll Manga, Comixology, with a dash of BookWalker, Amazon Kindle and a few SuBLime titles. The impossible dream right now is to have EVERYTHING available on one site – to be able to browse, buy, sample free manga and maintain a library of purchased titles in one place. But well, maybe that's a bridge too far for the manga publishing and online bookstore companies to sort out… for now.
---
Do YOU have a question for the Answerman?
We want your questions! Send in as many or as often as you like. We can only pick three questions a week (and unfortunately I don't have ALL the answers) so if you haven't been chosen, don't be discouraged, and keep on sending.
However, READ THIS FIRST:
CHECK THE ARCHIVES FIRST. I've answered a lot of questions already!
If you want to be a voice actor, READ THIS.
I can't tell you if or when a show will get another season. New productions are closely guarded secrets until they're publicly announced, so there's nothing I can tell you that Google can't.
I cannot help you get in touch with any producers, artists, creators, actors or licensors. If you're trying to pitch an idea, you should read this.
I usually won't bother with questions asking if something is a trend. Maybe? It's impossible to know until it becomes obvious.
I take questions by email only. (Tweeted questions get ignored!)
I will not do your homework/research/report for you.
Keep it short -- like, a paragraph at most, and use proper grammar or punctuation.
Got all that? Great! The e-mail address is [email protected] (answerman at animenewsnetwork.com). And thanks!!
Deb Aoki was the founding editor for About.com Manga, and now writes about manga for Anime News Network and Publishers Weekly. She is also a comics creator/illustrator, and has been a life-long reader of manga (even before it was readily available in English). You can follow her on Twitter at @debaoki.
---
discuss this in the forum (22 posts)
|