×
remind me tomorrow
remind me next week
never remind me
Subscribe to the ANN Newsletter • Wake up every Sunday to a curated list of ANN's most interesting posts of the week.
read more
Otakon Vegas 2015
by Bamboo Dong,



Otakon Vegas celebrated its second year this past weekend at the Planet Hollywood Resort and Casino in Las Vegas, NV. Just as last year, it occupied a sizable corner of the hotel's mezzanine, elevating it above the din and smokiness of the casino floor below. This year, however, it also had a high-profile neighbor—the ANISONG World Tour Lantis Festival, which brought in acts like JAM Project, Hatsune Miku, milktub's Bamboo, and more. JAM Project even stopped by the convention's opening ceremonies with a special performance from Hironobu Kageyama. We'll have a more detailed report of the Lantis Festival on Anime News Network later.
The convention may be on the smaller end—attendance is just north of 2,000, and the convention itself is situated around two primary hallways—but there's no denying the benefits of experience and the Otakon name. Events were largely on-time all weekend, the staff was plentiful and helpful, and the guest list was much stronger than you'd typically see at a convention this size. Fans of Cowboy Bebop had plenty of opportunities to attend Q&As from Steven Blum (Spike Spiegel), Wendee Lee (Faye Valentine), and Mary Elizabeth McGlynn (Julia), who attended not only their individual panels, but also Funimation's "The Cowboy Bebop Session" and the voice actors round table. Veteran voice actress and director Lisa Ortiz also made an appearance, with notable roles including Sonic the Hedgehog's Amy Rose, Record of Lodoss War's Deedlit, and Slayers' Lina Inverse. Fans of Japanese voice actors had the chance to meet husband-and-wife seiyuu team Toshio Furukawa (Dragon Ball Z's Piccolo and One Piece's Portgas D. Ace) and Shino Kakinuma (Dragon Ball Z Kai's Videl and Sailor Moon's Naru Osaka).
Fans of the Trigger anime Kill la Kill also had many opportunities to interact with character designer, animation director, and animator Sushio, whose resume also includes properties like Gurren Lagann, the new Evangelion films, Redline, and much more. He was on hand for autograph sessions, as well as a Q&A and a live drawing session, which began early at the Aniplex of America panel preceding it.

Perhaps the biggest upside of a small convention with big guests is the increased access. Not only is it easier for attendees to obtain autographs, but a lighter programming load also made it possible for each actor to attend multiple individual and group Q&As. And then there's the intimacy. How many people can say that they've lurked after a panel to hear McGlynn belt out "Blue," the episode 26 ending theme from Cowboy Bebop? (Those who haven't heard her singing voice should check it out.) Or stuck their head into opening ceremonies in time to hear Kageyama rock out to "Cha-La Head-Cha-La?" Otakon attendees who attended the ANISONG World Tour Lantis Festival also had the chance to enter a raffle for a special VIP party with JAM Project and YUI from Yōsei Teikoku, featuring Q&As, autographs, and photo shoots with the artists.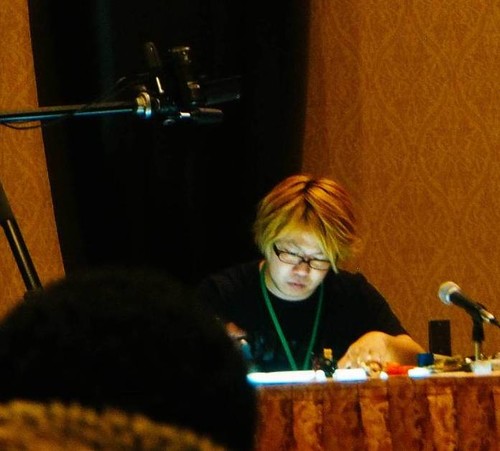 While Otakon Vegas doesn't draw the same industry presence as larger conventions, there were still a few industry panels sprinkled amongst its offerings. Aniplex of America kicked off the industry panels on Friday afternoon, bringing in special guest Sushio to sketch a special Otakon Vegas Gurren Lagann illustration which would later be sold for charity. Hosted by E.J. "Aniplex Guy" Rivera, the panel started off with a rundown of the company's current simulcast offerings, with titles like Durarara!!x2, Saekano: How to Raise a Boring Girlfriend, and the continuation of Aldnoah.Zero and Your Lie in April. Rivera also showed trailers for Aniplex of America's current and upcoming home video releases, with highlights like the next volumes of Nisekoi and Kill la Kill, and the import editions of Persona 3 the Movie #2 Midsummer Knight's Dream and the first season of Fate/stay night: Unlimited Blade Works. The panel ended with some new announcements, including the February 24 release of the Koimonogatari Blu-ray set, with pre-orders starting that day. There will also be a complete Durarara!! Blu-ray box set released on April 7, complete with Japanese and English audio tracks. Madoka Magica fans also learned news of Aniplex of America's plans to release Puella Magi Madoka Magica The Movie Part 3: Rebellion on April 7 on both BD, DVD, and a limited edition BD/DVD/CD soundtrack set. Near the end of the presentation, Rivera showed attendees a video featuring Toonami's Tom, who had a special announcement to make. Kill la Kill will be making its Toonami premiere on February 7 at 11:30 PM EST/PST, however there is yet to be any news regarding what, if any, edits will be made for the broadcast.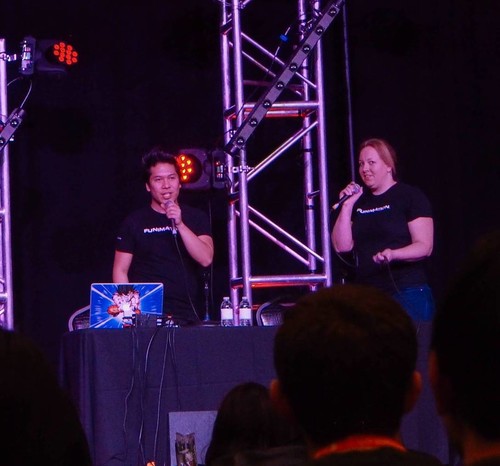 Funimation delivered their panel the following day, with Senior Manager of Social Strategy and Development Justin Rojas and Conventions Manager Tara McKinney. The panelists covered the titles that were currently airing on Adult Swim's Toonami block, like Attack on Titan, Cowboy Bebop, Fullmetal Alchemist: Brotherhood, and others, then reminded attendees that they could watch Funimation titles streaming on services like Funimation.com, Crunchyroll, Hulu, and Netflix. Fans who preferred to watch their anime English-dubbed could take advantage of Funimation's "broadcast dubs," which stream dubbed episodes four weeks after their Japanese air date. Last season's offerings included Psycho-Pass 2 and Laughing Under the Clouds. Those who don't want to wait can check out the series that are simulcasting, including Assassination Classroom, The Rolling Girls, Yuri Kuma Arashi, Yatterman Night, Death Parade, Cute High Earth Defense Club LOVE!, Maria the Virgin Witch, World Break, and more. In terms of licensing news, Funimation announced that it had the home video rights for Dragonar Academy, Date A Live II, and No-Rin.
Crunchyroll stopped by Otakon Vegas as well, with a panel Saturday morning. The panel was presented by Brand Manager and Convention Manager Miles Thomas and eCommerce Purchasing Manager Ariel Chan, who gave an overview of the website and its offerings. Attendees also had a chance to win tickets to the ANISONG World Tour Lantis Festival. The panelists also talked about some of the properties currently simulcasting on their website, including Kan Colle, Saekano, World Break, Unlimited Fafnir, Gourmet Girl Graffiti, The Testament of Sister New Devil, and more; as well as titles newly added to their catalogue, including the Golden Boy anime. Panelists also talked about some of the manga that was available on Crunchyroll, which is now available to Crunchyroll's Premium members, and other facets of their website, such as the Crunchyroll Store.

But there's more to conventions than just guests and industry panels. There're the dealers' rooms, the fan panels, the cosplay—and of course, just hanging out with your friends. That's where the magic of Otakon Vegas comes in. Somehow, despite being an escalator away from a casino filled with writhing go-go dancers and the perpetual fog of second-hand smoke, Otakon Vegas manages to be completely insulated from the outside world. Sure, if you end up looking for food or wandering elsewhere on the Strip, you'll be met with puzzled stares, especially if you're in costume. But if you're in the convention itself, it's miraculously quiet and free from outside influence. It probably helps that the third weekend of January is definitely not tourist season, and few wander to the mezzanine of Planet Hollywood unless they're looking for the Jeff Dunham show. Whatever it is, though, it's critical to the overall experience of Otakon Vegas, and it works in the convention's favor. It feels safe, and it feels comforting. And whether you're actively trying to escape the ruckus of Las Vegas, or you just want a place to loiter with like-minded otaku, it's an inviting pocket that shields you from the "real" world. By the same token, those seeking diversions, parties, and the permission to drink a yard-long decanter of booze on a public sidewalk need only to step a few hundred yards away. Increasingly, it makes sense why Otakon settled on the Las Vegas Strip for their secondary convention. The freedom to have both the frenetic energy of Las Vegas and the muted feeling of a suburban anime con at your fingertips is tantalizing and appealing.
Undoubtedly, Otakon Vegas benefited greatly from the presence of the ANISONG World Tour Lantis Festival this year. It gave fans the chance to see JAM Project, Faylan, and other acts in an intimate setting just 1.3 miles away from the convention. It also brought extra star power to the opening ceremonies, where even those who didn't purchase tickets to the concerts were able to see a surprise performance of one of the most iconic anime opening themes from the past few decades. To say that both events coincidentally happened in the same city, on the same weekend would be naïve, though. Again, there's no minimizing the experience of Otakon, which collaborated with Lantis in the past. Those who have been to second-year conventions in the past will tell you that they're riddled with problems and lackluster guest lists, which isn't a problem for Otakon Vegas.
As it often does, it all comes down to one simple question, "Would you recommend going to Otakon Vegas?" And having been to the convention two years in a row now, I can answer that yes, it's worth it. You can't walk in expecting the brouhaha of Otakon Sr., nor the wall-to-wall, round-the-clock programming, but you will get the same level of professionalism, organization, and know-how. And if your worry is Las Vegas itself, then rest easy—you'll barely know you're there.
---
discuss this in the forum (24 posts)
|
this article has been modified since it was originally posted; see change history