×
remind me tomorrow
remind me next week
never remind me
Subscribe to the ANN Newsletter • Wake up every Sunday to a curated list of ANN's most interesting posts of the week.
read more
Anime Boston 2018: ASAKA, Cosplay and More
by Jordan Ramee,


Overview
For the past fifteen years, Anime Boston has been a cornerstone of the northeast anime convention circuit. Hosted in Boston, Massachusetts, the show has always been primarily focused on Japanese animation and comics, but has grown to become known for its emphasis on music. This con features an outstanding and competitive Anime Music Video (AMV) contest, and has hosted a myriad of incredible performances from a variety of Japanese musicians.
This year, Anime Boston occurred March 30-April 1 and featured a diverse assortment of guests. Attendees got to meet industry veterans like Conan Producer Michihiho Suwa, Kazuki Yao (the voice actor of One Piece's Franky), Shin-chan Director Yūji Mutō, Gundam Wing Executive Producer Hideyuki Tomioka, as well as many others.
Though no one spent much time outside, the weather was delightfully warm (for Boston). It drizzled for a bit on Friday, but the sun greeted attendees' faces on both Saturday and Sunday.
Music (And Music Videos)
Two musical guests showed up to perform at Anime Boston: FLOW and ASAKA. FLOW is a popular five-person band. Their music has been featured in world-famous anime like Naruto and Eureka Seven for years; they appeared at Anime Boston as part of their 15-year anniversary.
ASAKA managed enormous buzz around Anime Boston this year. The convention marked her first official appearance in the U.S. since her debut as an anison singer. Though she's only 17, she's already made quite a name for herself. Her first single "Open Your Eyes" went on to become the ED for Occultic;Nine and her most recent single "Shiny Days" is the OP for Laid-Back Camp, one of Winter 2018's popular new anime.
After ASAKA's stunning performance during the Anime Masquerade at Anime Boston, convention attendees couldn't stop talking about her, and she was just as excited to meet her American fans. "I see America as a second home," she said. "I want to do solo concerts here and connect with the fans." She went on to express her hope that her music would help bridge the gap between anime lovers from both countries. "I might not be the best qualified but I want to try," she laughed. ASAKA plans on continuing to "only make anime music" in the near future, and wants her first album to come out in both Japanese and English. She's currently working on the ED for an upcoming 2018 anime, but apologized for not being able to reveal what it is right now.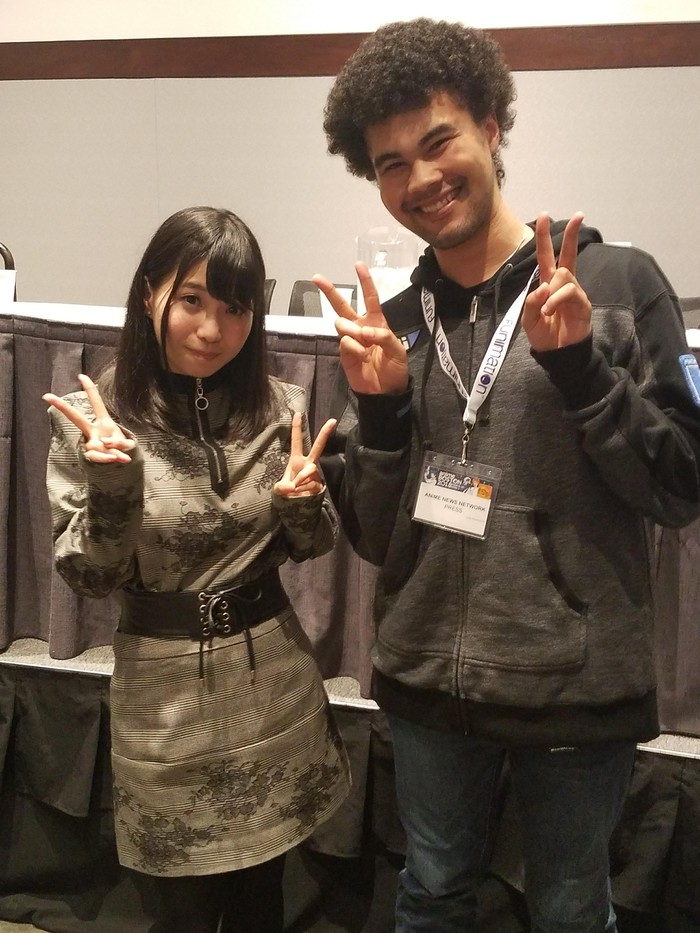 Though it wasn't a confirmation of what she's working on, she did express a strong desire to make music for a horror anime or video game. She's a fan of the genre. "Horror games!" she excitedly exclaimed when asked what she does in her free time. "I really like Outlast," she specified before going on to list a few other horror titles from both western and eastern developers. Horror seems like a far departure from the Jackson 5 vibes of "Shiny Days," but ASAKA is confident she can pull it off. She certainly has the voice for it.
Anime Boston's AMV competition was also a huge success. Fans packed themselves into the auditorium to watch 35 AMVs. Scoring cards were passed around and attendees voted on their favorite show-casings for each of the seven categories. However, before the competition could even begin, a member of the staff used the room's massive TV monitors to deliver a surprise marriage proposal to his girlfriend who he had met through Anime Boston several years prior. It was adorable! Winners were announced the next day. "Beauty And The Ancient Magus" by FanEditz won for Trailer/Commercial, "Empty Spaces" by Xophilarus won for Drama, "From the Flame" by SuperEltanin won for Action, "Petal Dance" by PaNTSU oF d00m won for Romance, "SPF (Stereotypical Party Filler)" by Gina Nelson won for both Upbeat and Editor's Choice, "The Beat I Drum - Anthem on Ice" by SyncopatedID won for Other, "Yuri!!! on Ice - The Honest Trailer" by Maboroshi Studio won for Fun/Comedy, "Getting Halfway to Anywhere" by Paul Geromini won Best Concept, "Down the Road" by DopplerDo won Best Editing, and "Pride + Prejudice + Butlers" by BecauseImBored1 won Judges' Choice.
All in All…
From a personal perspective, I think so many people flock to Anime Boston every year because of how well the convention treats its guests and attendees. The staff keeps this convention running on time - I had a pretty flawless experience, both as a fan and as attending press. If you haven't yet mentally marked off time to attend Anime Boston 2019, you should.
For a complete list of headlines from both Anime Boston and Sakuracon, click here for our full roundup.
Cosplay Gallery
The cosplay community was out in force at Anime Boston. Click through our gallery of some of our favorites:
---
discuss this in the forum (4 posts)
|