×
remind me tomorrow
remind me next week
never remind me
Subscribe to the ANN Newsletter • Wake up every Sunday to a curated list of ANN's most interesting posts of the week.
read more
Anime Expo 2018 News Roundup: Day Zero, One, Two Headlines

Anime Expo 2018: JoJo's Bizarre Adventure: Golden Wind U.S. Premiere

by Lynzee Loveridge,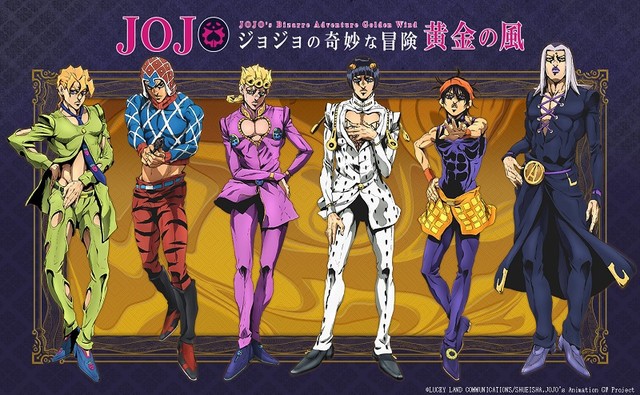 JoJo's fans got a very special treat at Anime Expo this year. Only weeks after the anime adaptation of JoJo's Bizarre Adventure Part 5 was announced, Anime Expo announced it would host the U.S. premiere months before its planned television premiere in October. Viz's Weekly Shonen Jump digital mangzine staff Urian Brown and David Brothers, the former and current JoJo's Bizarre Adventure manga editors, hosted the premiere to a packed crowd. The event was much more than just a premiere, it was more like a pose-filled variety show with a cosplay contest, audience trivia, and a question and answer session with JoJo anime series director Naokatsu Tsuda.
Tsuda joined Brown and Brothers on stage to uproarious applause to give insight on how he and the staff at david production recreated the colorful world of Hirohiko Araki.
Q: So, what's your day to day activities like when you aren't directing anime?
Tsuda: I sleep, wake up, get ready for work, work, come back home, and sleep, really.
Q:Really? That's it?
Tsuda:Really, it's true.
Q:What are the secrets to creating an opening and ending sequence for JoJo's?
Tsuda: The opening sequence should serve as the intro to the show but also get the audience hyped up. The ending sequence, though, needs to leave audiences feeling like, "Aw man, it's done?"
Q: I like how in one opening sequence during Stardust Crusaders, the opening sequence was interrupted by Dio's stand. It's that kind of thinking outside of the box that's really unique.
Tsuda: I'm glad you bring that up, actually. I'm glad that the title includes the word "bizarre." It really gives us free license to do what we want to do.
Q: What is your favorite Stand and what Stand would you hire to work at the studio?
Tsuda: My favorite Stand is Gold Experience because its really strong. When it comes to what Stand I'd work with, I think "Heaven's Door" is what I'd pick. It'd be very convenient for meeting deadlines.
Q: What directors have influenced you?
Tsuda: Actually, a lot of American movie directors, like Ridley Scott, Guillermo del Toro, and Stephen Spielberg.
Q: How closely did you work with Araki on the music choices in the opening and ending sequences?
Tsuda: We didn't work with Araki so much on the opening sequences but definitely a lot in the endings. He was heavily involved in providing the art and music choices.
Q: When it comes to "Roundabout" by Yes, I bet they had an increase in sales after their song was used and were pretty confused when that happened.
Tsuda:I think that song was not well known by Japanese people but when they heard it, they thought "Wow, who sings this? It's cool!"
Q:So what inspired you to transfer the sound effects from the manga directly into the anime series?
Tsuda: Well, the idea came from the manga. I think the world of JoJo's Bizarre Adventure would be incomplete without the sound effects there.
Q:What do you want viewers to know about this new anime season of JoJo's Bizarre Adventure?
Tsuda: I think this one has the heaviest themes, so I hope you'll please watch it with all of us in Japan until the very end.
It wasn't until the tail end of the super-sized panel that attendees got to set their eyes on the colorful and dangerous world of Giorno Giovanna, a 15-year-old scoundrel. He gets by in the town of Neoples (obviously a reference to real-world Naples) by running small-time scams and paying off the cops but also won't turn a blind eye to an innocent person in trouble. Koichi finds himself on the receiving end of Giorno's pilfering hands when the Italian makes off with Koichi's bag as soon as he leaves the airport. What neither know initially is that Giorno is the same boy that Jotaro sent Koichi to find in the first place. The boy bears a striking resemblance to Jotaro himself and has a Stand of his very own. Giorno's hard luck life is going to get a lot harder when he crosses the wrong gangster with a powerful Stand.
JoJo's Bizarre Adventure: Golden Wind throws us right back into the over-the-top world that we've come to expect, but even after four anime seasons it still manages to pull out its fair share of surprises. Giorno's style is the loudest and most outlandish yet. Foes like Bruno Bucciarati, a gangster that can unzip other humans and transport objects inside their body, ups the potential for even stranger (and gruesome) battles. A confrontation on the subway sees our new protagonist barfing up a dead man's fingers, if you want context for how far this show will go catch its audience off guard.
Artistically, Golden Wind returns to the look of Stardust Crusaders. The previous Diamond is Unbreakable featured a more experimental color palette filled with contrasting pastel hues. Sometimes the sky was orange or mint green in Morioh Town but Neoples exudes a sense of dry summer heat. It's bright and a little sweltering. If Morioh felt like it had heavy clouds hanging over its residents, Neoples is wide open blue skies. I can't help but imagine the characters are uncomfortably warm in their latex-like styles, but maybe that's the Anime Expo heat starting to get to me.
Fans had to wait for this latest installment following the adventures of the most bizarre anime family, but it was well worth it. I can't wait to follow this next bunch of weirdos wherever it is that destiny takes them.
---
discuss this in the forum (3 posts)
|
back to Anime Expo 2018 News Roundup: Day Zero, One, Two Headlines
Convention homepage / archives