×
remind me tomorrow
remind me next week
never remind me
Subscribe to the ANN Newsletter • Wake up every Sunday to a curated list of ANN's most interesting posts of the week.
read more
Anime NYC 2018 News Roundup

Convention Report: Anime NYC 2018

by Cindy Sibilsky,
Anime NYC, a Leftfield Media event "Powered by Crunchyroll" returned for a triumphant second year to the gargantuan Javits Center that had hosted New York Comic Con only a month before. The new convention — a brainchild of longtime event organizer and unabashed fanboy Peter Tatara — hosted several North American world premiere screenings and Anisong World Matsuri, which featured some of the biggest anisong artists from Japan for two nights of concerts at the Hammerstein Ballroom, which was walking distance from the Javits Center. The concerts, ticketed separately from the convention with general admission and VIP package pricing, were open to the public and did not require an Anime NYC badge. Both nights combined drew in an enthusiastic audience of four-thousand, many who'd traveled as far as the artists themselves, screaming with delight and color-coordinating their choreography with LED penlights.

Anime NYC also had dozens of panels, an exhibitor hall (220 exhibitors) and artist alley (240 artists) with special edition offerings and interactive opportunities (including a gaming section and Crunchyroll's signature Bananya Plushie Pool), autograph signing sessions from both U.S. and Japanese guests (60 special guests in all), nighttime events (like the SONICBOOMBOX Official After Party Friday night at Spin on 23rd St and the Masquerade ULTRA DELUXE presented by Love Nikki in the Main Stage space) and of course, plenty of chances for attendees to and show off their creativity through cosplay. The second year tallied 36,000 attendees (not including the Anisong World Matsuri concerts) nearly doubling the numbers from Anime NYC's inaugural year.
The exhibition hall was bustling with major publishers as well as smaller and more specialty vendors. Across the board, the exhibitors sang praises of the conference and were pleased with the results and the growth from last year. Jane Lui of VIZ Media said that she loves the vibe and the people and that sales have been great (especially after panels promoting their products). Johnny Sengsavangvong of Sentai noted an increase in sales and that Anime NYC was well-organized and very strong for a convention that is only in its second year. Dolls did well too. Competing companies, Volks USA Inc, the producers of Dollfie Dream and Smart Doll created by Danny Choo (also a panelist) both had sellouts -- Choo, of his entire stock of dolls priced at $450 and up. Hideyoshi Shigeta, representing Dollfie Dream, was delighted that several of his high-priced dolls (ranging from $740-$1130) sold out.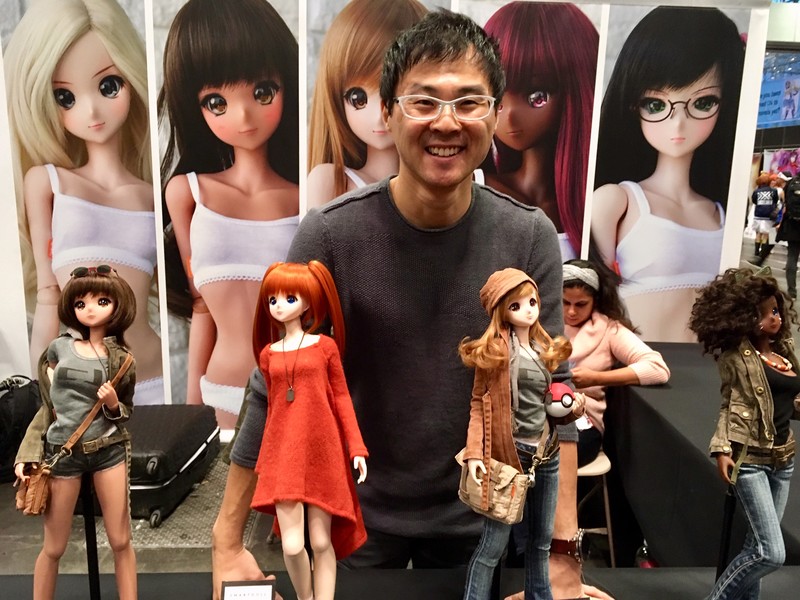 At the artist alley, the feedback was similarly positive. Gerous -- a Japanese artist from Los Angeles -- has attended both years as his first East Coast convention. He's been very pleased with similar sales and gaining new fans over both years. Illustrators Kite Mitilo and Sophie Fu echoed the sentiment but felt that 2018 was far better for them with higher sales and excellent fan interaction. One artist -- who preferred to remain anonymous -- didn't hold back on their praises for Anime NYC; they said it felt like attendees and exhibitors have been happier, felt more welcomed and had better sales here than at other New York conventions.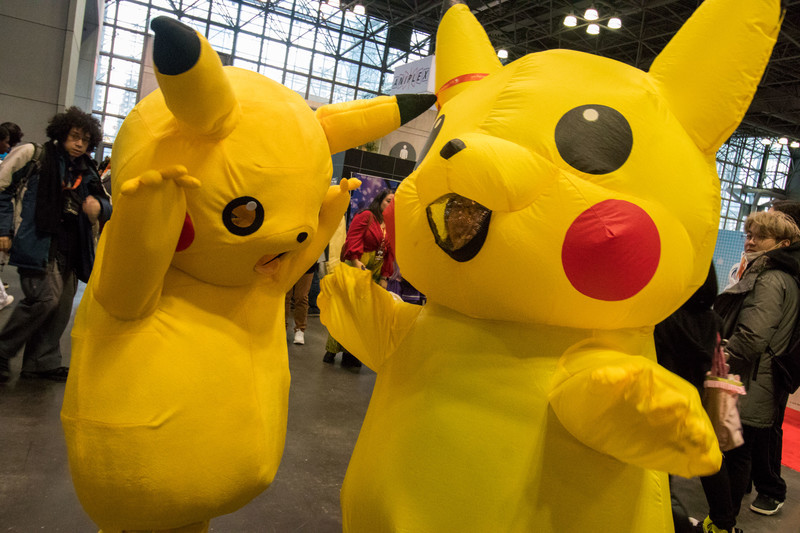 The long weekend kicked off early on Thursday with AniBiz: Anime Business Conference held at Japan Society that was co-organized by Anime NYC and Anime News Network whose own CEO and Publisher, Christopher MacDonald, acted as the moderator for the event that featured some of the leaders in the business: Kun Gao, the founder of Crunchyroll, the world's largest destination for anime and manga; Charlene Ingram, who made the leap from cosplayer to becoming the "glittering force" behind marketing for major brands from Funimation, VIZ Media and now for Capcom; Kurt Hassler, the Publisher and Managing Director of Yen Press; Adam Sheehan, a veteran in anime industry who is now the Director of Events for Crunchyroll, VRV and a founder of Crunchyroll Expo; Ian Tingen, an events producer and the CEO of Power Level Pro, who uses his training as a social psychologist to act as a relationship counselor between fans and brands; and Greg Topalian, one of the top events producers for over 20 years who is the founder of New York Comic Con and Leftfield Media.
They explained the ins and outs of the industry, how it has changed over the years and the most important factor in keeping this business growing and booming: the fans. The panel discussions and keynote speeches flowed with a sense of both passionate fervor and casual ease. All agreed that the key to success ends and begins with the fans, which is why conventions have become such a crucial part of the Japanese anime and manga market. The event was attended by interested industry professionals and curious otaku alike seeking to discover what makes the inner workings of this world tick.

Friday's highlights included: North American premieres of K: Seven Stories and Natsume Yujin-cho the Movie: Ephemeral Bond and That Time I Got Reincarnated As A Slime screening and talk show, a spotlight on veteran Japanese voice actor Toru Furuya, industry panels for Funimation, Sentai Filmworks, Sony Music Entertainment Japan, Sunrise and the Japanese performers for Anisong World Matsuri, as well as fun or informative gatherings such as HIDIVE Presents LGBTQ+ representation in Anime. At 7pm, while the gatherings at the Javits were still going on, the opening night of Anisong World Matsuri began with an all-female lineup featuring: Luna Haruna (anisongs for Sword Art Online and Fate/Zero), the kawaii pop princess with a hard rock edge to offset all the pink, nano (anisongs for Arpeggio of Blue Steel and BTOOOM!) a native New Yorker performing her homecoming debut as a Japanese star, Konomi Suzuki (anisongs for Re: Zero and No Game No Life), whose powerful voice earned her accolades at a young age and TRUE (anisongs for Mobile Suit Gundam: Iron-Blooded Orphans and Sound! Euphonium) who performed at last year's Diva's Night at Anime NYC and is back for more on a much bigger stage. The four performed their hits individually then treated the crowd to rare collaborations never-before-seen in such a combination. We'll have full reports from the concerts and a few key panels in the coming days.
As is typical for cons, Saturday's schedule was the busiest. Fortunately for fans who weren't able to get into their first choice panel -- many events were quickly at capacity with the staff sometimes having to turn away hundreds of interested attendees who hadn't waited quite as long in line as the others -- there were plenty of alternative options. Of the many highlights, the top events were: the Fate/stay night Heaven's Feel two-hour special celebration of the film series featuring the English Fate series cast with a special concert by Japanese songstress Aimer, the Mob Psycho 100 Season 2 Global Premiere, K:Seven Stories Final Film Global Premiere, the Mobile Suit Gundam NT 20 Minute Preview and Fairy Tail Final Season Panel and episode premiere. There were plenty of industry panels from the top publishers such as Kodansha Comics, Yen Press, VIZ Media and Crunchyroll, among others, many who made special announcements on new titles, some of which would be available for the first time anywhere at Anime NYC.

That evening Hironobu Kageyama (of the supergroup JAM Project and anisongs for Dragon Ball Z and Saint Seiya fame), Hiroshi Kitadani (supergroup JAM Project, anisongs for One Piece and Ryder Ryuki, and more), Shoko Nakagawa (anisongs for Gurren Lagann and Fullmetal Alchemist: Brotherhood) and the legendary Japanese Idol Group, Morning Musume '18 took the Hammerstein Ballroom stage for round two of NYC's first Anisong World Matsuri. It was Kageyama and Kitadani's first time in NYC and they were able to introduce the audience to that explosive energy and dynamic vocals that made them household names in their native land. Shoko Nakagawa had a glorious range and powerful presence. Her gentle duet with Kageyama on acoustic guitar was particularly touching. But the real surprise was Morning Musume '18, the current lineup of the group that has been celebrated for two decades. Twelve in total, they commanded the large stage and their awe-inspiring and complicated choreography (both in terms of dance and vocals -- which were shared between each member of the group) was evocative of a flower being greeted by the sun and slowly unfurling its petals, particularly when they would form a circle and explode outward, one by one or move together as if they're one unit. The roof finally came off when the entire group of fifteen artists appeared on stage together at the end of an almost 2 ½ hour show to perform the opening song for One Punch Man, "The HERO!!" by JAM Project.

Following suit of most cons, Sunday was a bit more relaxed, giving attendees the opportunity to browse the exhibitor's hall or artist alley when they may have not had the chance shuffling from panel to panel across the massive Javits Center. Some special events for that last day were the Fairy Tail Final Season Live Reading, the Sailor Moon Panel, where the English Tuxedo Mask, Robbie Daymond, and original Japanese Tuxedo Mask, Toru Furuya, were asked to perform a poetry slam in their opposite languages, much to the chagrin of host Charlene Ingram, English cast Sailor Moon, Stephanie Sheh and the audience of over eight-hundred. The sneak preview screening of Never-Ending Man: Hayao Miyazaki ended the three-day experience on a high note.
By the time attendees were being hustled out into the wilds of where Hell's Kitchen meets Hudson Yards outside of the Javits Center and exhibitors were breaking down their booths, Anime NYC already announced its third year -- November 15-17, 2019. For founder Peter Tatara, this is a dream come true and the fruition of seeds planted and nurtured many years ago. He says, "I couldn't be more proud of the global premieres, major guests, and publishers and partners Anime NYC brought together, but what makes it all worth it are the fans. I grew up watching anime and have worked in and around the industry for over ten years so everything at Anime NYC has been built for my fellow fans - giving them a place to celebrate, share passions, and make friends. Anime NYC is a moment where anime fans take over the biggest city in the U.S."
---
discuss this in the forum (9 posts)
|
this article has been modified since it was originally posted; see change history
back to Anime NYC 2018 News Roundup
Convention homepage / archives