News

Pokkén Tournament Producer Considers International Release

posted on

2014-08-28

23:53 EDT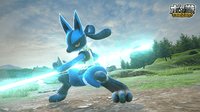 Tekken producer Katsuhiro Harada answered questions on Twitter about his and Masaaki Hoshino's Pokkén Tournament Japanese arcade game on Wednesday and Thursday, saying that he was considering an international release of the game.
Harada also said the game would include more than just Fighting-type or bipedal Pokémon and would include evolved and unevolved Pokémon. He responded with "no comment" when asked if Pokémon element types would play a role in the game.
When asked whether the gameplay would be one-versus-one or tag team, Harada responded, "It's secret. and We [sic] have some new ideas."
Pokkén Tournament will debut in Japanese arcades in 2015. The Pokemon Company International filed trademarks for "Pokkén Fighters" and "Pokkén Tournament" in America on August 15.
[Via Siliconera]
---
discuss this in the forum (6 posts)
|
bookmark/share with:
RightStuf - Anime, Manga and More