News

Pokkén Tournament Producer Considers International Release

posted on

2014-08-28

23:53 EDT by Rachel Mahoney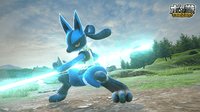 Tekken producer Katsuhiro Harada answered questions on Twitter about his and Masaaki Hoshino's Pokkén Tournament Japanese arcade game on Wednesday and Thursday, saying that he was considering an international release of the game.
Harada also said the game would include more than just Fighting-type or bipedal Pokémon and would include evolved and unevolved Pokémon. He responded with "no comment" when asked if Pokémon element types would play a role in the game.
When asked whether the gameplay would be one-versus-one or tag team, Harada responded, "It's secret. and We [sic] have some new ideas."
Pokkén Tournament will debut in Japanese arcades in 2015. The Pokemon Company International filed trademarks for "Pokkén Fighters" and "Pokkén Tournament" in America on August 15.
[Via Siliconera]
---
discuss this in the forum (6 posts)
|
bookmark/share with:
RightStuf - Anime, Manga and More
One reader wants to know why you never seem to see blooper reels for anime voice actors - bad takes can be fun to watch, so how come we never get to see them? Justin gets into it.
― Rodolfo asked: I was watching the Panty and Stocking bloopers on youtube and started wondering if there were any original Japanese anime bloopers floating around. I couldn't find any. Not one. So i was wondering, do the ...
The illustrator for Nisio Isin's smash Monogatari novel series talks in-depth about creating the spectacular images that bring the novel series to life.
― As the illustrator for Nisio Isin's smash Monogatari novel series, digital artist and photographer VOFAN has earned his reputation as a master at rendering light, creating spectacular images that bring the novel series to life, establishing a worl...
This dungeon-crawling action RPG boasts all the style of Studio Trigger's hit series, but not so much the substance. Todd Ciolek digs into this magical adventure.
― It's neither original nor unkind to say that Little Witch Academia stood out on appearances. The series is a charming tale of a misfit at a magical academy, a fantasy staple since well before Harry Potter, but it might not have leapt from...
Wotakoi: Love is Hard for Otaku delivers warm fuzzy romance and anime reference humor in equal measure. Nick and Steve dig into what aspects of this romcom they see in the otaku relationships around them.
― Wotakoi: Love is Hard for Otaku delivers warm fuzzy romance and anime reference humor in equal measure. This week, Nick and Steve dig into what aspects of this romcom they see in the otaku relatio...
The adventure continues in this children's mobage adaptation with surprising ambitions. Rebecca Silverman finds out how things develop.
― Just because you've achieved your goal doesn't mean that the journey's over. That's the premise behind the second set of Puzzle & Dragons X episodes to be released on DVD. The first thirteen saw Ace work towards his goal of becoming a dragon caller – the show's com...
All the details from Warner Bros' panel at Anime Central, including a look at the first episode of the action fantasy anime Dragon Pilot, coming soon to Netflix!
― On Sunday May 20th at Anime Central, a representative of Warner Brothers Japan hosted a panel. During the presentation she provided previews of some upcoming projects and then showed the English subtitled version of the first episode of Dr...
Hinamatsuri and MEGALOBOX duke it out for the top spot! Catch up with our weekly user rankings - and find out how your favorite shows performed!
― Our team of reviewers are following 27 anime series of the Spring 2018 season and readers are rating each episode as the reviews go up. So let's have a look at what ANN readers consider the best (and worst) of the season. Keep in mind that these rankings ...
It's another batch of enlightening quickies: small faces, crime in Japan, High School of the Dead and more!
― Doc Fraga asked: I have wondered about this for almost 30 years. But what is the meaning of the three finger point "Sign of the devil" hand sign in anime. it's usually seen in Ranma 12 or Urusei Yatsura when someone gets knocked out. The hand-sign often associated with the devil and heavy me...
Paul enjoys a bite-sized, RPG-themed spoof of Koro-sensei's adventures in Assassination Classroom, then breaks down all this week's new anime releases alongside a brand-new Shelf Obsessed!
― I got myself a Nintendo Switch last week, and my first impression of the thing was pretty darn positive. I plugged it in, turned it on, put in a game, and started playing. No insanely huge updates to download or...
This slice-of-life comedy delivers an entertaining and occasionally thoughtful package that avoids the seedier pitfalls common to the monster girl genre. Theron Martin digs in.
― Riding the current wave of monster girl titles is this manga adaptation from winter 2017, which takes a somewhat unusual approach to the genre. Rather than treating its subject matter as exotic potential love interests, it a...
To celebrate the Fate/stay night [Heaven's Feel] THE MOVIE I. presage flower English Dub premiere, Fathom Events and Aniplex of America are giving away a pair of tickets to 5 lucky winners!
― The first film of this high-stakes trilogy explodes with epic action and heart-wrenching drama, tied together by the original author Kinoko Nasu's unique storytelling and otherworldly cast of characters. To cele...