News

First Love Monster TV Anime Premieres This Summer

posted on by Jabulani Blyden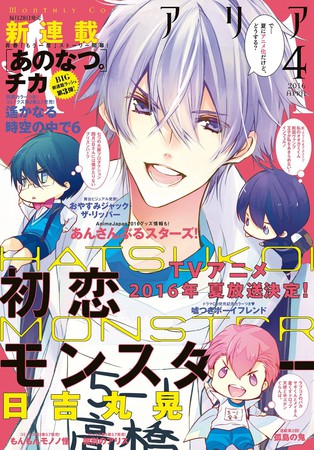 The April issue of Kodansha's ARIA magazine, available on Saturday, will announce that the television anime adaptation of Akira Hiyoshimaru's First Love Monster (Hatsukoi Monster) manga will premiere this summer.
Yen Press is releasing the manga in North America, and it describes the series:
When fifteen-year-old Kaho Nikaidou leaves her sheltered home to start life anew in a Tokyo high school dormitory, the last thing she expects is to nearly get hit by a truck! Saved in the nick of time by a handsome stranger, Kaho falls head over heels for him and, after finally tracking him down, boldly confesses her feelings. Turns out Kaho's mystery savior, Kanade, is the son of Kaho's new landlord! The handsome object of Kaho's affection agrees to go out with her, but her newfound bliss is short-lived when it turns out that her new boyfriend...is a fifth-grader?!
The anime will star Yui Horie as Kaho Nikaidō and Takahiro Sakurai as Kanade Takahashi.
Hiyoshimaru launched the manga in ARIA in March 2013, and Kodansha will ship the sixth compiled book volume in Japan on May 13. Yen Press published the manga's third volume in North America in January.
---