News

Sanrio Danshi Anime to Air on TV

posted on by Rafael Antonio Pineda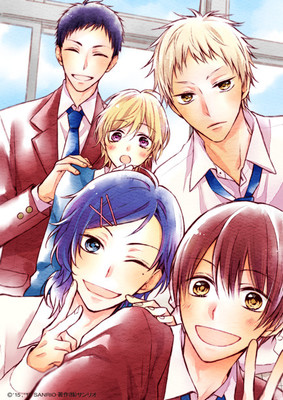 The official Twitter account of the producer of Sanrio's Sanrio Danshi (Sanrio Boys) project announced on Wednesday that the project's upcoming anime adaptation will be a television anime. Friday's Sanrio Expo event will reveal more details about the anime.
The project's premise follows Kōta Hasegawa, a high school boy that loves the yellow Pom Pom Purin dog. By mere coincidence, he ends up attending the same school as Yū Mizuno, a boy who likes the bunny My Melody. Yū tells Kōta that there's nothing to be ashamed of for liking Sanrio's cute characters. Together, Kōta, Yū, Shunsuke Yoshino, Ryō Nishimiya, and Seiichiro Minamoto learn to accept their love of the characters instead of feeling embarrassed.
Takuya Eguchi, Sōma Saitō, Jun Oosuka, Hiroyuki Kagura, and Yūma Uchida are starring in the anime.
The project launched last January, and Sanrio launched a merchandise line for the project last April. Mai Andō is handling two different manga adaptations of the project, with a manga in the Manga ONE app that launched last April, and one in Sho-Comi that launched last June. The first follows the everyday lives of the boys, while the second depicts the romance between a heroine and the boys. The first compiled book volume, which collects the story from both manga, shipped last June.
Sanrio also released a smartphone game adaptation in September, and the voice actors released a song single titled "Fun! Fantastic girl!" in November. The song is the theme song to the game.
[Via Nijimen]
---