×
remind me tomorrow
remind me next week
never remind me
Subscribe to the ANN Newsletter • Wake up every Sunday to a curated list of ANN's most interesting posts of the week.
read more
News

Yen Press to Publish The Royal Tutor, Kakegurui, Sekirei Manga in Print

posted on by Karen Ressler

North American publisher Yen Press announced on Tuesday that it will release its digital manga series The Royal Tutor, Kakegurui, and Sekirei in print. The first volume of The Royal Tutor is slated for May, and the first volumes of Kakegurui and Sekirei are slated for July.
Yen Press began releasing The Royal Tutor as e-books in English in 2015, and it describes the story:
Accepting the post of Royal Tutor at the court of the king of Grannzreich, Heine Wittgenstein is a little professor with a big job ahead! Each of the kingdom's four princes has a rather distinct personality. Does their diminutive new instructor have what it takes to lay down some learning? It's a comedy of educational proportions!
Higasa Akai launched the manga in Monthly G Fantasy in November 2013. An anime adaptation will premiere in April.

Yen Press began simultaneous digital publication of Kakegurui in October 2015. The company describes the series:
Hyakkaou Private Academy. An institution for the privileged with a very peculiar curriculum. You see, when you're the sons and daughters of the wealthiest of the wealthy, it's not athletic prowess or book smarts that keep you ahead. It's reading your opponent, the art of the deal. What better way to hone those skills than with a rigorous curriculum of gambling? At Hyakkaou Private Academy, the winners live like kings, and the losers are put through the wringer. But when Yumeko Jabami enrolls, she's gonna teach these kids what a high roller really looks like!
Writer Homura Kawamoto and artist Tōru Naomura's launched in Square Enix's Gangan Joker magazine in March 2014. An anime adaptation has been green-lit.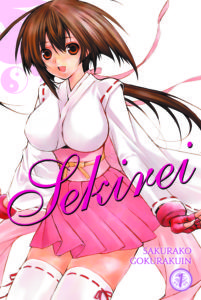 Yen Press began releasing Sekirei digitally in November 2015, and describes the story:
Minato Sahashi is a rounin, a two-time loser who's failed his college placement exams. Just as he's contemplating giving up and heading home, though, a chance encounter changes his life forever! Enter Musubi, a girl who literally falls into Minato's life! Musubi is a Sekirei, a modified human caught up in a game in which only one of her kind can be left standing. In order to be victorious in this contest, though, she needs to find her Ashikabi (her fated partner)...and guess who fits the bill??

Caught up in battle he barely understands, can Minato survive "The Sekirei Project" and emerge victorious? Either way, with his buxom new cohort by his side, his life will certainly never be the same!
Sakurako Gokurakuin launched the manga in Young Gangan in 2004 and ended it in August 2015. The series inspired a television anime in 2008, followed by the Sekirei: Pure Engagement sequel in 2010. Funimation has released both anime in North America, but its license has expired.
---