News

DamePri Stage Play's 2 Visuals Posted

posted on by Rafael Antonio Pineda
The official website for Kagekiha Stage DamePri Dame Ōji vs Perfect Guy, the stage play for the Dame × Prince franchise, revealed two visuals for the stage play on Monday. The visuals show both the play's "Love route" (first picture below) and "Dame route" (second).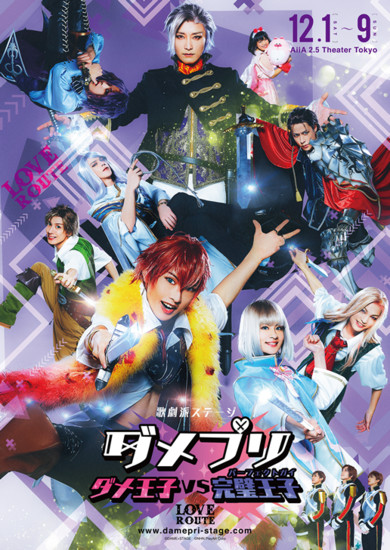 The play will run at the AiiA 2.5 Theater Tokyo from December 1-9, and will have two different endings — a "Love route" and a "Dame route" — that will run on different nights. Two of the performances will have "high five" events where guests can give high fives to some of the cast. Ryō Tachibana and the cast from Milidonia will participate in this event on December 3, while Hidenori Tokuyama and the cast from Selenfalen will participate in this event on December 5.
In the play's story, the royalty of Milidonia, Selenfalen, and Inaco arrive at a party for the founding of a new nation, and the party becomes chaotic. There they meet the prince Ruoshu, a perfect guy who can handle anything.
NHN PlayArt Corp. launched the original smartphone game in March 2016. Dame×Prince Anime Caravan, a television anime adaptation, premiered in January. HIDIVE streamed the series as it aired.
Sources: DamePri stage play's website and Twitter account, AnimeHack
---