Sengoku Basara - Samurai Kings: The Movie
Lookup sources in this page
To check what sources were provided for the information below, click on the
icon next to the item you want to check and then click on the "source" link that is displayed.
Note: you can set your
preferences
to
always
display the
icon while browsing the Encyclopedia.
©2011 CAPCOM/TEAM BASARA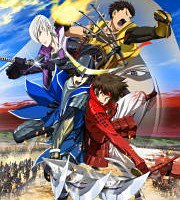 Alternative title:
Sengoku Basara - The Last Party (Japanese)
Sengoku Basara: The Last Party (Japanese)
劇場版 戦国BASARA -The Last Party- (Japanese)
Themes:
historical
,
samurai
Objectionable content:
Significant
Plot Summary:
With the fall of Toyotomi Hideyoshi, Japan is once again plunged into chaos as his once subordinate Ishida Mitsunari looks to seek revenge against Date Masamune. Tokugawa Ieyasu however seeks a different path despite having once been under Toyotomi's forces. Their fates soon intertwine with Sanada Yukimura's and other warriors across the land. With a new unknown threat looming over the land, all warriors advance to Sekigahara for a final showdown...as a sinister plot unfolds in the background.
User Ratings:
157 ratings have been given [details]
Premiere date:
2011-06-04 (Japan)
Opening Theme:
"FLAGS" by T.M. Revolution
Ending Theme:
"The party must go on" by T.M. Revolution
Official website:
映画『戦国BASARA 劇場版』公式サイト
(Japanese)
You can contribute information to this page, but first you must login or register
Japanese staff
Japanese cast





Japanese companies

English staff
English cast






English companies

Licensed by

:

FUNimation Entertainment 

French cast
French staff

ADR Director

:

Regis Vandegelde 





French companies
Chinese (Taiwan) staff
Chinese (Taiwan) companies

(none)


Licensed by

:

Mighty Media Co., Ltd. 

Chinese (Taiwan) cast

(none)

This encyclopedia is collaboratively edited by the users of this site
# A B C D E F G H I J K L M N O P Q R S T U V W X Y Z
Anime anthology