GTO: Great Teacher Onizuka (TV)
Lookup sources in this page
To check what sources were provided for the information below, click on the
icon next to the item you want to check and then click on the "source" link that is displayed.
Note: you can set your
preferences
to
always
display the
icon while browsing the Encyclopedia.
©Tohru Fujisawa • KODANSHA • Fuji TV • SME Visual Works • Studio Pierrot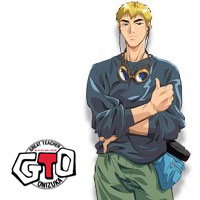 Alternative title:
El Gran Profesor Onizuka (Spanish)
Great Teacher Onizuka
Крутой учитель Онизука (Russian)
المعلم العظيم أونيزوكا (Arabic)
グレート・ティーチャー・オニヅカ (Japanese)
麻辣教師GTO (Chinese (Taiwan))
반항하지마 (Korean)
Themes:
delinquents
,
school
,
troublesome kids
Objectionable content:
Significant
Plot Summary:
Onizuka Eikichi is an ex-bike gang leader who has but one goal, to become the greatest teacher. While doing his teaching internship as part of his studies to become a qualified teacher, he ends up in a delinquent class and learns of the possibility and necessity of the power and respect gained from one's students. Due to a mishap, after graduating, he gets a job at a prestigious private school to handle their 'problem class' that made the past few teachers quit. He must now handle a different kind of trouble when the trouble-makers include some of the smartest kids in Japan who prefer a more "intellectual approach" to torturing their teacher. Onizuka must slowly win his students over and deal with their distrust and hatred towards teachers and adults while handling the distrust of his fellow teachers who feel him unworthy of being a teacher.
User Ratings:
4131 ratings have been given [details]
Running time:
27 minutes per episode
Number of episodes:
43
Vintage:
1999-06-30 to 2000-09-24
2003-11-03 to 2004-01-01 (USA)
2005-01-02 (Philippines, GMA-7)
Opening Theme:
#1: "Driver's High" by L'Arc~en~Ciel (eps 01-16)
#2: "Hitori No Yoru" by Porno Graffiti (eps 17-43)
Ending Theme:
#1: "Last Piece" by Kirari (eps 01-16)
#2: "Shizuku" by Miwaku Okuda (eps 17-33)
#3: "Cherished Memories" by Hong Kong Knife (eps 34-43)
#4: "Driver's High" by L'Arc~en~Ciel
Official website:
You can contribute information to this page, but first you must login or register
Japanese staff
Japanese cast






Japanese companies

English staff
English cast






English companies

Korean staff
Korean cast

(none)






Korean companies

(none)


French staff
French cast





French companies

Italian staff
Italian cast





Italian companies

German staff
German cast

Translation

:

Jens Altmann Tobias Hössl 

Producer

:

Fabien Michaud 

Redaktion And Translation

:

Anita Holdener 

(none)


German companies

Distributor

:

Anime-Virtual Kazé Germany

(now)

 

Dutch staff
Dutch companies

(none)


Distributor

:

Kaze Animation S.A. 

Dutch cast

(none)


Russian staff
Russian companies

(none)


Distributor

:

MC Entertainment 

Russian cast

(none)


Tagalog cast
Tagalog staff

(none)






Tagalog companies

Broadcaster

:

GMA Network 

Dubbing

:

ALTA Productions 

Polish staff
Polish companies

(none)


Broadcaster

:

Hyper 

Polish cast

(none)


Chinese (Taiwan) staff
Chinese (Taiwan) companies

(none)


Licensed by

:

Mighty Media Co., Ltd. 

Chinese (Taiwan) cast

(none)

This encyclopedia is collaboratively edited by the users of this site
# A B C D E F G H I J K L M N O P Q R S T U V W X Y Z
Anime anthology