Ninja Cadets (OAV)
Lookup sources in this page
To check what sources were provided for the information below, click on the
icon next to the item you want to check and then click on the "source" link that is displayed.
Note: you can set your
preferences
to
always
display the
icon while browsing the Encyclopedia.
©1995 A.I.C. •YOUMEX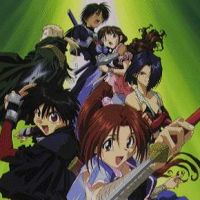 Alternative title:
Ninja Mono (Japanese)
Ninja者 (Japanese)
Genres:
adventure
,
comedy
,
supernatural
Themes:
ninja
Objectionable content:
Significant
Plot Summary:
During Japan's feudal era, there is a war between two ninja clans: the Byakuro and the Kabusu. Then, one night, the Kabusu stage a fierce attack on the Byakuro castle in hopes of kidnapping the clan's infant princess. Their mission is foiled when a loyal ninja of the Byakuro flees the attack with the princess and disappears, eventually raising her to be a ninja. Several years later, six ninja trainees are given a mission to infiltrate the Kabusu-occupied Byakuro castle and retrieve a sacred scroll to complete their training. But their skills are put to the test when they encounter three members of the Kabusu, who use dark sorcery in an attempt to once again capture the princess - who happens to be one of the trainees.
User Ratings:
155 ratings have been given [details]
Running time:
29 minutes per episode
Number of episodes:
2
Vintage:
1996-03-27 to 1996-06-12
Ending Theme:
"Girls' Sunshine" by Ninja Girls
You can contribute information to this page, but first you must login or register
This encyclopedia is collaboratively edited by the users of this site
# A B C D E F G H I J K L M N O P Q R S T U V W X Y Z
Anime anthology