×
remind me tomorrow
remind me next week
never remind me
Subscribe to the ANN Newsletter • Wake up every Sunday to a curated list of ANN's most interesting posts of the week.
read more
Your Top 5 Anime of 2014 (And Ours)

Lauren Orsini
Lauren Orsini joined the Daily Streaming reviews team earlier this year. Right now she's writing up Gundam Build Fighters Try, Yowamushi Pedal Grande Road and Denki-Gai. Earlier this year she covered Free! Eternal Summer.
---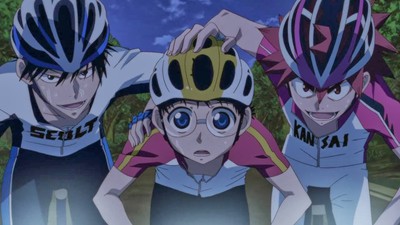 Even though I watched 29 shows in 2014, it was pretty easy for me to narrow it down to my five favorites. What was much more difficult was deciding on a ranking! Here's my final answer:
5: Parasyte
At first I thought this body horror thriller would be too much for me. I couldn't even get past episode one of Tokyo Ghoul! But beyond the gore, Parasyte is the best kind of science fiction that forces us to examine and question the human condition. Each increasingly risky battle only escalates the tension between Migi's survival instincts and Izumi's waning humanity—and how far Izumi will go to preserve it.
4: Shirobako
This is the sliciest slice-of-life show I have ever watched. The action truly comes from real day-to-day issues in the workplace like crunched deadlines and career self-doubt. And yet for all its relatability in the mundane, it remains a truly compelling character drama. On a meta level, Shirobako is essential viewing for every otaku who has ever complained about an anime coming out late, unaware of the immense pressure on the animators.
Every moment of this show was fanservice from start to finish. I don't even mean the sexy type, though there was at least a full ten minutes of shirtless muscular man each episode. Fans wanted characters' relationships and personalities explored, and we got this is incredible detail. I could say a lot more about the High School Boy Emotional Theater that made Eternal Summer so much fun, and I have—here's 3,000 words of it for starters.
This series took me by complete surprise. I didn't even start watching it until episode ten when the buzz about it on my Twitter feed became too loud to ignore. After years of being an anime fan, I love meta shows that take familiar anime tropes and turn them on their heads. Everything from characters' personalities to their relationships to Nozaki's shoujo manga was an unpredictable and welcome departure from the norm.
Well, obviously this is here. I love the way each character looks like he's been drawn by a different artist. I love how one shared passion unites so many interesting and diverse personalities. I even love learning the ins and outs of road racing for the first time. This show's heart lies in its ability to take protagonists and antagonists alike and make them equally sympathetic to viewers and to one another—after all, everyone is striving for the same goal.
Reprinted from Otaku Journalist with permission.
Choose another Top 5:
---
discuss this in the forum (121 posts)
|
this article has been modified since it was originally posted; see change history
back to Your Top 5 Anime of 2014 (And Ours)
Feature homepage / archives