×
remind me tomorrow
remind me next week
never remind me
Subscribe to the ANN Newsletter • Wake up every Sunday to a curated list of ANN's most interesting posts of the week.
read more
"The Biggest Attack on Titan Manga Announcement Ever" Part I
by Deb Aoki,

At New York Comic-Con 2015, Kodansha Comics tantalized fans with a panel with the hype-tacular title "The Biggest Attack on Titan Manga Announcement Ever."
So what was the announcement? Something completely new and different for the world of manga – an all-new anthology collection of short stories based on the Attack on Titan universe created by Hajime Isayama, but with a special twist: the stories would be written and drawn by an eclectic all-star line-up of N. American comics creators.
The Attack on Titan Anthology will be a 250-page, full-color graphic novel featuring new and original stories set in the past, present and 'alternate universes' of man-eating giants and the remaining population of humans who are forced to live and defend themselves within walled cities. These new original stories are currently in development, with publication scheduled for Fall 2016.
Already signed up to contribute to this all-star effort are fan-favorite creators from the superhero side of the comics shop such as Scott Snyder (Batman), Gail Simone (Red Sonja), Cameron Stewart, Brenden Fletcher and Babs Tarr (New Batgirl), Kevin Wada (She-Hulk), Genevieve Valentine (Catwoman) and Paolo Rivera (Daredevil)
Also signed on to create Titan tales are indie comics creators including Tomer and Asaf Hanuka (The Divine), Faith Erin Hicks (The Nameless City), Kate Leth (The Bravest Warriors), Afua Richardson (Genius), Ronald Wimberly (Sunset Park), and many more who are "in talks now," and will be announced soon.
ANN sat down with the people who are spearheading this project, to learn more about the origins of this project, Hajime Isayama's involvement with this unusual creative collaboration, and what they have up their sleeves for 2016. The creative team includes:
Jeanine Schaefer, Former Marvel Comics Editor (She-Hulk, X-Men, Wolverine), and co-editor on the Attack on Titan anthology
Ben Applegate, Associate Director of Publishing Services, Penguin/Random House,  in charge of Kodansha Comics Editorial/Production
Kana Koide, General Manager, Kodansha USA Publishing
The second half of this interview (published Thursday) will include a chat with some of the top executives from Kodansha USA Publishing and Kodansha Japan: Kohei Furukawa, Yasumasa Shimizu and Hiroaki Morita as they discuss their past and present efforts to bridge the gap between international comics readers and Japanese manga, beyond anime/manga fandom.

For starters, here's my conversation with Schaefer, Applegate and Koide, discussing how they came up with this concept and how they're hoping to create a new bridge between N. American and Japanese comics.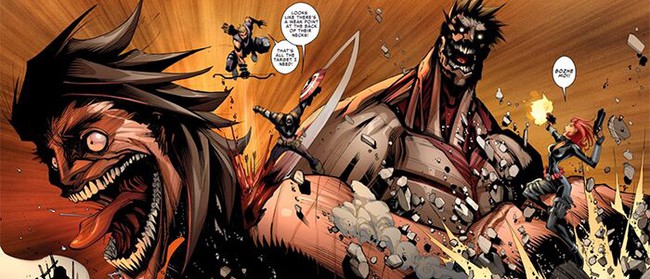 When did the idea for the Attack on Titan Anthology come first come up?
Ben Applegate:
About a year ago. Kodansha, on the Japanese side, was asking us to come up with new ways to break into the US and international market; specifically, new ideas for products that would have a unique appeal to an international audience.
Kana Koide:
Especially for brand new readers, who have not read much manga before, such as readers of American comics.
Ben Applegate:
The Kodansha executives here are more interested than ever in pulling in new international readers.  The comics, graphic novels and manga market in North America is growing again, and the interest in manga from American comics readers has never been higher. There are more artists in the US who are interested in manga, and have been since they were young, than ever before.
The Kodansha executive team are very grateful to their N. American manga fans, but they don't want to limit the appeal of manga to just people who read Japanese comics exclusively. They're really interested in pulling in other communities who are interested in comics and pop culture, including readers who only read comics online. It's not just a genre issue, it's a format issue.
So you've already seen that Kodansha has launched Kodansha Advanced Media (KAM) in San Francisco, led by Alvin Lu. That's part of a push to increased readership of digital comics, and bringing over more and more titles that way.
Kana Koide:
Kodansha USA Publishing (KUP) was founded in 2008, and up to now, has published over 400 volumes of manga. We've done our best to make manga available to as many readers as possible, but it has pretty much remained a niche genre. Kodansha Comics is actively looking into ways to break out of this niche.
There are a lot of people in N. America who have an established interest in manga. So the biggest opportunity that we can see is with American comics readers.
Happily, Attack on Titan has been a huge hit, bringing in lots of new readers in N. America. We'd like to see how we can take advantage of Attack on Titan's popularity to bring in more new readers.
The trigger for coming up with this idea was to bring together some excellent content from the Japan side, with some excellent creators from the American side, and move into new territory by creating something entirely new and interesting for these new readers as well as manga readers.
So everyone on the Japanese side, from Isayama-sensei and his editors, and all the way up to the Kodansha executives, are interested in taking a very forward-looking attitude toward this project; they're very involved in this. WE think that Kodansha is probably the company that is pursuing this sort of thing most actively now.
I noticed that about Attack on Titan, that it has a unique cross-over appeal to American comics readers. I recently visited Secret Headquarters in Los Angeles and they had Attack on Titan displayed prominently with all their other comics, not just in a special "manga" section.
Of course, there was also the Attack on Titan/Avengers cross-over comic that was featured in Brutus magazine last year. Was the Attack on Titan Anthology inspired by the AoT/Avengers comic?

Ben Applegate:
No, actually, this was project already in progress before that one-shot story was published.  It was an entirely separate thing.
Jeanine, how did you get involved with this project?
Jeanine Schaefer:
It was through C.B. Cebulski (Senior Vice President of Creative & Creator Development at Marvel Comics). It was after I left Marvel and moved to Los Angeles.  He asked if I would be interested in taking on some freelance work. I met with Ben at Random House and they explained the project to me. They sent me off with a big bag of books. I read the first volumes of Attack on Titan within a few days.
I had seen the Attack on Titan / Avengers comics pages while I was still at Marvel, and had heard of it from other friends who read manga and love Attack on Titan, but this was the first time I had actually read it.  I could not stop reading it!
What captured your attention about it?
Jeanine Schaefer:
Part of the reason why it's so popular around the world is that's a really human story at it s core. Sure, there's horror and gore, and this apocalyptic, end of the world element to it, but it's a story about the base fears in all of us. What will happen if I can't control myself? What will I do if forces outside of myself affect my life and my family. At its base level, these gut reactions, this feeling of helplessness that everyone can relate to.  And the art! The art is CRAZY. (laughs) I kept texting Ben when I was reading it, 'What IS this stuff?' It's really compelling. The pacing, the cliff-hangers… it's so expertly crafted. It's a master class on how to create a serialized story.
You can train for the zombie apocalypse, and still have no idea what will happen, how you will react when you're really faced with those sorts of life and death situations.
And NO ONE is safe. No one. In Western comics, especially those that have been serialized for many years, you know Superman's going to make it out of any given situation. You don't know what the collateral damage is going to be, or how he'll get out of it, but you know he's going to get out of that situation.
With Attack on Titan, you don't know who's going to make it until the next volume, the next chapter. Within the first two volumes of Attack on Titan, over two-thirds of the team you've gotten to know is decimated!  It makes the reader feel very unsafe, which is something that I like.  As an editor, as someone who has worked on creating stories for a long time, I feel like I get the rhythm of stories, and how things will work out, this is going to happen next, and so on. But with this series, I really don't know what's going to happen next! That's thrilling for readers; to not feel safe in a safe space.
Ben Applegate:
We've talked a lot about wanting to include a lot of different genres and styles of stories. It's important to Kodansha that there be a lot of variety in this anthology, but we wanted to keep this basic element of the story, the fear and uncertainly that underlies everything that happens. In the serious stories, we had to tell writers, "No one can be safe here."
So there's no Attack on Titan "canon" that these creators have to stick to?
Ben Applegate:
No, no – I mean that they can feel free to kill off any of the characters that THEY create for their stories. In order to make it feel like Attack on Titan, no one can be safe. For the reader, it can't feel like they can pick out 'this character is going to live, this one is going to die' while they're reading these stories, because if it was, it wouldn't be like Attack on Titan. We wanted to preserve this feeling.
How are you choosing who will be contributing to this book? Are you picking and inviting creators, or are people approaching you as they hear about this project?
Jeanine Schaefer:
We started by reaching out to creators that we already knew were fans of Attack on Titan, and who we thought could do justice to the story. As word as started getting around, people started contacting me.
Ben Applegate:
Jeanine knows absolutely EVERYBODY, and that's been amazing.
Jeanine Schaefer:
If I don't know them, then I know someone who does! (laughs) Western comics are a relatively small community; there are hundreds of creators, but if you go to conventions year after year, you get to know people.
Ben Applegate:
As we were working on the proposal to the Japan side, we created a mockup with page layouts, that said stuff like "an off-beat story by Faith Erin Hicks." And amazingly enough, that looks like that's going to happen!
Jeanine Schaefer:
When Ben showed me this mocked up book map, I laughed and told him, 'There's no way you're going to get all of these people.' But as it turns out, it looks like we'll be getting most of them! (laughs)
Ben Applegate:
We made sure that on the japan side that this book map would be 10% accurate, at best. But it's amazing how it's worked out so far.
You make it sound like it was all so easy! (laughs) Like all you had to do was put together a proposal and the Japan editorial team look one look at it and immediately said, 'Yep, go for it!'
Kana Koide:
(laughs) No, no there was a lot of back and forth! At first, they didn't understand what this anthology would be like. This sort of thing is quite unusual in Japan. I just created a dream team and a proposal. We went back and forth quite a bit, even up to our announcement at New York Comic-Con!
So what did they immediately say 'Yes!' to, and what did they kind of hesitate, feel a bit more uncertain about?
Ben Applegate:
Everyone was VERY enthusiastic about the idea from the very beginning! From the Japanese creative team up through the people at the very top of Kodansha. This could not have happened without their support – especially Kohei Furukawa, (Vice President and Head of Rights, Advertising, Digital and International at Kodansha)
 who was from the very start very supportive of this.
Kana Koide:
We've never tried this sort of thing before, so there was some concern about how this would work out, but Kodansha editorial is also very interested in new things.
Ben Applegate:
Yasumasa Shimizu, the President of Kodansha USA Publishing is also the editor who was behind bringing AKIRA by Katsuhiro Otomo to the N. American Market with the colorized version published by Marvel / EPIC Comics in 1989. So they have a background in doing this sort of experimental, forward-looking projects.
We didn't get everyone we wanted for this Anthology – we did approach everyone we had in our original proposal, but there were people who were too busy to take it on. But a surprising amount of them, Gail Simone (Red Sonja), Scott Snyder (Batman), Faith Erin Hicks (The Nameless City) are in the book. We are just thrilled about it.

What kind of reaction did you get from the initial group of artists/writers you approached for this project?
Jeanine Schaefer:
Most of them were like 'Oh my god, I'm IN.' It's fun for them to be able to stretch their legs on something a little bit different. To be able to play in somebody else's playground, and bring some new toys, that's fun for creators who normally work on serialized series.
A lot of people were already fans of the series, like Afua Richardson (Genius) and Faith Erin Hicks. Gail Simone, her son was a fan of AoT, so she was on board for that reason.
Marvel has a set of characters that they own, that stories have been written about them by many creators over the years. To maintain some level of continuity, they have guidelines that all creators follow. Stuff like, 'this character would never ever do this,' or 'stories with this character must have this kind of feeling,' and so on.  What's the difference between creating stories with characters in the Marvel Universe and whatever guidelines you're providing to the Anthology creators about the Attack on Titan Universe?
Jeanine Schaefer:
I don't think there's much of a difference. The style guides exist, but they mostly exist in our heads, as editors. It's less of a style guide than an ethos.
I was told many years ago when I started working at Marvel, 'We're here for a very short amount of time, but these characters existed before us, and they'll continue to exist after us.' Our responsibility is to take care of them as best we can while we're here.
I feel the same about Attack on Titan. These are stories and characters with a very specific feeling, they have specific characteristics, and their stories evoke certain feelings and emotions when people read them.  So I feel a responsibility to preserve that. I'm here to help creators tell the best stories that they can.
Ben Applegate:
We're lucky to be working very closely with the original creator and editor of Attack on Titan too. It's not like these are characters that were created in the 1930's, and we're trying our best to guess what the creator wanted to do with these characters. We've got the creator available, just an email away.
Jeanine Schaefer:
I really believe that parameters help make stories better. Knowing stuff like, 'no, you can't do this, because of XYZ,' or 'this character is this way because of ABC,' helps the creator find their way.
Tell me more about the interaction, the collaboration between the creators and Isayama. How has that been working out?
Kana Koide:
I've been sending the proposals from the creators to the International Department at Kodansha in Japan. Also to the editor who's in charge of Attack on Titan. The editor, and Isayama-sensei are both very flexible, very open to new ideas. They approve these ideas very quickly, so that makes it easy for us to go forward.
Jeanine Schaefer:
Ben and I are workshopping, working with the creators, and acting as the go-betweens between them and the Japanese editorial team. The writers have come up with pitches, they get translated into Japanese, and the editors review it and get back to us with comments and questions.
Ben Applegate:
So far, what we've gotten back from them is, 'This is approved, but in the future, keep an eye out for this issue and that issue.' For example, one thing we've heard from the Japanese editor is, 'Be careful about using this character, because he might die…" that kind of thing. So we need to figure out where the story will take place in the Attack on Titan timeline and stuff like that.
We're still at the very early stage of story development -- haven't sent them scripts yet.
How many creators / teams do you have confirmed so far?
Jeanine Schaefer:
We have 17 signed on at the moment, but we're in talks with about six or seven right now. This might change as people go in and out, pin-ups come in, some stories may be shorter, so we may have to adjust because of page count, and things like that.
So at the panel, you said 'no restrictions, anything goes…'
Ben Applegate:
By 'no restrictions,' we mean we're not putting any genre restrictions. So right now, we have everything from very serious stories that make you care about characters and then we kill them, to really off-the-wall, wild stories! Faith Erin Hicks' story is a real genre-buster; you think the story is going to go a certain way, and then something else happens!
Jeanine Schaefer:
There are definitely stories that happen in the Attack on Titan universe that readers know, and there are some that I'd classify as "alternate universe" stories.
What kind of story suggestions are you providing?
Jeanine Schaefer:
Ben initially sent a few springboard ideas to help creators come up with concepts, but forth, but as it turns out, most of them came back to us with fully-formed stories. That speaks to how personal Attack on Titan is, how it really speaks to people. Every story is driven by the themes you already see in these creators' works.
So you'll read it, and say, 'Yes, that's the kind of Attack on Titan that Scott Snyder would write,' or 'That's the kind of Attack on Titan story that Tomer and Asaf Hanuka (The Divine) would create.'  That speaks to the intimacy of Attack on Titan, and where it gets you when you read it.
Ben Applegate:
So for example, at the panel, Afua talked about how many people in her family are veterans, and the transformation she has seen her family members go through, before and after being deployed. That's some heavy stuff! That's really, really personal.
But in terms of the changes we've made, people come to us with fully formed stories. We've switched things around, as far as when things happen, but going forward, we'll probably be incorporating more feedback from the editor, and from Isayama himself.  They'll be involved with script reviews.
Kana Koide:
We're completely not sure what will happen in future chapters of Attack on Titan ourselves! So we're looking forward to seeing how this shapes up.
Ben Applegate:
The goal is to bring in American comics readers, and also make something that the core Attack on Titan fanbase will enjoy reading as well.
Are there plans to publish this book in Japanese too?
Kana Koide:
I'm really pushing Kodansha Japan to make this happen. We don't know, but we'll see.
Jeanine Schaefer:
I'm really happy to be on board with this. It was great to be at the panel at New York Comic-Con, and to see the reactions and the passion from the fans. This is really exciting and I'm very honored to be a part of this.
----------------------
Look for the Attack on Titan Anthology to hit bookstores and comic shops in 2016. For more updates on this project, follow @KodanshaUSA on Twitter, or visit their website, KodanshaComics.com and their Tumblr and Facebook pages.
---
discuss this in the forum (59 posts)
|