Anime News Network's Holiday 2015 Gift Guide

Fashion

by Lynzee Loveridge,
ANN's Holiday Gift Guide Sponsored By:


FUNimation


Yen Press


Tokyo Otaku Mode


Women's
Totoro Tights

Within the last year, silhouette tights have become increasingly popular with many online shops stocking cat and rabbit versions. These tights are another iteration for fans of Ghibli's (arguably) cutest monster. These make a great addition to a "covert" cosplay. Pair them with a grey dress, coat, and umbrella to embody Totoro for day-to-day wear.
Retail Price: US$14.50 (Seller Price: US$$10.87)
Shopping Link: Hot Topic
Soot Sprite Dress


A dress sweet enough for the susuwatari. This printed frock shows the coal helpers in Kamaji's boiler room taking a break to eat kompeitō candy. The dress has a relaxed look with t-shirt sleeves and a slightly scooped neckline that keeps it comfy. The design is by Her Universe, who debuted many of their "geek-chic" designs at San Diego Comic-Con last year.
Retail Price: US$38.50-$42.50
Shopping Link: Hot Topic
Gurren Lagann, Yoko's Jacket

This jacket doubles as both an authentic cosplay piece or an eye-catching motorcycle jacket. It's made of faux leather and buyers should note that the yellow rectangle only mimics a pocket but the jacket itself doesn't have any true pockets. The back has the Dai-Gurren Brigade emblem and the arms have more scrawling flames from sleeve to shoulder.
Retail Price: US$89.99 (Seller Price:US$71.99)
Shopping Link: RightStuf
Durarara Hooded Shizuo Jacket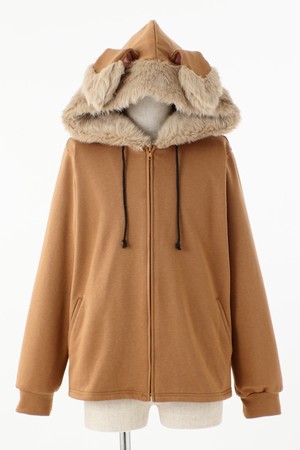 Merchandise depicting Durarara's Shizuo wearing a dog-eared hoodie (and Izaya in a cat-eared counterpart) was released in small batches in Japan this year. Kadokawa and Animate USA are now selling the hoodie itself. The size is suited either for female fans or small-framed men (the chest width is only 20.47"). The tan jacket has a cozy faux-fur hood and floppy dog ears. Fans of Izaya will have to wait; Animate isn't selling the cat version yet.
Retail Price: US$99.99 (Seller Price:US$74.99)
Shopping Link: Animate USA
Omocat Ghost Pokemon Collection


Omocat and several other boutiques released licensed Pokemon apparel and jewelry earlier this year. Omocat focused entirely on Ghost-type Pokémon, including Gengar, Mismagius, and Drifloon, and the Psychic-type Espurr. The collection includes T-shirts (Espurr, Litwick), tank tops (Drifloon), hoodies (Gengar), sweatshirt (Mega Absol), and croptops (Misdreavus).
Retail Price: US$40-US$60
Shopping Link: Omocat
Hello Kitty T.U.K. Shoes



The British-based platform shoe company (often called 'creepers') T.U.K. has three pairs of official Hello Kitty shoes; in dripping pink, black and white stripes, and extra-tall polka dots. All the shoes include the cat's signature bow with either ribbon or shoestring laces. The pink and striped shoes have a two inch heel while the polka dot pair are three inches.
Retail Price: US$115-US$120 (Seller Price: US$86.25-US$90
Shopping Link: JapanLA
Sailor Moon Foil Crest Shirt

Sailor Moon merchandise has exploded over the last three years thanks the franchise's 20th anniversary. After Viz relicensed the the original, 200-episode TV series, the States also saw an increase in sweatshirts, t-shirts, bags, and accessories. Some of the designs, like this foil crest shirt and Hot Topic's magical items skirt and matching top, lean more stylish but that opinion is going to greatly depend on how much you like the classic character designs. Either way, there's character specific shirts (Saturn! Pluto!) or Guaridan muscle tees to choose from.
Retail Price: US$22.50 (Seller Price: US$16.87
Shopping Link: Hot Topic
Men's
Pokemon Lounge Pants

Let everyone know your real profession while you lounge around on a Sunday morning. The Pokemon Trainer PJ pants are heather grey (so not quite black) and have an elastic waistband for extra comfort. Hot Topic actually offers a lot of fun lounge pants, including the original starters (Charmander, Bulbasaur, Squirtle, Pikachu), Totoro, Attack on Titan, Z Fighters, Black Butler, and Tokyo Ghoul.
Retail Price: US$19.50 (Seller Price: US$16.50
Shopping Link: Hot Topic
Pokemon Varsity Jacket

Let everyone know you were the school's reigning Pokemon Champ with this varsity jacket. It features two shades of blue with yellow accents, a Pokeball embroidered on the left side, and the series logo in yellow across the back. Great to throw over a T-shirt before heading out to your next Pokemon Battle.
Retail Price: US$69.50-US$71.50
Shopping Link: Hot Topic
Totoro Hoodie

Here's a hoodie for guys who aren't afraid of something a little cute. This zip-up is light grey and embellished to look like Totoro's tummy. The hood has pointed ears to transform the wearer even more into the forest spirit.
Retail Price: US$59.50-$61.50
Shopping Link: Hot Topic
Tokyo Ghoul T-shirts

Tokyo Ghoul seems to be the new, edgy property to fill up Hot Topic. This T-shirt depicts protagonist Ken Kaneki in his iconic mask against a red sky filled with bats. The store has similar Ts in Mens' and Womens' sizes, one with a split between Kaneki's old look and his transformed look, another with blood on his face, his mask, a group shot, a three panel design, and finally one with three different masks seen in the series.
Retail Price: US$20.50-$24.50
Shopping Link: Hot Topic
Kamui Hoodie

So you want your own Goku uniform but you don't want to wear Ryūko's skimpy version? This black zip-up hoodie has Kamui's intimidating eye on the left side and his scarred eye on the right. You can show your love for the series and keep warm at the same time.
Retail Price: US$49.50
Shopping Link: JList
MegaMan Hoodie


Transform yourself, E-Tank and all with this MegaMan hoodie. The 3D hood mimics the video game hero's so you can have that extra oomph while you're out and about doing mundane activities. Don't feel like going grocery shopping today? Put on your MegaMan hoodie and mock-blast those oversized lines.
Retail Price: US$59.99
Shopping Link: ThinkGeek
Accessories
Dragon Ball Z Goku Messenger Bag

There are plenty of anime messenger bags but this orange one that looks like it was made of Goku's own gi is pretty snazzy. The symbol itself is read as "Go" and means "wisdom." The fighter began wearing it after completing gravity training and through the Android/Cell arc. The bag is immediately recognizable to fans of Dragon Ball Z but also subtle enough to be stylish.
Retail Price: US$39.98 (Seller's Price: US$31.98)
Shopping Link: RightStuf
Sailor Moon Outer Guardian Bracelets






Sailor Moon S saw the introduction of Sailor Uranus, Neptune, Pluto and Saturn and, later, Sailor Chibi Chibi Moon in Stars. Fans of the more "mature" guardians can pick their favorite and show off their allegiance with these bracelets. Each features planetary symbols and/or the respective characters fuku or weapons. If you simply can't choose, one bracelet all four of the guardian's planetary symbols together.
Retail Price: US$14.99 each (Seller's Price: US$11.99)
Shopping Link: RightStuf
Attack on Titan Pendants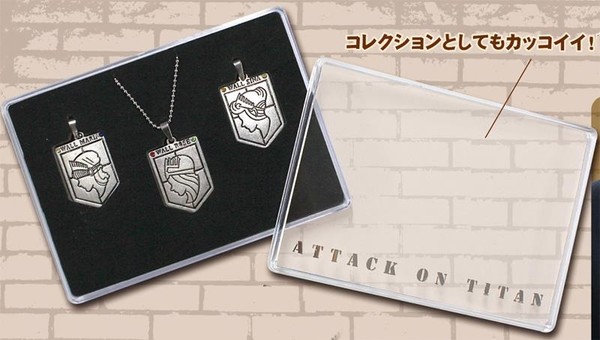 This pendant set includes emblems from Wall Maria, Wall Rose, and Wall Sina. The three borders divide the districts where humanity resides and protect the inhabitants from hungry Titans. The pendants come with a long bathtub chain but it could be swapped out for a shorter chain or another style.
Retail Price: US$29.99 (Seller's Price: US$19.99)
Shopping Link: Animate USA
Cardcaptor Sakura Wand Necklaces


Sakura's Sealing and Star Wands were already released as high-end cosplay replicas but when Sakura isn't capturing cards, she's wearing the wands around her neck. Not unlike these pendants. If you want to practice chanting the seal release in room with them, we're not going to judge you.
Retail Price: US$22.00
Shopping Link: JList
Gudetama Hat

Nobody wants to be caught with egg on their face but when it's as cute as Gudetama, we'll gladly wear it on our heads. The ennui egg has begun making its Western bid for fans who find its approach to life slightly more realistic than the ever-optimistic Hello Kitty. This hat is soft and gives the appearance of a giant yolk melting all over your face. What's not to love?
Retail Price: US$25.00
Shopping Link: JapanLA
Kantai Collection Abyssal Ring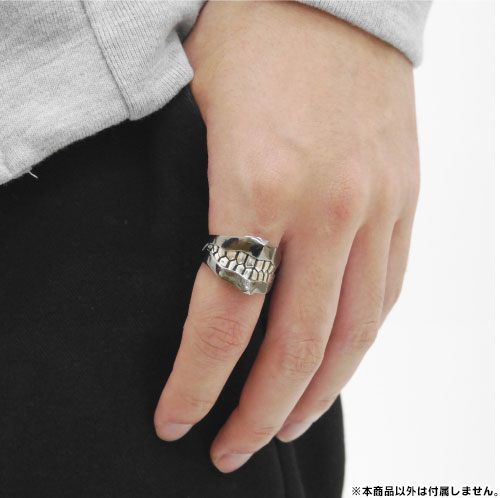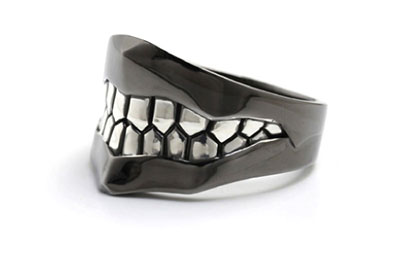 If you like your ship girls evil, the Abyssal Fleet's main character design detail, a grinning jaw, is now available as a silver ring in multiple sizes. This piece of jewelry works as an interesting piece sure to garner attention from people unfamiliar with the game. You can then explain how it's really from a digital card game where World War II-era Japanese naval ships are turned into girls.
Retail Price: US$114
Shopping Link: Ami Ami
Black Butler Necklaces


These necklaces each subtly hearken to Black Butler's titular servant, Sebastian and the fangy Grell. The latter shows a tetragrammaton, a small plaque with the phrase "One Hell of a Butler!" and a red rose. Grell's necklace has a red and white striped bow, like their own bow-tie, a miniature version of their choice weapon and a medicine bottle full of skulls similar to their glasses chain.
Retail Price: US$10.50 (Seller Price: US$8.40)
Shopping Link: Hot Topic
---
discuss this in the forum (66 posts)
|
this article has been modified since it was originally posted; see change history
back to Anime News Network's Holiday 2015 Gift Guide
Feature homepage / archives