×
remind me tomorrow
remind me next week
never remind me
Subscribe to the ANN Newsletter • Wake up every Sunday to a curated list of ANN's most interesting posts of the week.
read more
Anime News Network's Holiday 2016 Gift Guide

Art & Books

by Lynzee Loveridge,
ANN's Holiday Gift Guide Sponsored By:


Yen Press

Artbooks
Yoshitaka Amano: Illustrations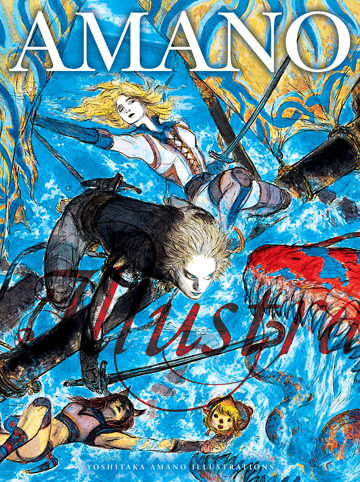 Fans of Amano's career, from the Final Fantasy franchise to Vampire Hunter D will want to get their hands on Viz's collection of his artwork. The book includes 128 pages of gorgeous color illustrations, sketches, and intimate interviews. The volume is a great entry for long-time collectors or new fans looking to find out more about this talented artist.
Retail Price: US$19.99 (Seller Price: US$14.99)
Publisher: Viz Books
Shopping Link: RightStuf.com
The Art of Castle in the Sky

The line of Ghibli artbooks have already included classics like My Neighbor Totoro and Spirited Away. The newest installment features Sheeta and Pazu as they explore the flying island of Laputa. The story is captured in preliminary materials, sketches, and finished artwork used to create this family-favorite film all bound in a 200-page hardcover volume.
Retail Price: US$34.99 (Seller Price: US$26.24)
Publisher: Viz Books
Shopping Link: RightStuf.com
The Art of Metal Gear Solid V

The conclusion to Hideo Kojima's stealth-action video game series was rife with its own drama, both in the game's storyline and with its director's seperation from Konami. Dark Horse's hardcover artbook goes behind the scenes of the game's creation, including promotional artwork, sketches, environment breakdowns, and more. Customers who grab the limited edition package also get a fine art print by Ashley Wood.
Retail Price: US$39.99/US$99.99
Publisher: Dark Horse
Shopping Link: Target (regular), Barnes & Noble (limited edition)
NEW GAME! Illustrations - Fairies Story

This year's slice of life workplace comedy about cute girls making video games was a fan-favorite. This 127 page import artbook features full-color illustrations by original creator Shotaro Tokuno. There's plenty of pin-up style artwork of every character from protagonist Aoba Suzukaze to the dark and mysterious Umiko and the shy Hifumi.
Retail Price: US$36.00
Publisher: ---
Shopping Link: JList
Oso's Kinoko Personification Pictorial Book

We write plenty about all the odd things Japan turns into cute girls: warships, dictators, Ultraman monsters, the list goes on and on. This artbook continues that tradition by featuring fungi as cute girls from the hallucinigenic Amanita Muscaria to the edible Lactifluus volemus (weeping milk cap). This being an import, the more specific information about the mushrooms and their characters will be lost on anyone who cannot read Japanese. For those who are a fan of fun anthropomorphizations, the illustrations are cute and unique.
Retail Price: US$22.00
Publisher: Futaba Publishing
Shopping Link: JList
Cocoa Fujiwara illustrations

Last year, the world lost manga creator Cocoa Fujiwara to an illness at the young age of 31. Her publisher, Square Enix, announced that it would release an artbook of her work this year. This collection covers her work from Inu x Boku SS, Katsute Mahō Shōjo to Aku wa Tekitaishiteita as well as drama CDs and video games. A total of 300 pages worth of art is included, a perfect gift for any fan of her work.
Retail Price: US$42.50
Publisher:Square Enix
Shopping Link: JList
Monster Girl Encyclopedia Vol. 1

Strictly for 18+ monster girl aficionados, the first volume of Kenkou Cross' detailed compilation of 100 monster ladies is available from Seven Seas Entertainment. The book gets into all the down and dirty details about werecats, slime, centaurs, and the many others that appeared in manga as of late. The hardback book is completely uncensored; there's no black bars or pixelated naughty bits in this compendium.
Retail Price: US$24.99
Publisher:Seven Seas Entertainment
Shopping Link: RightStuf
Novels
Spice & Wolf Anniversary Collector's Edition Novel

The ultimate all-in-one edition for Isuna Hasekura fans! This hardback, collector's edition included the original color illustrations and all 17 of the Spice & Wolf novels. This is the second printing and lacks a copy number but is otherwise exactly the same as the previous first edition. The new omnibus celebrates 10 years for the light novel series and is a great investment before Yen Press inevitably releases the sequel novels.
Retail Price: US$149.99
Publisher: Yen Press
Shopping Link: RightStuf
Attack on Titan Adventure

This book is a pre-order and isn't set for release until February but was far too interesting to pass up. If you were a kid in the 90s or earlier, you probably remember "Choose Your Own Adventure" novels. This books presented scenarios from sci-fi to horror where the reader controlled the protagonist's fate. Every few pages would have a choice with a corresponding page number to lead the reader flipping back and forth to find out what happens. They were incredibly fun and now Kodansha Comics is releasing an Attack on Titan Adventure in the same format. The fate of the Survey Corps will be in your hands!
Retail Price: US$10.99 (Seller Price: US$8.24)
Publisher: Kodansha Comics
Shopping Link: RightStuf
KizuMonogatari & Bakemonogatari

Go back to where it all started with Vertical's release of NisiOisin's supernatural romance novels. KizuMonogatari starts readers off with Koyomi's encounter with vampire over spring break that permanently changes his life. The novel inspired a film trilogy with limited U.S. theatrical release by Aniplex. Bakemonogatari is where the anime adaptation began when Koyomi meets the weightless Hitagi Senjougahara and other girls with supernatural problems.
Retail Price: US$14.95/13.95 (Seller Price: US$11.21/$10.46)
Publisher: Vertical
Shopping Link: RightStuf
Tokyo Ghoul: Days

Those missing the brutal world of Tokyo Ghoul can catch up with side characters frequenting Cafe Anteiku. The cafe's proprietor, Yoshimura, has growing suspicions about one of his patrons and the threat they bring for ghouls. The novel is a great edition not just for fans of the series but for fleshing out some of manga and anime's side-characters.
Retail Price: US$12.99
Publisher: Viz Media
Shopping Link: Amazon
Naruto: Itachi's Story - Daylight & Midnight

The Naruto manga may be over, but the tie-in series of epilogue novels continue -- and are inspiring anime, too! The two Itachi's Story novels, Daylight and Midnight inspired the recently aired Itachi Shinden arc in the Naruto Shippuden anime series. The novels feature the fan-favorite Uchiha brothers and follows Itachi's journey from age four to the tragic consequences of the Uchiha clan's rivalry.
Retail Price: US$10.99/US$10.99
Publisher: Viz Media
Shopping Link: Amazon
Legend of the Galactic Heroes Vols. 1-3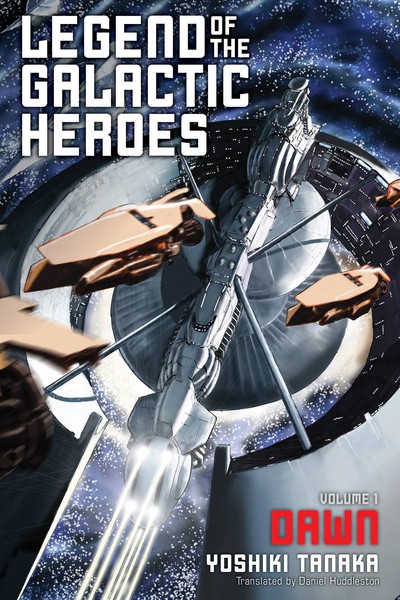 Yoshiki Tanaka's beloved space opera is finally available in English for the first time. The first volume introduces Reinhard von Lohengramm, an admiral in the Galactic Empire dedicated to becoming a benevolent dictator. The only person in his way is Yang Wen-li, an advocate for the democratic Free Planets Alliance. Wen-li plans to preserve democracy at any cost, even his own ideals. Their war will become a match of wits with plenty of betrayal on either side.
Retail Price: US$15.99 (each)/Seller Price: US$10.66 (each)
Publisher: Haikasoru
Shopping Link: Amazon
Pride & Prejudice

Classic literature, in my ANN gift guide? Yes friends, Seven Seas Entertainment has a line of classic literature republished with manga-style images. If you always imagined Mr. Darcy as a handsome bishōnen, then this is the edition for you. All of Jane Austen's original novel is here accompanied by 120 full-page illustrations by artist Shiei. If the historical romance seemed a bit too dry before, the manga images could be enough to move it from the "want to read" to "currently reading" list.
Retail Price: US$14.99 (Seller Price: US$11.24)
Publisher: Seven Seas Entertainment
Shopping Link: RightStuf
Is It Wrong to Try to Pick Up Girls in a Dungeon? On the Side: Sword Oratoria Vol. 1

Continue the adventures from Is It Wrong to Try to Pick Up Girls in a Dungeon from the perspective of Bell's crush, the Sword Princess Aiz Wallenstein. The sword adept female protagonist is getting her own spin-off television series next year, so the original novelization is a great place to start to get a leg-up on the story.
Retail Price: US$13.99 (Seller Price: US$10.49)
Publisher: Yen Press
Shopping Link: RightStuf
Re:ZERO Starting Life in Another World Vol. 1

One of this year's biggest anime hits was Re:ZERO, the story of a NEET named Subaru who gets transported to a fantasy world with the inexplicable power to "respawn" at certain checkpoints if he dies. He takes it upon himself to become a champion for the silver-haired half-elf Emilia and ensure she takes the now vacant throne. If only things would go that smoothly. This first volume is sure to please fans of the anime adaptation or introduce new fans to its charms.
Retail Price: US$13.99 (Seller Price: US$10.49)
Publisher: Yen Press
Shopping Link: RightStuf
Manga
Tomie Manga Complete Deluxe Edition

For fans of the macabre, Viz Media is offering another beautiful hardback collection of horror mangaka Junji Ito's work. This time the publisher is releasing a complete omnibus of Tomie, a beautiful woman who just won't die. She inspires the worst tendencies in her lovers and often becomes their victim only to rise again. The story has remained popular in Japan where it continues to inspire live-action horror film adaptations. This volume will look great next Viz's releases of Gyo and Fragments of Horror.
Retail Price: US$34.99 (Seller Price: US$26.24)
Publisher: Viz Media
Shopping Link: RightStuf
Jojo's Bizarre Adventure: Part 3 - Stardust Crusaders Volume 1

Jump into one of manga's greatest adventures against evil with this fan-favorite arc. Jotaro Kujo, his grandfather Joseph Joestar, Polnareff, Noriaki Kakyoin, and Muhammad Avdol head on a topsy-turvey trip to Egypt to defeat their vampire foe Dio. Along the way the encounter enemies both terrible and ridiculous and use employ their Stand powers to defeat those who get in their way. Viz's JoJonium edition re-releases Hirohiko Araki's manga in hardback volumes.
Retail Price: US$19.99 (Seller Price: US$14.99)
Publisher: Viz Media
Shopping Link: RightStuf
Mobile Suit Gundam Thunderbolt Volume 1

Set in Universal Century year 0079, battles between Principality of Zeon and the Earth Federation play out in wreckage-laden Thunderbolt sector. Gundam fans were able to watch the internet series based on this manga earlier this year and it was later compiled Mobile Suit Gundam Thunderbolt: December Sky film. Viz is bringing the original manga stateside before the subsequent sequel is made, so you can see where the story began.
Retail Price: US$14.99 (Seller Price: US$11.24)
Publisher: Viz Media
Shopping Link: RightStuf
One Piece Graphic Novel Box Set 3

This third giant box collects volumes 47-70 containing Thriller Bark, Sabaody, Impel Down, Paramount War, and New World arcs. Perfect for the completionist One Piece fan in your life, it also comes with an exclusive 48-page mini comic and double-sided poster.
Retail Price: US$185.99 (Seller Price: US$139.49)
Publisher: Viz Media
Shopping Link: RightStuf
The Legend of Zelda Legendary Edition Manga Volume 1

This over-sized volume contains two volumes of Akira Himekawa's Ocarina of Time manga adaptation with all new cover and color art. This is just the first of three planned Legendary Editions, so fans can follow up with Oracle of the Seasons, Oracle of the Ages and volume three next year. A perfect gift for video game and manga fans sure to hit that nostalgia factor.
Retail Price: US$17.99 (Seller Price: US$13.49)
Publisher: Viz Media
Shopping Link: RightStuf
Non-Fiction
The Pokemon Cookbook

A collection of 35 recipes ready to power up any meal. Options span from Meowth mashed potatoes to tasty Pikachu cakes. For the family member that already bought Pokemon Sun & Moon or anyone that just wants a new culinary adventure. The recipes promise to be both cute and easy, so no particular expertise is required.
Retail Price: US$14.99 (Seller Price: US$11.24)
Publisher: Viz Media
Shopping Link: RightStuf
Sushi: Jiro Gastronomy

The acclaimed chef from the documentary Jiro Dreams of Sushi, this guide introduces readers to how to properly eat sushi through the menu of Ono's restaurant, Sukiyabashi Jiro. A great edition to any foodie's library, the book is full of beautiful photography of sushi and Ono's commentary on each dish.
Retail Price: US$14.99
Publisher: Viz Media
Shopping Link: Amazon
Land of the Rising Dead: A Tokyo School Girl's Guide to Surviving the Zombie Apocalypse

So zombies are on the loose in Japan, how is a typical citizen supposed to survive? Four school girls will show readers how in this manga-meets-how-to guide. The book is mostly a novel detailing zombies, their origins, attack styles, and of course, how to avoid getting your brain eaten. Inside is also a short manga starring four girls facing an onslaught of the undead. This is a fun addition for horror fans who always need an escape route.
---
discuss this in the forum (42 posts)
|
back to Anime News Network's Holiday 2016 Gift Guide
Feature homepage / archives