×
remind me tomorrow
remind me next week
never remind me
Subscribe to the ANN Newsletter • Wake up every Sunday to a curated list of ANN's most interesting posts of the week.
read more
Anime News Network's Holiday 2016 Gift Guide

Fashion

by Lynzee Loveridge,
ANN's Holiday Gift Guide Sponsored By:


Yen Press

Women's
Omocat Fall 2016 Collection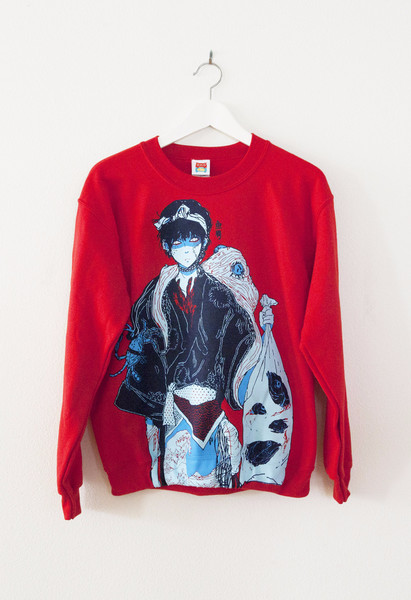 If you like your fashion with a touch of darkness and a bit of the grotesque, Omocat's fall collection has that in spades. Pictured is the Fishboy screen-printed sweater depicting a zombie-like fisherman with his daily catch. Also check out the designer's dark Widowboy sweater, the Bloodlust sweatshirt with a cute vampire boy, and the Deadhand hoodie that channels some Junji Ito vibes.
Retail Price: US$50.00
Shopping Link: Omocat
Gudetama Lazy Striped Top

Sanrio's laziest mascot is the star in this jersey-esque top. The scoopneck shirt is slightly loose-fitting, perfect for lazing around in your own ennui. The back has a black and white striped pattern. Gudetama is one of JapanLA's most popular character brands right now, with everything from plushies to skateboard decks.
Retail Price: US$42.00
Shopping Link: JapanLA
Dandere/Kuudere/Tsundere/Yandere

Tops

What kind of lover are you? Shy, cool, tough, or terrifying? Creator's Guild has a line of ribbed turtleneck tops for every -dere in your life. Just make sure you're real clear with your yandere if your intentions aren't romantic.
Retail Price: US$24.90
Shopping Link: Creator's Guild
Luna Head Crop Top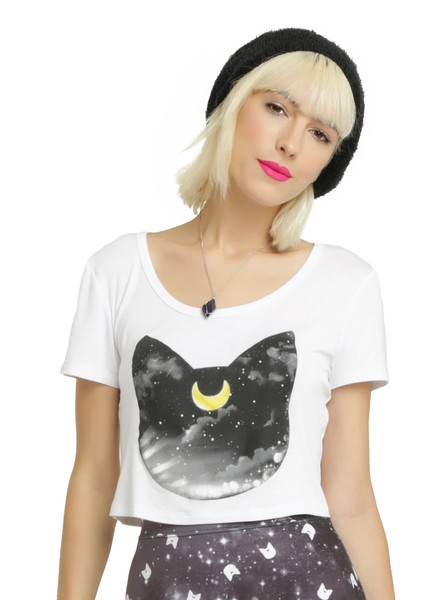 You're never too old to be a magical girl. Hot Topic's newest line of Sailor Moon fashion features Luna's face as a silhouette filled with stars. The top can be paired with a matching Luna Galaxy Skirt (sold seperately) for an all over Sailor Moon outfit fit for fighting evil.
Retail Price: US$24.50-$28.50 (Seller's Price: US$17.15-$19.95)
Shopping Link: Hot Topic
Chun-li Hooded Sweatshirt

Can you crush grown men with your thighs and take no sass from anyone? ThinkGeek's Chun-Li hoodie encapsulates everything that makes the Street Fighter character iconic, from her hairbuns to her bright blue qipao. This works great as a semi-casual cosplay and is sure to turn your foes heads, before you kick them in the face anyway.
Retail Price: US$50.00
Shopping Link: ThinkGeek
Men's/Unisex
Damegi Blanket Pajamas

Would you like to be a member of the snuggliest sentai team? Damegi Blanket Pajamas turn you into ninja, a ninja wrapped in the coziest shozoko for winter days and nights. The blanket pajamas have built in masks, mittens, and socks as well as two zippers. The front zipper for taking the entire outfit off and a back zipper when all you want to do use the toilet without sacrificing your warmth. The top hood also comes with two holes specifically for showing off your twintails. The PJs come in red, pink, blue, green, and brown.
Retail Price: US$81.99
Shopping Link: Tokyo Otaku Mode
King of Games: Legend of Zelda T-Shirt

Let everyone know immediately that you did complete the original Legend of Zelda NES game with this t-shirt displaying the winning screen. The pocket T-shirt shows Zelda and Link holding pieces of the Triforce with the message "Thanks Link, You're the Hero of Hyrule." And you are a hero, aren't you? That's why you need this shirt.
Retail Price: US$63.99 (Seller Price:US$57.59)
Shopping Link: Tokyo Otaku Mode
Kagerou Project Kido Hoodie

This hoodie works on two levels. Your otaku friends will all know you're a fan of Tsubomi Kido from Kagerō Days. Your family and coworkers will just think you really love your iPod. Double up on it and use it as a Halloween costume next year while playing U2's "Songs of Innocence" really loud. The possibilities are endless!
Retail Price: US$75.99 (Seller Price:US$72.19)
Shopping Link: Tokyo Otaku Mode

What's the trick to becoming the world's greatest superhero? A dedicated workout regimen of 100 pushups, situps, and squats followed by running a 10k every single day! Your hair might fall out but what you gain in sheer power is worth the sacrifice.
Retail Price: US$20.90 (Seller Price:US$14.63)
Shopping Link: Hot Topic
One-Punch Man Oppai T-Shirt

Saitama's own "Oppai" T-shirt is probably not one you want to explain to grandma on Thanksgiving Day. For the uninitated, "oppai" is slang for "breasts," if the accompanying logo didn't give it away. This one is sure to be a hit around the convention watercooler.
Retail Price: US$20.90 (Seller Price:US$14.63)
Shopping Link: Hot Topic
Accessories
Naruto Fishcake/Onigiri Jewelry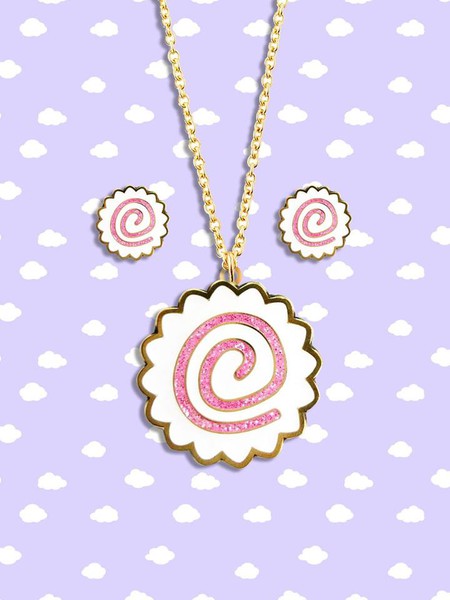 These adorable necklace and earring sets work as a subtle reference to your favorite ninja or a way to share your love for Japanese cuisine. Both sets are made from hard enamel with a shiny gold plating and plenty of glitter for good measure. The pieces can also be bought separately, in case your ears aren't pierced and you'd only like a necklace.
Retail Price: US$28.50 (set), US$14.00 (earrings), US$16.00 (necklace)
Shopping Link: Magic Circle Clothing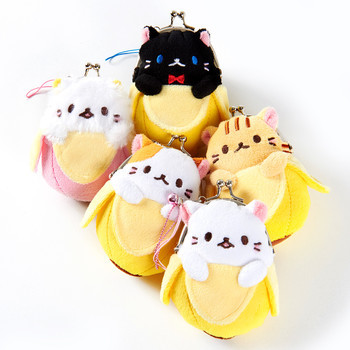 The cutest Japanese pun to get its own anime has to be Bananya, the cats that live inside of bananas. There's a whole variety of fruity felines ready to hold on to your change. They're also available as larger pouches, cases, plushies, and keychains. Retail Price: US$10.99 (each)
Shopping Link: Tokyo Otaku Mode
Pometan Day Pack Pouches

On the other hand, if you're more of a dog person, specifically a Pomeranian person, Tokyo Otaku Mode also has a set of characters for you. Pometan, Pomeko, Pometa, Pomenosuke, and Pomemaru are five fluffy puppies ready to come home with you. Like the Bananya characters, the Pometan crew is available in a variety of squishy, cuddly sizes.
Retail Price: US$11.99 (each)
Shopping Link: Tokyo Otaku Mode

A striking, functional accessory, this NERV wallet is made from real leather and has the price tag to prove it. It's accentuated with real carbon fiber, like the kind used on F1 machines and has 11 slotted pockets and one zipper pocket. The overall design is subtle if not commanding. The dark grey and black color scheme is accented by red stitching. One side simply says "NERV" while the other includes its maple leaf logo.
Retail Price: US$251.99
Shopping Link: Tokyo Otaku Mode
6%DOKIDOKI New Generation Unicorn Scarf

Popular Japanese fashion brand 6%DOKIDOKI is often seen on the streets of Akihabara. You can bring that style to the streets of your town with this super magical unicorn scarf. Available in both pink and mint, both unicorns have a luxurious rainbow mane, horn, and tail. The scarf itself is fluffy while the unicorn's head is stuffed and squishy like a plush.
Retail Price: US$183.99 (each)
Shopping Link: Tokyo Otaku Mode
Creator's Guild Hats


Are you the #1 waifu on the block or the senpai all the underclassmen can turn to in a time of need? Creator's Guild hats come in a variety of styles and colors with phrases like "otaku," "NEET," "
hentai
," and "tsundere" with floral patterns and distressed bills.
Retail Price: US$183.99 (each)
Shopping Link: Creator's Guild
Elementary School Style Backpack

The box-style backpacks seen carried by Japanese school children everywhere also works as a small, backpack-style purse. Available in Pink, Lavender, Black, and classic Red pair it with a bright yellow raincap and a blue overcoat to confuse your family and neighbors.
Retail Price: US$31.99 (Seller's Price: US$22.39) (each)
Shopping Link: Tokyo Otaku Mode
Pokéball Heart-Shaped Crossbody Purse

Take
Pokémon Sun & Moon
to go in a bag that lets everyone know that you love
Pokémon
. This back is 3" deep, with enough space for your New
Nintendo
3DS XL, matching wallet, and a couple Poké Puffs for the road.
Retail Price: US$52.99
Shopping Link: JapanLA
Pokémon Tattoo Print Purse

Not ready to commit your very valuable body real estate to a Pokémon tattoo? Lounge Fly's tattoo-print Pokémon bag is a safe alternative with no needles required. The bag features original starters Bulbasaur, Charmander, Squirtle and Pikachu in traditional tattoo flash artwork. It also comes with a shoulder strap for more comfortable wear.
Retail Price: US$70.00
Shopping Link: JapanLA
---
discuss this in the forum (42 posts)
|
back to Anime News Network's Holiday 2016 Gift Guide
Feature homepage / archives