×
remind me tomorrow
remind me next week
never remind me
Subscribe to the ANN Newsletter • Wake up every Sunday to a curated list of ANN's most interesting posts of the week.
read more
Anime News Network's Holiday 2016 Gift Guide

DVD & Blu-ray

by Jacob Chapman,
ANN's Holiday Gift Guide Sponsored By:


Yen Press

So anime itself is a highly personal gift, and it's tough to know exactly what a fan might actually want. Some tips up front if you're buying anime for someone:
Ask them what shows they like first and narrow it down. Don't ask what they're watching right this moment – for otaku that's going to be of-the-moment fall season shows, and you need to know what's already out on disc that they might want. For giftgiving purposes, if you can find out what they already have, do that.
Make sure they collect physical media, or that having a physical copy of the show they love would mean something to them. Things have changed a lot with the way people interact with and enshrine their favorite shows.
Make sure you know their preferred format (DVD or Blu-ray).
You can't go wrong with gift certificates, but anime is a very personal gift, and paying attention to your friend or relative's anime preferences and selecting the exact right box set is going to make you a Christmas hero in their eyes.
I've tried to link to the place where I found these sets cheapest, but prices on all of this will fluctuate a lot (especially during Black Friday week) so expect some jumps and decreases here and there. The listed retail price is always MSRP, but please shop around – a lot of this stuff can be found for 40% or more off that price.

The Melancholy of Haruhi Suzumiya - Ultimate Collector's Edition (Blu-Ray)

For the fan who memorized every move in the Hare Hare Yukai dance so they could perform it with their posse at cons year-round, this is the ultimate flashback treasure. Haruhi Suzumiya was the otaku hit of 2006 that most firmly established the power of social media to turn new kinds of anime that American fans might never have otherwise seen into a global phenomenon, and now it's available on Blu-Ray for the first time! This Collector's Set is the comprehensive Haruhi experience, containing both TV seasons, both chibi-sized comedy short series, and Yuki Nagato's very own romcom spinoff anime. The only thing missing is the much-beloved Disappearance movie, but hopefully the overwhelming wealth of bonus features across this package can make up for its absence until the movie comes back into print someday.
Retail Price: US$149.98 (Seller Price: US$109.29)
Publisher: Funimation
Shopping Link: Amazon
Puella Magi Madoka Magica Movie Set (Blu-Ray)


Madoka Magica is one of those stories so nice, you'll want to experience it twice! (And by nice, I mean deeply traumatizing, surprisingly trippy, and endlessly thought-provoking.) Still, if the Dokes devotee in your life hasn't got their hands on this remake movie trilogy yet, Aniplex has put out some wicked sparkly releases to choose from, packaging the two films that retell the TV series story together, and releasing the controversial third "Rebellion" film separately. Even if they prefer one version over the other, most Madoka lovers have some fondness for every anime entry in the franchise, and these movies are an affordable yet impressive gift for reliving its haunting magic all over again!
Retail Price: US$84.98 for Beginnings/Eternal, US$49.98 for Rebellion (Seller Price: US$69.98 for Beginnings/Eternal, US$39.98 for Rebellion)
Publisher: Aniplex
Shopping Link: Rightstuf for Beginnings/Eternal, Rightstuf for Rebellion
Parasyte - the maxim Limited Edition (Blu-ray/DVD)

It may have just premiered on Toonami this year, but Parasyte was also one of the first manga that many American comics fans ever read back in the early 90s. Now after twenty years of waiting, Parasyte fans can own an animated version of the horror classic that fully adapts its entire story, complete with tons of Parasyte goodies in Sentai's Limited Edition boxsets! There's a Migi bearbrick, Migi temporary tattoos for creating your own hand-parasite, the first volume of the original manga, and a soundtrack CD, among other packaged goodies. Getting both sets at once could be pricey, but maybe you and a friend could go in halfsies for a symbiotic transaction.
Retail Price: US$139.98 (Seller Price: US$104.99)
Publisher: Sentai Filmworks
Shopping Link: Rightstuf (Part 1), Rightstuf (Part 2)
Doukyusei - Classmates (Blu-ray)

2016 was a fruitful year for fans of BL, but many of the year's shonen-ai and yaoi releases are still too fringe to make it stateside unless they're in manga form. Fortunately, one of the year's best boys' love anime is available from Aniplex this year: the lovingly-animated and tender Doukyusei. If you're into spindly fellows in white button-ups brushing each others' lips with the tip of their fingers, this delicate 60 minutes of thoughtfully written romance is well worth the high price on Blu-ray, and it comes with a wealth of production art, interviews, and a bonus manga chapter from the original manga-ka herself! If the fujoshi friend in your life hasn't seen this movie yet, put this gem at the top of her gift list.
Retail Price: US$74.98 (Seller Price: US$59.98)
Publisher: Aniplex
Shopping Link: Rightstuf
The Girl Who Leapt Through Time and/or Summer Wars Collector's Editions (Blu-Ray/DVD)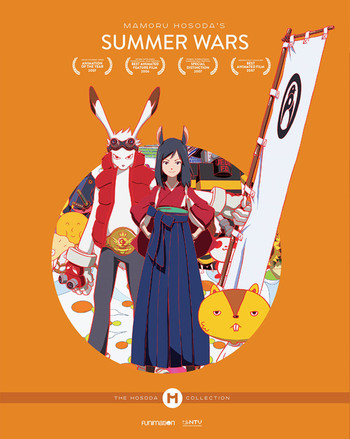 If you're shopping for a much more casual anime fan, it's hard to go wrong with the films of Mamoru Hosoda. Both these movies are family-friendly and soul-warming, with impressive animation and just a little bit of science fiction magic. Better yet, these special dual-format releases from Funimation come with a giant slate of on-disc interviews with the staff and a hearty production booklet, so you can learn more about the rich worlds behind both movies. Either or both would make the perfect gift for an anime fan with kids of their own who still likes to geek out over bonus packaged extras.
Retail Price: US$49.98 (Seller Price: US$24.99 for GWLTT and US$34.99 for SW)
Publisher: Funimation
Shopping Link: Rightstuf for Girl who Leapt Through Time and Rightstuf for Summer Wars
Street Fighter II: The Animated Movie (Blu-Ray)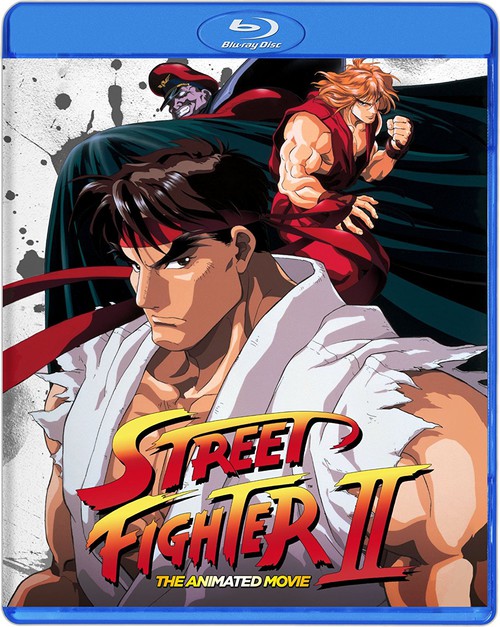 Based on the legendary arcade brawler that spawned a thousand memes, Street Fighter II The Movie has seen many compromised releases over the years, but this is the definitive edition fans have been waiting for. Not only is the movie meticulously restored in HD for the first time on a disc packed with making-of bonus features, this is the first time the full uncut film has been available, with the english dub laid over the original Japanese musical score! There are a wide array of options to experience the movie, whether you want to go super-faithful or super-nostalgic, making it a must-have for retro gaming and anime fans.
Retail Price: US$29.95 (Seller Price: US$18.29)
Publisher: Discotek
Shopping Link: Amazon
Mobile Suit Gundam: Char's Counterattack (Blu-Ray)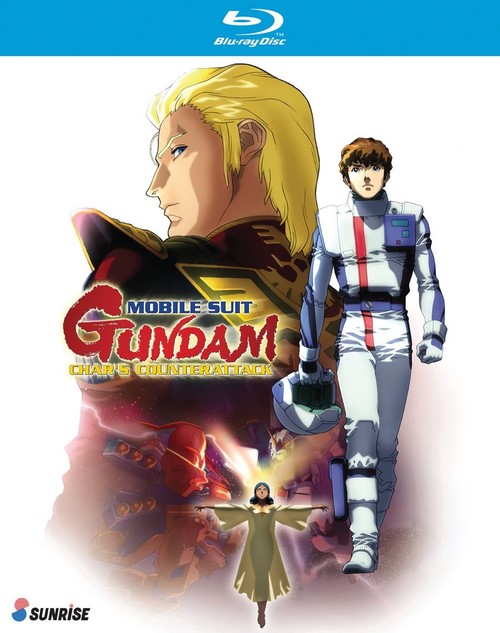 Alright, not gonna front on this one: I know almost nothing about Gundam. That said, I've at least learned from otaku osmosis that Char Aznable is a Big Deal, and this movie, the first original theatrical film in the franchise, is one of the most beloved entries in Mobile Suit Gundam canon. Now that it's available on Blu-ray for the first time, this should be a steal for any classic Gundam fans at a very reasonable price! You might even have some cash left over to indulge in the perfect attire to wear while enjoying the film.
Retail Price: US$34.99 (Seller Price: US$21.52)
Publisher: TRSI
Shopping Link: Amazon
Mobile Suit Gundam Thunderbolt Limited Edition (Blu-Ray)

Of course, if your Gundam fandom is a little more hardcore, you can also import the newest entry in the MSG legacy without even having to do all that tricky currency conversion, courtesy of Rightstuf. It even comes with an English dub! Modern Gundam fans can enjoy the glossy production values, while Classic Gundam fans can indulge in the idiosyncrasies of Thunderbolt as a spinoff concurrent with the original U.C. 0079-set anime. It's a win-win, and a rare opportunity to get the same product as Japanese Gundam fans without paying overseas shipping costs!
Retail Price: US$89.99 (Seller Price: US$89.99)
Publisher: TRSI
Shopping Link: Rightstuf
Only Yesterday (Blu-Ray/DVD)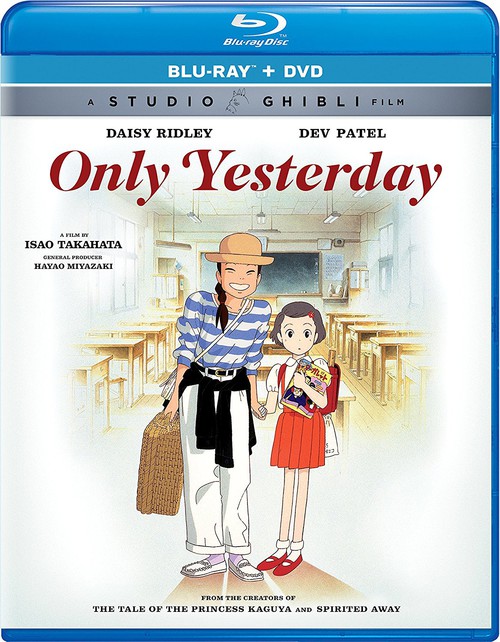 If you've got a major Studio Ghibli fan on your giftgiving list this year...well, you should probably make sure that they're not solely a Miyazaki fan first, but even if they are, maybe Isao Takahata's understated take on pastoral nostalgia can show them a different side of Ghibli. Now that this classic character drama has an english dub for the first time, Taeko's touching tale of coming home to unexpected memories can finally be enjoyed by a wider audience. It's a must-have for anyone looking to complete their Ghibli collection, and we're lucky to finally have a US release for it after over two decades in limbo!
Retail Price: US$34.98 (Seller Price: US$19.96)
Publisher: GKids
Shopping Link: Amazon
Code Geass: Lelouch of the Rebellion Collector's Edition (Blu-Ray)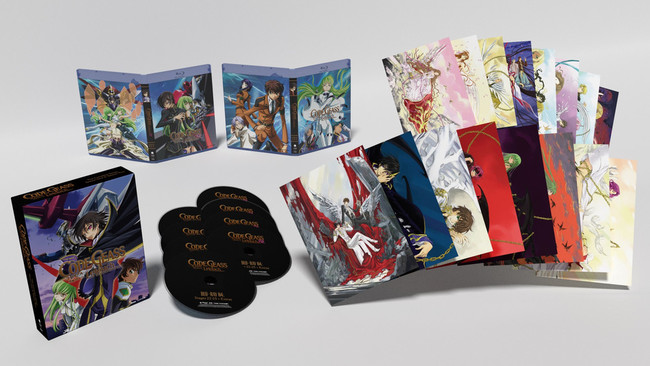 Code Geass is one of two anime available on Blu-Ray for the first time this year that dominated the angsty Hot Topic otaku sphere in the late 2000s thanks to a successful run on Adult Swim. (And I'll get to the other anime in the next entry.) If you have a millennial otaku friend who remembers the days after social media exploded but before legal online streaming (a confusing time for us all), you can give them the gift of two whole seasons of fabulous revolution with this limited edition set. It includes not only the complete anime series but also a large collection of gorgeous illustrations from CLAMP and the priceless memories of memes gone by. (Remember Spinzaku? Ah, those were simpler times.)
Retail Price: US$139.98 (Seller Price: US$104.99)
Publisher: Funimation
Shopping Link: Rightstuf
Death Note - The Omega Edition (Blu-Ray)

Of course, Death Note was the slightly more popular choice for angsty Hot Topic teens, as they found themselves torn between watching fansubs of "Raito" and DVR-ing "Light" off Cartoon Network in the twilight of the two-thousands, but this definitive Omega Edition Blu-Ray set will give nostalgic fans oodles of options for reliving the cat-and-mouse thriller all over again. You can watch the full TV series in either language, enjoy the recap movies with their juicy bonus scenes, or just relive the series' highlights through the commemorative art booklet. However you slice it, this definitive Death Note release should be the apple of any fan's eye.
Retail Price: US$69.99 (Seller Price: US$32.99)
Publisher: Viz Media
Shopping Link: Rightstuf
The Vision Of Escaflowne Collector's Edition (Blu-Ray)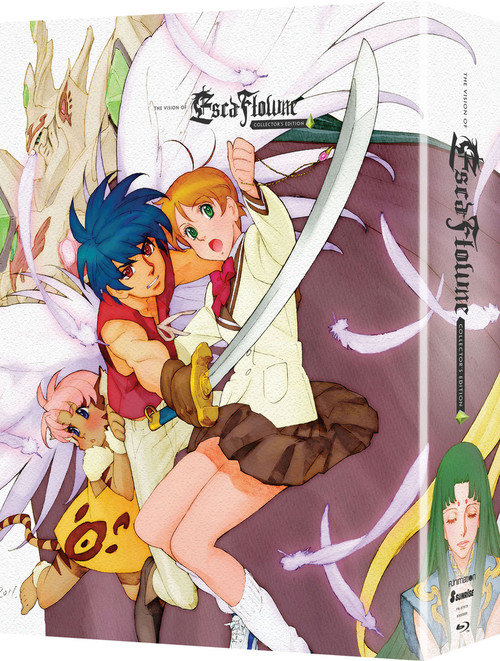 Full disclosure, actually finding a copy of this collector's edition before Christmas may be a dicey proposition. (At the time of this writing, Rightstuf is waiting on another printing, and Amazon has a limited number of copies remaining.) Still, it's all the more reason to try and snap up Escaflowne as soon as you can. As one of the quintessential classics of 90s-era anime with an aesthetic and production values that remain impressive to this day, Escaflowne makes an ideal gift for fantasy lovers that looks better than ever in high definition! This limited edition also includes the movie for a more bite-sized Escaflowne experience. Don't let its limited availability scare you off; this is one classic that's only gotten better with age.
Retail Price: US$179.98 (Seller Price: US$134.99)
Publisher: Funimation
Shopping Link: Rightstuf
Sailor Moon S - Part 1 Limited Edition (Blu-Ray)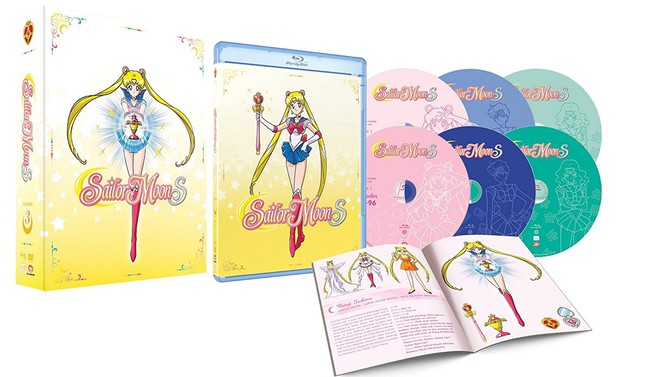 Now I know as much about Sailor Moon as I know about Gundam, but you don't have to be a diehard Moonie to know that this third season of the original series, which introduces Sailors Uranus and Neptune, is very important to a lot of people. Sailor Moon S activated an unforgettable awakening in a lot of viewers along the LGBT spectrum and remains one of the most widely discussed and cherished parts of the franchise to this day. Now that it's finally been released uncut with a brand-new English dub that doesn't attempt to cover up the lesbian relationship at its core, this limited edition should be a no-brainer steal for the aspiring Sailor Senshi in your life.
Retail Price: US$79.99 (Seller Price: US$64.99)
Publisher: Viz Media
Shopping Link: Amazon
Pretty Guardian Sailor Moon Crystal - Set 1 Limited Edition (Blu-Ray/DVD)

On the slightly more controversial end of Moonie gifts, Viz has also released a special edition for the first season of Sailor Moon Crystal, the web-broadcast remake of Naoko Takeuchi's original manga. Sporting a radically different art design and a filler-free storyline that faithfully adapts the original comics, Crystal was met with mixed reactions from superfans, so you'll definitely want to get a bead on how the Sailor Moon aficionado in your life feels about the series before purchasing. That said, the packaging and extras on this release will make it a prize for Sailor Moon completionists and manga fans who embraced Crystal from the beginning, to say nothing of how the remake has grown in favor through later seasons.
Retail Price: US$79.99 (Seller Price: US$62.19)
Publisher: Viz Media
Shopping Link: Amazon
Fate/stay night: Unlimited Blade Works - Box Set 2 Limited Edition (Blu-Ray)

Another year, another Fate! Just like previous releases in ufotable's adaptations of the otaku megafranchise, the price point on UBW's second half is a little monocle-popping, but for Type-Moon collectors, an impressive boxset packed with extras will be worth any expense, so maybe you can at least gift them a discount on the full price. Aniplex's Fate releases tend to go fast (the import version is already out-of-print), so Nasuverse lovers will want to get their hands on this second half of UBW as fast as they can. The inclusion of a soundtrack CD and an in-depth production booklet certainly don't hurt either. This should be just the thing to tide the Fate fan in your life over until that Heaven's Feel movie comes out.
Retail Price: US$219.98 (Seller Price: US$179.98)
Publisher: Aniplex
Shopping Link: Rightstuf
Lupin the Third: Jigen's Gravestone (Blu-Ray)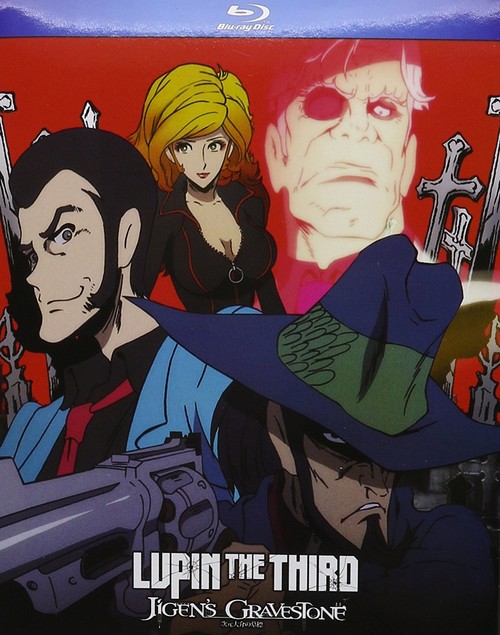 If the anime fan you're shopping for has tastes that verge a little on the "only available on laserdisc" side, but they're not afraid to try new things with the right flavor, then Takeshi Koike's (director of Redline) take on Lupin III should give them the faux-retro jolt they're looking for! At such a cozy price, this 51-minute Lupin adventure makes the perfect stocking stuffer for fans of that Lupin Part IV aesthetic that blends gritty and visceral animation with a sense of fun and danger that remains timelessly engaging. It's recommended that the old-school fan you're buying for has at least some cursory familiarity with Lupin and friends, but Jigen's Gravestone doesn't require more knowledge than you could have gotten from Castle of Cagliostro or any other entry-level Lupin movie, so it could make for a fun introduction to the franchise as well!
Retail Price: US$24.95 (Seller Price: US$15.29)
Publisher: Discotek
Shopping Link: Amazon
Seraph of the End: Vampire Reign Collector's Edition (Blu-Ray/DVD)

Vampires and anime have never been strangers, which means vampire fandom and anime fandom have usually been a breath apart across pop culture history as well. If you're ready to splurge for a vampire-loving casual anime fan who enjoys shows like Fullmetal Alchemist and Attack on Titan, but finds themselves looking for fresh anime to sink their teeth into, Seraph of the End may be the mainstream-friendly action anime waiting just underneath their radar. This limited edition comes in especially exquisite packaging, with a 200-page artbook, chibi stickers, and myriad other goodies to sate any vampire fan's thirst. (Bonus points if your gift recipient has a little fujoshi in them, because Seraph of the End takes some intensely homoerotic turns for an action-driven teen series.)
Retail Price: US$199.98 (Seller Price: US$149.99)
Publisher: Funimation
Shopping Link: Rightstuf
Wolf's Rain - The Complete Series (Blu-Ray/DVD)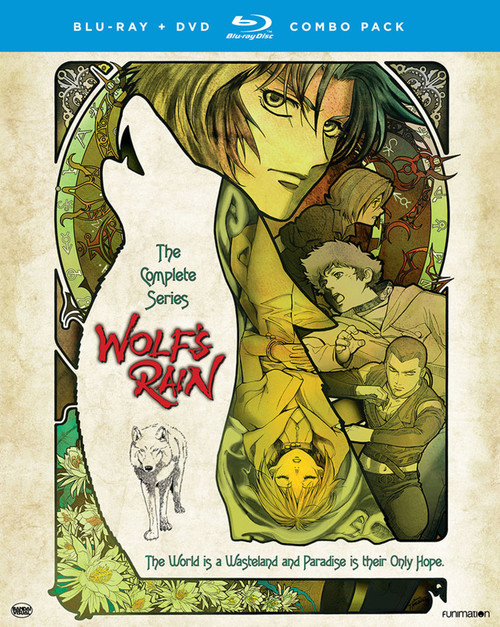 Alright, hear me out on this one. This show doesn't come out until February 2017, so you can't technically purchase it as a holiday surprise this year. At the same time, I would be remiss not to include the kind of gift that would warm the cockles of my own otaku heart in this guide. If the anime fan in your life is the more artsy-fartsy-loving critical type who doesn't mind getting a preorder slip in their stocking, few artistically ambitious anime have been slobbered over in licensing limbo as hard as this mid-2000s cult classic fantasy parable. Besides, the show is themed around wintertime, so your ponderous friend will appreciate the symbolic timing. (It's also themed around the apocalypse, but the less said about that in 2016, the better, am I right?)
Retail Price: US$64.98 (Seller Price: US$45.49)
Publisher: Funimation
Shopping Link: Rightstuf
---
discuss this in the forum (42 posts)
|
back to Anime News Network's Holiday 2016 Gift Guide
Feature homepage / archives