Anime Expo 2017: Violet Evergarden World Premiere
by Jacob Chapman,


Anime News Network's coverage of Anime Expo 2017 is sponsored by Aniplex and Yen Press.
---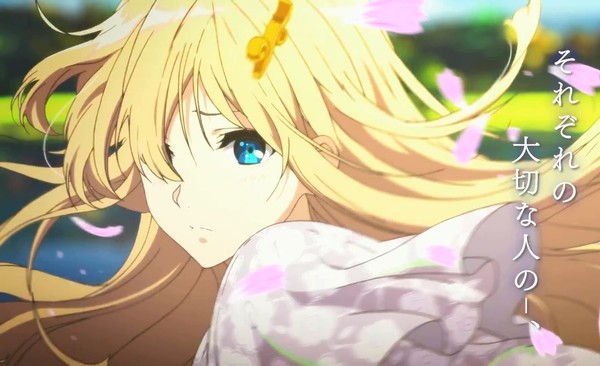 Most anime studios wouldn't be able to premiere one episode of a TV series six months in advance to a room of over 3,000 people, but Kyoto Animation isn't like most other studios. After releasing a PV over a year ago of 40 seconds that looked too stunningly elaborate to be a television production, news about Violet Evergarden trickled in very slowly, hinting at a 2017 release date for a while until the premiere was finally confirmed for January 2018.
While Kyoto Animation's fans are no stranger to their inimitable lighting work, hyper-detailed backgrounds, and uniquely intimate animation style, Violet Evergarden immediately stood out for its unique choice of setting. Even when dabbling in the supernatural, the grand majority of KyoAni's work has taken place in modern-day Japan, so the choice to make a fantastical pseudo period piece garnered a lot of attention. Violet Evergarden also seemed to bring a harsher edge in its choice of story, with its heroine's artificial arms suggesting a violent past tied to the war that's only recently ended in her country.
So it's safe to say that nobody in the packed Main Events hall today knew what to expect when director Taichi Ishidate, lead actress Yui Ishikawa, and opening theme performer True finished their introductions for the first episode to begin. What followed was easily the most visually impressive TV episode KyoAni has ever produced, indistinguishable from their feature film work in ways that might seem impossible to sustain for a full cour of animation—which might explain the series' unusually long gestation time. Rather than using familiar Japanese settings for reference, Violet Evergarden faces the challenge of re-imagining early 20th-century Western Europe as a place that seems otherworldly, an ostentatious and luminescent sort-of-Switzerland that seems to exist inside a gold and emerald bauble. KyoAni must have spent a lot of time developing the right technology and techniques to give this world such a unique sense of deep focus detail, allows the intense light saturation so familiar to their work not to over-blur the minute details of the artwork. The setting itself is as much a starring presence as the titular Violet, and the director assured the audience that Violet would be spending many episodes traveling over its peaks and valleys despite taking up a new job in a quiet town in this premiere. The technology of this familiar-yet-alien world is comparable to Fullmetal Alchemist, with WWI-era transportation and weaponry existing alongside shiny chrome robotic limbs for wounded soldiers.
This brings us to the actual (spoiler-lite) story of Violet Evergarden, which rings both unique and rote all at once. Like many KyoAni productions, this series takes place in the peaceful countryside, but this peace is relatively new, especially for Violet. After losing both her arms in a devastating battle that turned the tide of a war, she's been shuttled off to live at the Evergarden estate under the late orders of her MIA commander, Gilbert. His former subordinate Hodgins knows better than anyone that Violet, who's known nothing but the battlefield since childhood, won't be able to adjust to peacetime so easily, so he suggests she take a job at his postal service sorting the mail. Violet soon takes an interest in the business of transcribing letters for illiterate customers, when she begins to suspect that she is emotionally "deficient" due to her tragic childhood, desiring now to understand feelings like love and compassion through the words of others.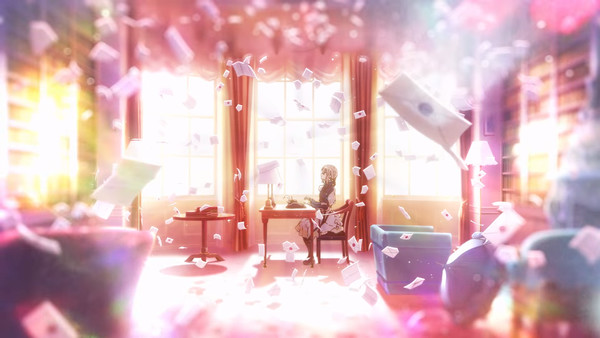 That sounds like a lot of info, but that's just the basic premise, leaving out plenty of sordid juicy twists for fans to discover for themselves once January finally rolls around. The story unfolds very naturally, with clever choices in storyboarding and editing that allow viewers to really stew in each emotional realization and foreshadowed gut-punch. Along with the stunning visuals, this deft execution is the strongest feature of the episode, while the characterization of Violet as a textbook Rei Ayanami-alike may be its weakest. The director's statement on her character was extremely straightforward: "Even though she has been through a horrible war, emotionally she is like a baby, she is at zero. As you all watch her become a grown woman, I want you to think of her as if she were your own daughter and protect the feelings she comes to understand." Plot details aside, I feel like that tells you everything you need to know about Violet's personal journey going forward, which might be underwhelming for some anime fans who have heard this kind of story many times before.
The premiere concluded with a special performance of the opening song by True (the first time she had ever performed the song live), and hundreds of fans in the crowd brought their glowsticks in advance to cheer her on. Violet Evergarden is sure to make a big splash when it premieres at the top of next year, and I can't wait to see what everyone thinks of KyoAni's bold new choice of material when they finally see it for themselves.
---
discuss this in the forum (13 posts)
|