Why Affordable Housing for Animators Matters (and What You Can Do to Help)
by Callum May & Kim Morrissy,

If you're interested in finding out more about the anime industry, you'll undoubtedly come across numerous reports of struggling animators. For the most part, anime is not a practical way to make a living; it's an industry for the dreamers, and even if they can tolerate the long hours, they still have to be able to pay the rent. In one survey conducted in 2010, an animator at an unnamed studio was earning $270 (in USD) a month, working an average of nine hours at the studio each day. As you might expect, this animator couldn't afford to move out of his parents' house and had to commute 90 minutes to the studio.

The situation is even more difficult for animators who live outside the Tokyo area. Animators need time to be able to prove themselves and achieve a livable income. So with low wages, long commutes, and the anime industry being mostly inaccessible living outside of Tokyo, the Animator Supporters Dormitory Project becomes more than just charity. It becomes necessary for the success of many.

It was during CG Designer Jun Sugawara's time volunteering for an organisation that supports young animators and artists that he became aware of these issues in the anime industry. After meeting animator Tomohisa Shimoyama, he learned of the incredibly low wages for animators starting out in Japan and the conditions that brought 90% of them to quit the industry in their first three years. It was these facts that led him to start up the Animator Supporters, eventually culminating in the Animator Supporters Dormitory Project.
As a co-author of this article, I've made my own investment in the Animator Supporters Dormitory. After donating to the project and spreading the word about their 2016 crowdfunding campaign, I was invited to the dorm for a more personal look. Our goal wasn't to ascertain the dorm's importance, which has been made evident by the recurrence of their residents' names in the credits of new anime episodes. The purpose of visiting was to meet the people who have made the project a success so far and see the sort of environment that helps animators excel.
The dormitory is supported by two crowdfunding campaigns: one for Japan and one for anime fans overseas. With their first overseas crowdfunding project on Indiegogo in 2015 earning almost $16,000 for their expansion efforts, they have made an effort to engage and educate foreign fans about industry wage issues and how they can help.
"We've been able to expand the scope of our project bit by bit every year, and that's thanks to the support from overseas."
In addition to their regular residents, the Animator Supporters Dormitory runs the "New Animator Grand Prix", giving those entering the anime industry the chance to win a year's free rent and tuition. In 2011, they gave housing assistance to Shingo Tamagawa, who went on to become an animation director at Sunrise, and current dormitory resident Masaaki Tanaka was recently promoted to Assistant Animation Director on Attack on Titan at WIT Studio.

The dormitory itself offers intimate cohabitation. With regular residents only paying 30,000 yen ($266 USD) a month for rent, it's a suitable arrangement for those starting out in the industry. It's not uncommon for anime studios to offer some sort of dormitory assistance, but Sugawara notes the importance of information exchange in these situations. Within a studio-based assistance initiative such as White Fox's Izukogen, the only people these animators will be communicating with are also hired at the studio. This means that important comparisons of unit drawing rates and building contacts across studio barriers aren't as feasible as they are within the Animator Supporters Dormitory.
"By working alongside veteran animators such as Shintaro Dōge, the residents have improved their drawing skills."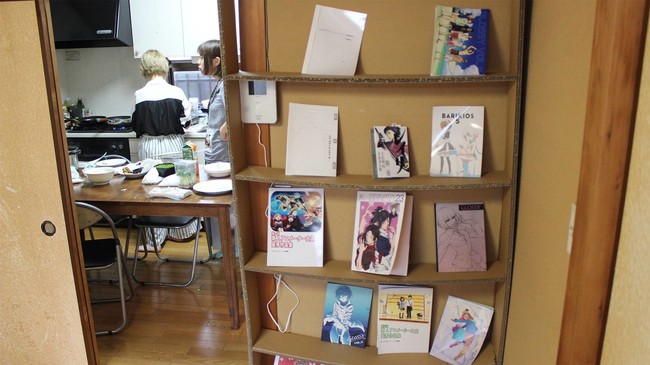 The first thing I noticed when entering their Asagaya dormitory is the cardboard shelves shown above, filled with key animation and illustration books by established animators that can be used as reference by the residents.
"Lots of people put out animation books at events like Comiket and so forth. Some nice folks buy those books and put them together as a library for everyone to use."
Along with a place to sleep, the dormitory offers the chance to meet and spend time with animators who have already found success in the anime industry. Every month, Sugawara hosts a dinner party in the Asagaya Dormitory, giving residents the chance to gather in one place and catch up with what's been going on in both work and life.
Originally an agriculture student in university, Tetsuya Akutsu's love of anime and the inspiration provided by web animators led to him entering into the anime industry. Since joining the dormitory, his financial situation has become much more secure, and he has now graduated to being a freelance key animator after working on in-between frames for four years. He dreams of eventually becoming an anime director.
"I was always working a part-time job to keep myself afloat. Fortunately, the rent of the animator supporter dorms is cheaper, so I've had it better than other animators. That said, when I was just starting out, I earned nothing as an animator for half a year." - Tetsuya Akutsu
The road to earning sustainable pay in the anime industry is long, and many animators must pass a test before being offered the chance to do key animation. Until then, they will continue being paid based on the amount of in-between frames they're able to draw. Akutsu was drawing in-betweens for 2-3 years until he started being hired as a key animator. Without the support from the dormitory, he wouldn't have been able to sustain himself until he could get this chance. As a freelance animator, projects aren't automatically assigned to him, so he needs to be able to stand out to get work.

Tetsuya Akutsu's room, complete with illustration books and manga.
"There are more female animators than male animators. When we originally made a dorm, it was only for men, but that never catered to females."
The newest development within the Animator Supporters is the creation of a dormitory specifically for female animators in Naritahigashi. Whilst the Grand Prix had featured female winners before (most notably the animation director of these McDonald's commercials, Namiko Ishidate), they were only able to offer housing support rather than residence itself. But with more female animators entering the industry, with not nearly enough getting promoted to directorial roles, the dormitory hopes to provide that safety net for them to aim for success.
The most recent winner of the Grand Prix, Hitomi Kariya, notes that the dormitory is especially useful, since she believes female animators have less stamina than the men, so they aren't able to earn as much when starting out. The goal is for the residents of the female dormitory to improve in the same way that the male residents of the Asagaya dormitory have, and that the same sort of collaboration will lead to great things.
"Everyone has it tough and has to work hard to be promoted, and in that sense there's no difference between men and women." - Hitomi Kariya
Animation by Hitomi Kariya, posted to her Twitter.
"As far as animators are concerned, the production committee is the enemy."
In its current form, Sugawara refers to the Animator Supporters as a bandaid over a wound. It won't fix everything, but their first priority is to be a safety net for those who aren't earning enough to eat. Due to the degrees of separation between production committees and the animators themselves, the revenue of the project will never reach the animators themselves.
At the moment, the project is focused on providing support for the winners of the Grand Prix and their regular dormitory residents, but they do have goals for the future. The way in which animators are currently paid in the anime industry runs antithetical to the ideals of the Animator Supporters. One of the ways they hope to achieve this is by using the dormitory as a sort of "anime guild" to produce a 25-minute anime, directed by Shingo Yamashita (an associate of the Animator Supporters).
"We need to give money directly to the animators, and for that to happen, the production committee must disappear."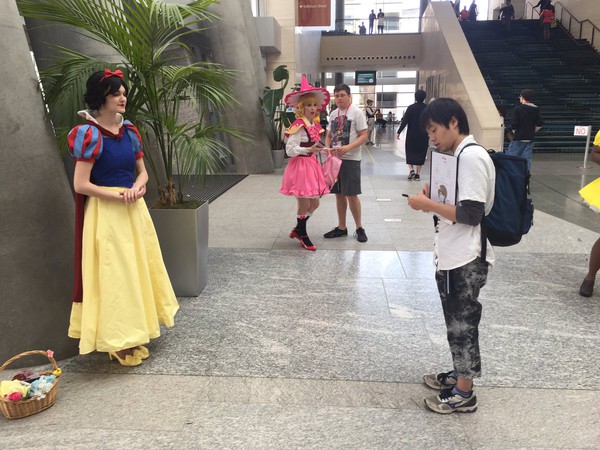 Recently, the team visited Animazement in North Carolina to promote the crowdfunding project, sending Tetsuya Akutsu into the crowds to draw con-goers. However, a short independent anime project (similar to Anime Tamago project short films) would immediately demonstrate the value of helping struggling animators cultivate their skills.
While the Animator Supporters aren't capable of changing the way the anime industry currently works alone, many future shows will owe their success to those aided by the dormitory. Their current 2017 crowdfunding campaign has been running for 2 months and has raised over $10,000USD. If you're looking to support the future of the anime industry, consider giving the Animator Supporters Dormitory your own small gesture of support.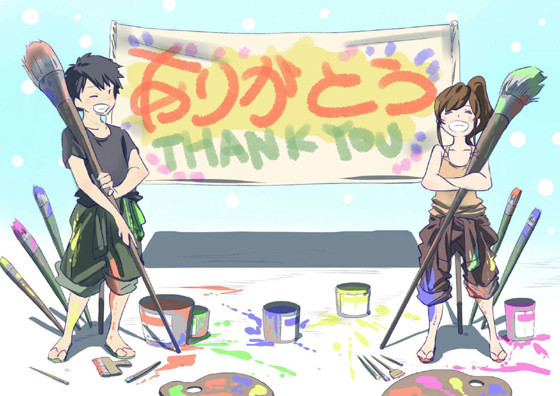 Special thanks to Jun Sugawara and the Animator Supporters for their invitation.
---
discuss this in the forum (41 posts)
|