×
remind me tomorrow
remind me next week
never remind me
Subscribe to the ANN Newsletter • Wake up every Sunday to a curated list of ANN's most interesting posts of the week.
read more
Explaining the English Light Novel Boom with Bookwalker Global
by Kim Morrissy,

Light novels are becoming a hot new property in the English-speaking market these days. In 2016 alone, over 80 light novel volumes were published in English translation, a number that 2017 has already surpassed. These Japanese novels with anime-inspired illustrations and storylines should by all means be considered a niche product in the English market, but they're reaching a wider audience than ever before.

Technically, this isn't the first time the West has experienced a "light novel boom." Anime shows like Shakugan no Shana and The Melancholy of Haruhi Suzumiya were popular in the mid-2000s, inspiring some tentative attempts to translate them into English. A few scattered successes aside, however, most of these titles were abandoned partway through their publication run. Although light novels quickly became a sensation in Chinese and Korean translation, the West, it seemed, didn't quite "get" light novels at the time.

Things are radically different nowadays. According to the publisher, Sword Art Online's first volume sold over 30,000 copies in English within a few months of its release. As of the time of this writing, Yen Press currently holds the translation rights of over 40 separate light novel titles, most of which have been adapted into popular anime. Anime has gone a long way toward raising awareness about light novels, but it's also becoming easier for readers to consume niche literature in general, thanks to the prevalence of digital books and media.
To find out more about the light novel phenomenon, I reached out to BookWalker Global, an eBook retailer that specializes in manga and light novels. BookWalker is owned by Kadokawa Shoten, and recently, they've begun selling exclusive light novels on their global store. So far, they've released the first volume of Hobby Japan's The Combat Baker and Automaton Waitress and they've also announced plans to release GA Bunko's The Ryuo's Work Is Never Done!

"Kadokawa is one of the number one distributors for light novels," explains Norihide Tominaga, the leader of BookWalker's global team. "They publish both light novels and manga, as well as other types of books, but a big portion of their sales comes from light novels. That's why our users expect light novels."
Over ninety per cent of BookWalker Global's range of titles consists of manga, but light novels sell more in proportion. Light novels are a core part of BookWalker's branding, and the team's decision to launch exclusive LN titles on their site is very much in line with this.
(Note: Because they're not a "publisher," per se, BookWalker Global does not actually license their exclusive titles. They sponsor the translation and sell the books on their store exclusively for six months, after which the rights of the English book revert to the original publisher. )
Which Light Novels Work Best in the English Market?

At first glance, The Combat Baker and The Ryuo's Work Is Never Done! don't seem like the usual fantasy or romcom light novels that are translated into English. The Combat Baker is about a war veteran who starts a bakery, while The Ryuo's Work Is Never Done! is about shogi (Japanese-style chess). However, BookWalker Global takes great care when selecting which books to distribute. They choose titles that may not be popular now, but do have the potential to become hits later.
"If you look at the US situation, a lot of people watch the anime first and then read the manga or light novels," says Tominaga. Because of this, anime is always the best advertisement for light novels. BookWalker Global is not told in advance whether a light novel title will be adapted into anime, but the team does pick titles that they believe are likely to receive an adaptation.
How do they decide this? By scrutinizing the yearly sales data in Japan and following the hype in various publications and forums. Tominaga refers to this as the anime "sixth sense." The Combat Baker, for instance, ranked sixth in last year's Kono Light Novel ga Sugoi! newcomer ranking poll. It also placed twentieth on the overall series poll. It's quite a promising series, and the exposure it received through Kono Light Novel ga Sugoi! has made it more popular. Meanwhile, The Ryuo's Work Is Never Done! won the overall series poll and was a critics' darling.

(For more information on Kono Light Novel ga Sugoi! and its importance in the light novel industry, read this article.)
Following the hype trail has worked well for BookWalker Global in this case, because it was recently announced that The Ryuo's Work Is Never Done! is getting an anime. Kono Light Novel ga Sugoi! is only one part of the equation, however. BookWalker Global has access to the Japanese site's sales data, making business decisions a lot easier than it would be for an outsider to the Japanese market.
However, it's not just a simple matter of translating works because of their popularity in Japan. There are differences in purchasing habits between the Japanese and English markets. "If we speak about manga, for example, the US market likes ecchi manga," says Thomas Rogge from BookWalker Global's marketing team. "The Japanese market also really likes ecchi manga, of course, but because there's more variety in the Japanese market, they also tend to pick up titles like March comes in like a lion. The US market is not that diverse."

This is especially true for the English light novel market, which only receives cherry-picked titles in translation. "At the moment there's an isekai ("stuck in another world") boom, so a lot of the publishers focus on bringing more isekai titles to the West," says Rogge. "But I also think that the hype is slowly dying down, so maybe we'll see more variety soon."
Marketing to a Light Novel Audience
According to Tominaga, light novels have definitely benefited from digital sales, even as print sales have declined in both Japan and the US. The mode of delivery has changed, but there's still a demand for new books. Digital books are also convenient for publishers, who are freer to make changes to books even after publication.
Marketing to a digital audience presents its own set of challenges, however. In order to outdo their competition, BookWalker's marketing team must convince their audience that they understand them best. Tominaga claims that unlike Amazon, Apple, or Google, everyone at BookWalker Global loves anime, manga, and light novels. By offering exclusive giveaways and campaigns, BookWalker Global attempts to connect with consumers in a way that other eBook sellers don't.
One of BookWalker Global's more memorable campaigns was their KONOSUBA­-themed giveaway in April. Three pairs of striped panties, apparently "stolen" from the main heroine Aqua, were offered as prizes to three (un?)lucky customers of the second light novel volume. Tominaga tells me that BookWalker Global decided on this prize for a laugh and that the author of the light novels found it hilarious.
"People may find it stupid, but it's unique," Tominaga says.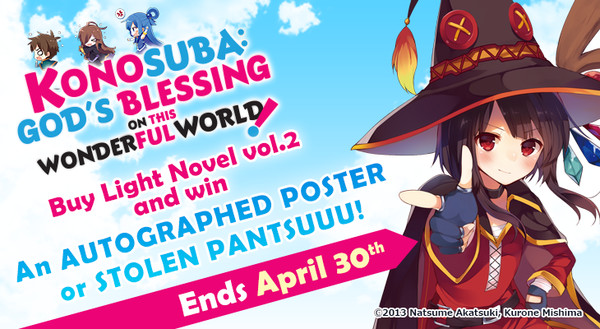 It's hard to disagree there. "Stolen panties" are a unique prize, especially to anyone unfamiliar with anime's brand of sexualized fanservice. It's an interesting marketing angle, too, because of how it reinforces the niche appeal of light novels. Light novels may be experiencing a renaissance of sorts in the West, but they're still a niche within a niche. When I asked if the panties campaign had impacted the sales, Rogge said, "I think there are some aspects to it. Of course, the gifts are nice too, but the timing was also good because the anime was airing."
Regardless of BookWalker Global's marketing campaigns, anime is still the best advertisement for light novels. Light novels are growing in popularity, but at the moment they still mainly function as a complementary experience to an anime. "Light novels are most of the time more detailed than the anime," Rogge explains, "so I think that's where most of the interest came from."
It's a testament to just how big anime has become that it can inspire an entire branch of Japanese literature to be found in translation, albeit in curated form. Even as a niche within a niche, light novels have grown in popularity far more rapidly than anyone ten years ago could have predicted. Digital books have expanded the range of titles available even further. It just remains to be seen whether light novels in translation will emerge as a rich and diverse medium in its own right, like manga has, or whether they'll continue to play second fiddle to anime.
---
discuss this in the forum (46 posts)
|