×
remind me tomorrow
remind me next week
never remind me
Subscribe to the ANN Newsletter • Wake up every Sunday to a curated list of ANN's most interesting posts of the week.
read more
Behind the Music of My Hero Academia with Yuki Hayashi
by Callum May,

"Without further ado, Hayashi is here!"

This was how music composer Yuki Hayashi announced his involvement with the My Hero Academia anime, but for those familiar with his work, this announcement wasn't much of a surprise. The sporty and energetic music that he's become known for was recognizable from the series' first trailer in 2015.

Yuki Hayashi is the music composer for My Hero Academia, Gundam Build Fighters, Haikyu!!, Welcome to the Ballroom and many more titles. He also really likes dogs (but I'll get to that later).

Professional Gymnast Yuki Hayashi

Music composers come from all walks of life. There's no single path to working in composition. Despite this, Yuki Hayashi seems to have one of the oddest career trajectories. Originally training as a gymnast, Hayashi became frustrated that the music he was selecting didn't suit his performance. So as a result, he began meddling in composition himself. With no experience in music, the basis for his knowledge became how the sounds resonated with his movement. He became infatuated with this synergy, creating more tracks and eventually selling them to his friends in college.

Yuki Hayashi plays the music for a university gymnastics club presentation.

After graduating, he trained under Hideo Kobayashi (sometimes known as Nagano Kitchen), a DJ and one of the most prolific electronic music producers in Japan. Since he'd been self-taught, this was his chance to learn more about how to create music professionally. As a result, he was brought on to create dance music, staying close to his origins in sports.

However, it was in 2008, working alongside Hiroyuki Sawano (known for Attack on Titan and many other anime) that he moved on to creating music for TV series, starting with a drama called Triangle.

Becoming an Anime Music Composer

Triangle was the first project set up by Hayashi's new agency, Legendoor. This company represents anime composers, vocalists, and lyricists alike, working closely with production companies and artists to build both facilities and relationships to create music for screen media. Although they'd been organizing anime composition work for Hiroyuki Sawano since 2006, it was four more years until Yuki Hayashi received his first anime work with Robotics;Notes.

Yuki Hayashi playing the "Strawberry Night" drama theme on piano

Even though this was significantly removed from the dance and sports music he was used to, Hayashi stayed true to his roots with a uniquely energetic style to all of his tracks. Like many composers just starting out, Yuki Hayashi was working together with another composer. Fellow Legendoor musician, Asami Tachibana helped him manage the load of tracks required for a TV anime series. While Hayashi composed the most exciting tracks, such as the main theme and battle themes, Tachibana would compose character themes and low tempo scores.

One of the most popular soundtracks from this team-up was Haikyu!! in 2014. Pulling from his roots as an athlete and as someone who spent many years composing for them elevated the series' music to a new level. The track simply named "Haikyu!!" in particular was used during many emotional climaxes, quickly becoming a fan favorite as it builds from the sounds of gym sneakers and volleyballs bouncing on a gym floor to new instruments steadily being introduced, eventually reaching an intense crescendo. The relationships formed on Haikyu!! eventually led to Hayashi creating the soundtrack to this season's Welcome to the Ballroom.

Haikyu!! Second Season Original Soundtrack Vol.1

However, one of the most important relationships he formed was with Director Kenji Nagasaki. They first worked together on Gundam Build Fighters (2013), allowing Hayashi to prove that dance music and battle music are similar at heart. Hayashi composed 50 tracks for this project himself, more than he ever had before for an anime series.

Because of his work on Gundam Build Fighters, Kenji Nagasaki brought him on for his new original project, Classroom☆Crisis. After having worked closely with Nagasaki on both series, he had this to say about his colleague:

"Nagasaki is someone who is fixated on the tiniest of details. Even when it comes to individual gestures, he will think about each person as an individual and their habits. Even before the broadcast of Classroom Crisis, he was rushing around, worrying over tiny details. But it's because of this attention to detail that his work as a director shines."

So it's no surprise that when Kenji Nagasaki was offered to direct My Hero Academia, Yuki Hayashi was happy to work with him again.

Composing for My Hero Academia

With Nagasaki's meticulous nature came an opportunity for Hayashi to strive as well. Since they've worked together before, the two know what to expect from each other and are able to effectively communicate. During the first meeting for Classroom Crisis, Nagasaki's infectious excitement rubbed off on Hayashi.

For My Hero Academia's first 12-episode run, he composed 34 tracks and for the second season, an additional 46 tracks were created. Like his other collaborations with Nagasaki, he was the sole composer for the series, not working with Asami Tachibana like on many of his other projects.

Recording session for the soundtrack of My Hero Academia
Of these 80 tracks, Nagasaki is a huge fan of the main theme he composed for the series, "You Say Run". He's constantly looking forward to seeing how it gets used within the show each week, as he made it "with the image of a hero appearing in mind." The music is created without the completed animation for reference, so the moment of TV broadcast is many composers' chance to finally see their hard work in action. This season, he gets three such opportunities, with DIVE, Welcome to the Ballroom, and My Hero Academia all airing concurrently.
My Hero Academia Original Soundtrack Vol. 1
Yuki Hayashi is compelling not just as a composer, but as a person as well. He's fond of making lame jokes, and he's particularly attached to puns, so much so that he states he's too embarrassed to read some of his soundtrack commentaries included with the disk.
"It's the signature song! It's passionate, it's youthful. Everyone will like it, right? Sounds like "Fertilized eggs (yūseiran)" in Japanese! I also like it!" — regarding My Hero Academia's main theme, "You Say Run".
It's also worth noting that Hayashi owns an extraordinary number of dogs. Whenever he's interviewed or photographed, he'll always have a dog with him. He even composed an original piece of music for a video of his dogs on his YouTube channel in 2014.
Whether it's TV drama, gymnastics performances, anime, or dog videos, Yuki Hayashi puts his enthusiasm behind every project he creates. As audiences tune into My Hero Academia each week, he watches along not only as a composer interested in how his work was implemented, but also as a fan himself. Now that Hiroyuki Sawano has left Legendoor, Hayashi is the company's most prominent composer, with new work coming his way each year. Although sports anime may be his specialty, his work with Kenji Nagasaki proves that he has the versatility to elevate any series.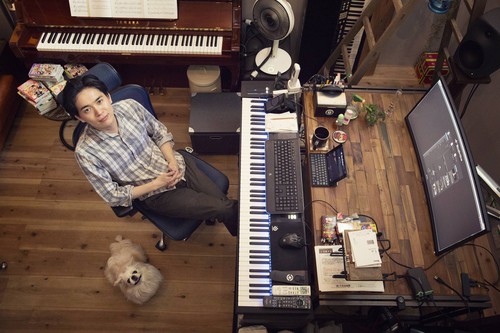 Source: Highflyers.nu
---
discuss this in the forum (5 posts)
|
this article has been modified since it was originally posted; see change history