How the Wake Up Girls! Turn Disaster Into Dreams
by Chris Adamson,

The scene is Anime Central 2014, just outside Chicago. An enthusiastic crowd in Main Events has just watched Wake Up, Girls! The Seven Idols, the hour-long movie that kicked off the Wake Up, Girls! idol anime franchise just a few months before. And now, all seven of the WUG!s themselves have formed a circle, in their mismatching school uniforms, waiting for the music track of "Tachiagare!" so they can recreate the final scene of the film.

And they wait. Holding that position. Looking around a little, ignoring the chuckles. Just... waiting. Waiting for the music to start.

About a minute passes. They're still waiting. A staffer appears from backstage to say "Almost ready, we've got this figured out." (Spoiler: they didn't have it figured out.)

To cut to the chase, of course the technical problems were worked out and the WUG!s eventually did perform their signature song, along with a few others. But this incident is completely typical for Wake Up, Girls!, the idol franchise that turns failure into success by acknowledging and embracing that failure at every turn.

A Disastrous Beginning
The story of Wake Up, Girls! arguably begins on March 11, 2011: the date of the Tohoku earthquake and tsunami. Seeing the devastation and loss of life in the region, director Yutaka Yamamoto (better known as "Yamakan") was determined to do something to help. In 2012, he directed the charity anime short "Blossom" to help the Tohoku region. Later that year, he reunited with Lucky Star colleagues Touko Machida (series composition and script) and Satoru Kousaki (music) to announce auditions for a new idol group and accompanying anime, which would be set in Tohoku's largest city, Sendai.

Yamakan's studio Ordet handled animation production for the movie (its first) as well as the follow-up TV series (its fourth, after Black Rock Shooter and two seasons of Senyu). The film opened in theaters on January 10, 2014, with the TV series premiering the next day.
Its production problems became obvious as the TV series went on, with fans noticing an ongoing deterioration in the animation. Confirming their suspicions of backstage turmoil, Yamakan tweeted an "emergency announcement", begging: "Animators who have interest in Wake Up, Girls!, please save us. Our studio staff is currently suffering from extreme fatigue."
Misery Loves Company
As it turns out, a failing production behind the scenes was utterly appropriate for the story of Wake Up, Girls! The movie opens with Sendai-based entertainment agency Green Leaves having lost their last client. To save their company, they form an idol group out of pretty much anyone who applies, musical prodigies and café maids alike.
However, their top prospect remains elusive: Mayu Shimada, former center of the nationally famous idol group I-1 Club, who was "graduated" (i.e., fired) under mysterious circumstances. Once she joins, the newly-minted Wake Up, Girls!—unwittingly named for a local love hotel—play their first show to a crowd of less than ten people, on the same night that I-1 Club is selling out the Tokyo Dome.

As the TV series progresses, the WUG!s enjoy minor successes and endure painful setbacks as they work their way to competing in a regional idol festival hosted by I-1 Club.
Keeping It Real
If this sounds significantly more dour than a season of Love Live!, you're already getting the idea. Wake Up, Girls! presents a far less cheery vision of the world than is typically offered by idol singers in sparkly costumes. The idol scene itself is cast in a harsh light. The president of Green Leaves disappears with funds that were supposed to pay for CDs (though she later returns and is forgiven), internet trolls write vile posts against idols they dislike, and I-1 Club itself subjects its performers to ritualized abuse, adhering to a motto of "Don't Rest! Don't Complain! Don't Think!"
However, the show isn't meant as a scathing takedown of the idol industry either. By celebrating successes and friendships despite all the trials and miseries, it commits to a moral gray area, cheering on young idols while also being clearly uncomfortable with whether they should be on the stage in the first place.
After all, this is a series whose roots come from literal disaster. The first season even ends with a speech by the I-1 Club president—the most villainous character in the show—about 9/11 and how people needed idols back then to remind them of the good things in life.
This view is epitomized in episode 9, in which the WUG!s travel to Kesennuma, hometown of their eldest member Kaya, which was devastated by the 2011 tsunami. Establishing shots of the town show ruined foundations where entire city blocks had stood a few years before.

In a late night chat, Kaya shows Mayu a letter from her family asking her to come home, along with a photo of a boy and his family's fishing boat. Both the boy and the boat were lost, although one of the boat's buoys washed up in Alaska a year later and was returned to Kesennuma.
In exchange for her honesty, Kaya demands Mayu own up about what happened with her and I-1. Mayu tells her story about sticking up for a friend in the group who was fired for having a boyfriend. Mayu's punishment for this insubordination was to have her own position put on the line in a public contest, which she ultimately lost.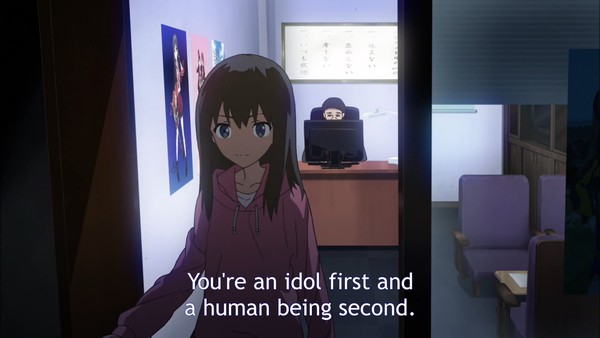 The Bitter And The Sweet
Fortunately, not everything in WUG! is this dire. The girls get work on local TV presenting the weather, but in animal character costumes: not cute Sanrio-like animals, but top predators like sharks, lions, crocodiles, and the like. This absurd detail led to the follow-up web series Wake Up, Girl Zoo!, which reimagines the series as a sort of carnivores-only Kemono Friends that cracks wise on WUG! lore, idol culture, and anime in general.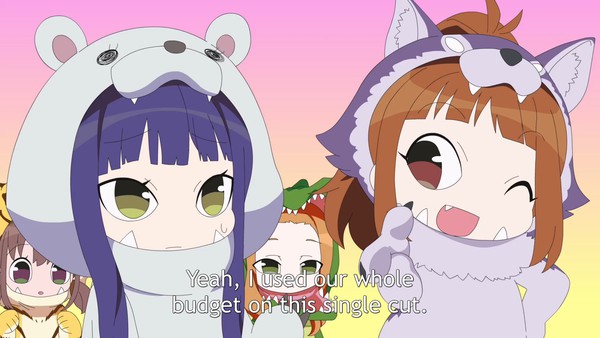 The Missing Movies
The story continued with two additional movies released in 2015, neither of which has been licensed for streaming or home video in the West. In Seishun No Kage (lit., "Shadow of Adolescence"), Wake Up, Girls! signs a major-label contract with "bvex records" (a stand-in for you-know-who) and begins intense training in Tokyo. Their goal is to participate in a new idol festival, in which I-1 Club itself will compete against idol groups from around Japan. But WUG!'s new CD fails to sell, everything sours, and they retreat to Sendai.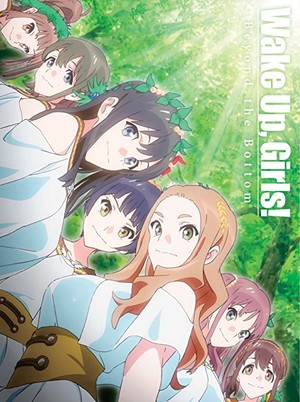 The second movie, Beyond The Bottom, is overstuffed with plot. WUG! searches for a songwriter to get them ready for the festival, while one member is pressured by her father to quit. Over at I-1 Club, Mayu's successor as center is herself deposed and exiled to Hakata, where she's tasked with heading up a new idol unit. The finale pits I-1 Club against both of its former centers and fades to credits without declaring a winner (although a 10-second post-credits scene does reveal the result).
Extracurricular Activities
Since then, the Wake Up, Girls! have been busy in ways uncharacteristic of built-for-anime idol groups. In 2016, the cast recreated their roles on stage in a theatrical adaptation of the Wake Up, Girls! anime. They've also taken the unusual step of performing OP and ED themes for other anime, including Love Tyrant, Scorching Ping Pong Girls, and Restaurant to Another World. Some of the members have also voice acted in other shows, such Minami Tanaka, who landed lead roles in Hanayamata and Schwarzes Marken.
Yamakan has been busy too, but in decidedly less productive ways. In the last 12 months he has: declared anime dead, insulted disabled people, criticized an idol who was knifed by a fan, railed against the production committee system, and offered to unblock fans on Twitter only if they contribute to a Kickstarter for his next film.
In June, Yamakan revealed that the new season of Wake Up, Girls! is being made without his involvement, and in October, he lashed out at the cast for a perceived slight.
Second Verse, Same As The First?
A second season of Wake Up, Girls! is now underway, with animation production now at Millepensee. The first episode quickly catches up on events since the end of Beyond The Bottom, including the results of the 2015 and 2016 festivals, along with the rivalry with both I-1 Club and their Hakata affiliate "Next Storm". It also introduces three middle school girls who will form their own idol unit, "Run, Girls, Run!" By the end of the first episode, the WUG!s have already made a nearly disastrous dumb mistake and been called out by I-1 Club's new center for it.

Girls' Symphony
The scene is Anime Expo 2017, in Los Angeles. The Anisong World Matsuri concert hosts four top anime idol acts from Japan: [email protected]'s Cinderella Girls, two members of Macross Delta's Walkure, Love Live! Sunshine!!'s Aqours—and the Wake Up, Girls! By the end of the night, thousands of American fans will have had a firsthand look at how well all four groups sing and dance.
And a surprising number of them thought that the Wake Up Girls stole the show.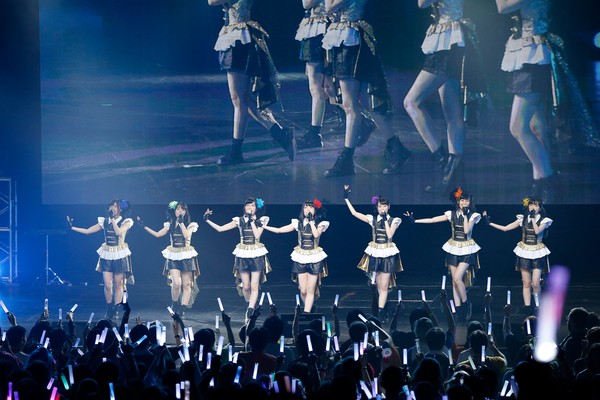 The first Wake Up, Girls! movie, both seasons of the anime, and Wake Up, Girl Zoo! are all available on Crunchyroll.
So what do you think of these unconventional idols? Share your feelings with us in the forums!
---
discuss this in the forum (26 posts)
|